Calgary Real Estate Market Update May 2012
June 3, 2012
By Cody Battershill
Calgary Real Estate Market Update May 2012
Calgary has seen the highest gain in residential sales since the recession, a substantial 31.8% increase year over year!
For the month of May, lessening concerns of enduring economic fallout integrated with continued low interest rates and full time job growth, has pushed the housing demand in Calgary up, creating a consistency with the long term average for housing sales. It is important to note that we are still not clear of international events that could risk the success of the housing market in Calgary, such as increased doubt in international markets and a weak economy in the United States of America.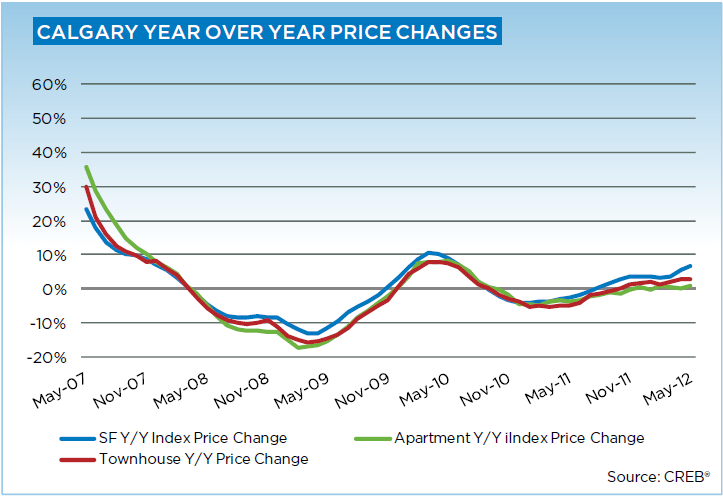 Calgary Real Estate Single Family Home Market

Growth in demand has continued to surpass supply
May sales pinnacle of 1710 units
Year to date sales are 19.1% higher than last year
Less than 2.5 months of supply available, with an inventory of 3,842 living units
Year over year benchmark price was 6.7% higher, while the average price was $427,500
Even though the increase in benchmark price is higher than what was expected, it still remains a considerable 5.3% lower the peak benchmark of $451,400 in July of 2007.
Less supply has caused Calgary home buyers to make their purchasing decisions quicker than ever before. This has resulted in a decreased time the average house has spent on the real estate market and home sellers have been getting deals nearer to their asking price.
Calgary Real Estate Condos and Townhome Market

Condos year to date sales are 8.7% higher than last year at a total of 1,518 units sold
Condos year over year new listings increased 5.4%
Supply of three months of condo units, while total inventory has shrunk 3% year over year
Condo year over year benchmark gain of 1%, with a price of $245,000
Condo-Townhome year over year benchmark appreciation of 3%, with a price of $277,000
Expert economists suggest the Calgary residential real estate market is simply returning to normal activity levels, and isn't experiencing a bust or boom.
Questions? Call me at 403-370-4180 or message me below.

CREB Monthly Statistics for March 2012