Calgary Real Estate Market Update November 2012
December 6, 2012
By Cody Battershill
Calgary Real Estate Market Update November 2012
Calgary's resale market continues to outperform 2011 on a year to year basis. Residential sales in November of 2012 have increased 8 percent year over year while year to date sales have also increased over November 2011 by 15 percent.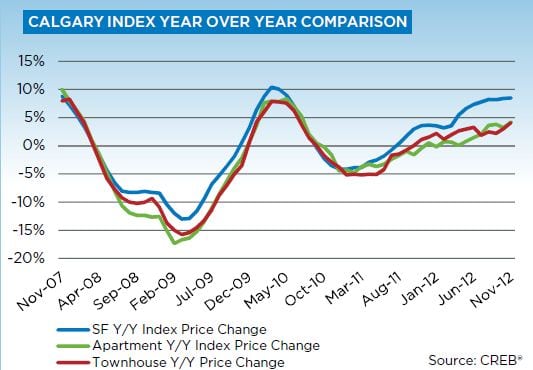 Inventory levels continue to fall due to consistent year over year sales growth seen over the last several months, while new listings aren't keeping up with the rapid pace of residential sales in the Calgary real estate market. Nonetheless, the residential market continues to show stability due to a balanced ratio between inventory and sales.
Fewer listings on the Calgary real estate market has moved buyers towards purchasing faster than usual if they happen to find a home of value they like. While this holds true, buyers are more cautious today than ever before with the unstable international economies present that could swing our own economy one way or the other. Large gains in equity are less likely in today's market, so buyers are truly considering if the home they have found is one they can picture themselves in for many years to come.
Calgary Real Estate Single Family Home Market
1,006 sales a 5 percent year over year increase
$433,600 benchmark price still 8.5 percent higher year over year
Calgary Real Estate Condo and Townhome Market
January to November 2012 - 11 percent increase in condo sales over the same time frame in 2011
Condos have seen some price gains in 2012 after declining mostly throughout 2011
$248,000 benchmark price for condos
January to November 2012 – 17 percent increase in townhome sales over the same time frame in 2011
$282,800 benchmark price for townhomes
Regardless of rising concerns about the average household debt in Canada and low activity in other Canadian real estate markets, Calgary's residential market continues to show resilience and perform well. Continued inbound migration, employment and average income growth are but a few reasons why this holds true.
For past statistics, be sure to check out the following...
Questions about Calgary Real Estate?
Don't hesitate to call me for answers! Reach me direct at 403-370-4180 anytime or message me below!
[gravityform id="1" name="How Can I Help?"]