Calgary Real Estate Market: Semi-Annual Update 2018
August 15, 2018
By Cody Battershill
Calgary Real Estate Market: Semi-Annual 2018
Tougher mortgage rules, higher interest rates and a slow economic recovery has weighed in heavily on demand in Calgary's residential sector during the first 6 months of 2018. As a result, sales activity has slowed even more than expected.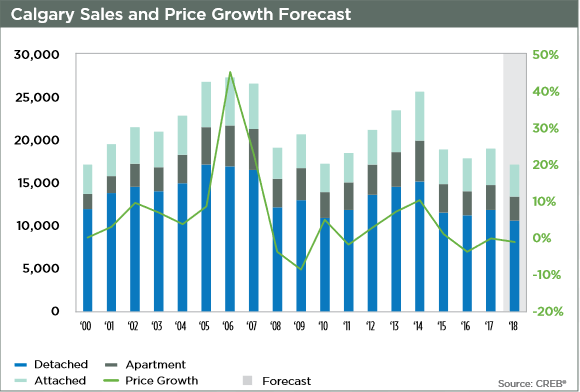 This, along with rising sales activity has pushed the residential market into a situation where there's oversupply across all segments. This has put downward pressure on benchmark prices across the board for apartment, attached, detached, semi-row and semi-detached homes.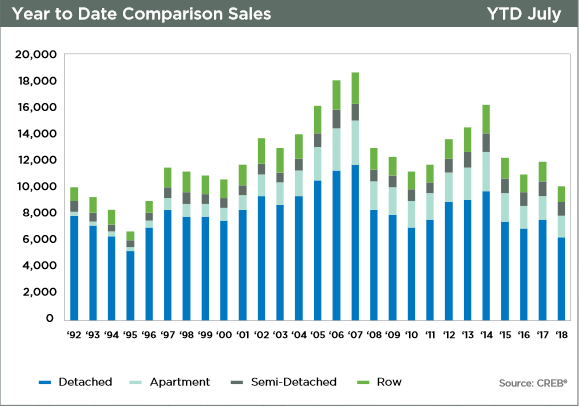 By years end, overall benchmark prices are expected to drop by more than 1 percent city-wide, with declines of about 1 percent in the detached sector and 2.5 percent for apartments.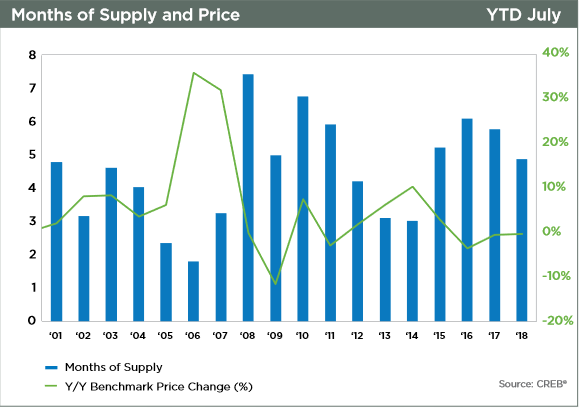 While further economic recovery is supposed to help reduce this downward trend, it will unlikely be enough to offset the declines experienced during the first half of 2018.
4 Reasons Why Calgary's Housing Market Recovery is Sluggish
#1 – Higher lending rates and stricter mortgage rules are making it hard for first-time buyers to find a home ownership opportunity they want. This has also limited current home owners from upgrading into a higher price range

#2 – A slower than anticipated economic recovery has the economy still performing at levels lower than pre-recession

#3 – Employment growth has occurred in non-traditional sectors, creating uncertainty for many in some of the province's largest industries

#4 – Consumer confidence has been affected by Alberta's economic outlook, especially regarding how the housing market will be impacted in the months to come
Calgary Housing Market Facts & Statistics: Mid-Year 2018
Expected drop in sales activity in the second half of 2018 by 9.7 percent – to 17,047 total units

Easing sales met with further inventory gains across all sectors, causing modest price drops for most product types
Attached Homes
Attached sales expected to ease by 11.5 percent by years end

Semi-detached sales did ease, but not in all sectors. Both the west and northwest sectors saw similar or higher sales than those recorded in 2017

Semi-detached prices remain slightly below those in 2017; significant price declines happened only in the north, northwest and southeast sectors

Overall prices remain only 1 percent lower than previous highs

Row home sales decreased in all sectors because of increased competition from new home market and elevated inventories

Overall row home prices improved by 1 percent year-over-year, although each sector reacted differently than the next
Detached Homes
Detaches sales expected to drop by 10.5 percent in 2018 due to lower than expected activity in first 6 months of the year

Detached prices expected to drop by about 1 percent by the end of the year due to market oversupply

Price range between $300k and $400k increased from 18 percent to 20 percent year-over-year, reflecting importance of affordability in today's market

Detached benchmark prices remained higher in west and city centre districts, although all except the west are seeing prices far below most recently recorded highs
Apartments
Sales activity improved for apartments priced lower than $200k; price decreases since highs recorded in 2014 have made more inventory available in this price range

1,649 total sales from January to June, 7.7 percent lower year-over-year and 23 percent lower than the 10-year average

New listings eased but was not enough to make up for weak sales activity, resulting in near-record high inventories

Since 2014, apartment prices have dropped by more than 13 percent

Overall sales for remainder of 2018 expected to result in annual decline of 2.5 percent – at 2,756 total units – slightly below figures seen in 2017

*Sourced from CREB®
Ask a REALTOR®
Calgary's housing market is as dynamic as it gets, meaning that overall changes in market for one type of property overall may not necessarily reflect those for that segment in a specific sector of the city.

For this reason, it's critical to get professional guidance from an experienced real estate agent and REALTOR® for your next transaction! This person should be able to provide you with invaluable insight into the market for the property you're interested in and help guide you every step of the way towards being 100 percent satisfied with your next move!

How should you begin searching for the right REALTOR® for the job? If you don't know anyone off hand, check out our Calgary REALTOR® Interview Guide for some question ideas you may want to ask on the phone or in email.

As a top-producing REMAX real estate agent in Canada (2013, 2014, 2015h) and experienced REALTOR® in Calgary, I would love to interview for the chance of being your representative during your next transaction. Call, text or email me anytime and I'll be happy to assist you!
Calgary Housing Market Updates
Here's a list of our month-to-month Calgary Real Estate Market Updates: Statistics, Trends & Analysis, going back all the way 'till 2012 – all sourced from the Calgary Real Estate Board (CREB®)!
Questions about Calgary Real Estate?

Contact me today for a 100% free, no-obligation consultation to discuss your real estate plans. I guarantee to provide you with the best service, advice and representation while making sure all the details are taken care of for you throughout your next transaction.
Call me anytime at 403-370-4180 or send a message below for a quick, if not immediate response. I am looking forward to helping you accomplish your real estate plans!

[gravityform id="35" title="false" description="false"]