Calgary Real Estate Market Update March 2012
April 12, 2012
By Cody Battershill
Calgary Real Estate Market Update March 2012
Real estate markets in Calgary have been generally trending up since the spring of 2009 and the start of the world wide recovery from the financial crisis that seized the world and lowered commodity prices. The world has been on a roller coaster ride to say the least, well the nice thing about Calgary with such strong fundamentals and positive economic growth is the city recovered faster after not falling as much as many other places. Latest trends in the markets are encouraging growth on a small scale. Sales of residential homes in Calgary for the month of March have continued rising, climaxing at 2167 units, making for a 12.6% increase compared to March of 2011. Activity in Calgary's real estate market is due to increased consumer confidence as the global economic downturn seems to have relinquished itself to a certain degree.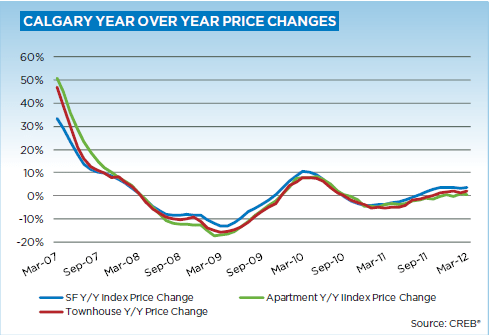 For 2012, first quarter sales have increased by 7.3% compared to the same time frame in 2011. Even though the increase is a substantial amount, when compared to historical first quarter results, residential sales are actually lower than the usual trends we have seen for many years.
More CREB Significant Points for 2012 First Quarter

MLS price index is denoting an increase in price for homes by 3.6%
Listings are down in number from 5866 to 5092
New Calgary listings have increased by 9.1% for March alone, but are still 2.3% lower than last year
Calgary real estate single family home market
Single family homes sales increased by a whopping 10.3%
Total single family listings are down by 8.3%
Single family homes are leading the Calgary real estate market in activity
Calgary real estate condo, townhouse home market

Condo sales are lower with a number of 782 unit sales, declining 2.1%
Activity of condo sales has increased by 7.2%
Condo townhouse prices have seen a small growth of 1.96%
Condo real estate market in Calgary is moving in a positive direction
If there is anything I can do for you in real estate, send me a message via instant chat on the bottom right of your web browser. Email and phone are also options. Get a hold of me today for a no obligation buyers consultation or home evaluation! Thanks for stopping by at Best Calgary Homes and check back soon for more great articles.