Calgary Real Estate Market Update December 2012
January 5, 2013
By Cody Battershill
Calgary Real Estate Market Update December 2012
Calgary's residential real estate market has ended the year of 2012 on a positive note with an increase of 5 percent in benchmark prices as well as a whopping 15 percent increase in total sales volume over 2011.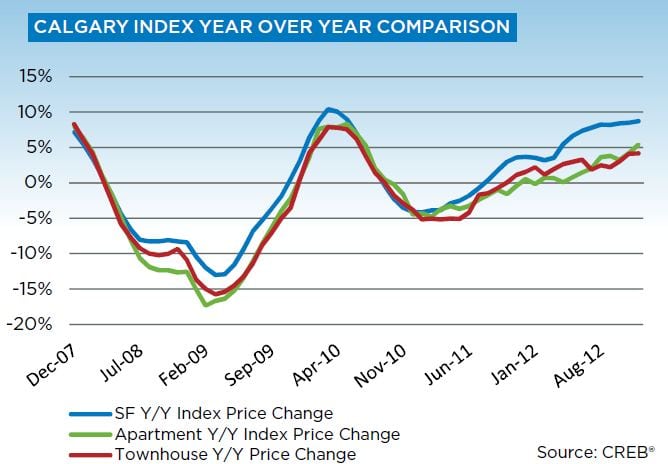 Home prices still remain slightly shy of what they were during Calgary's 2007 real estate boom but are nonetheless moving in a positive direction.
One of the main contributors to the increase in prices and sales of 2012 is the growth seen in the energy industry. Every aspect of the economy is stimulated by oil and gas here in Calgary, even the housing market.
Increases in employment opportunities and inbound migration, two things that can be largely attributed to the growing energy sector, have created a higher demand for housing expected to continue throughout 2013, except at a slower rate.
Calgary Real Estate Single Family Home Market
Single family homes sales increases outpaced those in the condo market inside the city limits

2012 saw a 15 percent increase in total sales over 2011

New listings are not keeping pace with sales growth, reducing inventories of single family homes substantially and causing prices to increase

Benchmark price of $434,800, higher than in 2011 by 8.7 percent

Average single family homes prices have gone up 7 percent over 2011, but are still 2 percent lower than in the peak levels of 2007
Calgary Real Estate Condo and Townhome Market
Condo sales are improving. Lessened inventories and rising prices in the single family homes market has caused families to look towards condos for home alternatives

Annual townhome and apartment sales have increased by 16 percent and 12 percent

Listings in townhome and apartments are decreasing, creating balance in both markets

Price growth for both of these is not as substantial as the single family homes market

Condo apartment benchmark price of $248.700 for December 2012, increasing 5.4 percent over December 2011

2012 annual average condo apartment benchmark increased only 2 percent, while the annual average price increased 5 percent
In 2013 Calgary's residential real estate market growth is expected to slow down in comparison to 2012. A combination of more cautious expansions seen in the oil companies as of late with a weaker natural gas sector makes the suggestion of a 2013 residential market performing better than that seen in 2012 unlikely.
More market updates...
November 2012 Calgary Real Estate Market Update
Questions on Calgary Real Estate?

Please call me today for answers! I have intimate knowledge of all aspects of the Calgary real estate market and would love to help you accomplish your real estate goals. Call me directly at 403-370-4180 or message me below.
[gravityform id="1" name="How Can I Help?"]