Calgary Real Estate Market Update April 2012
May 2, 2012
By Cody Battershill
Calgary Real Estate Market Update April 2012
For the month of April in 2012, real estate sales in Calgary have increased a whopping 26% when compared to April of last year. Residential sales finished strong for the end of the month, totalling 2,200 in number. CREB economists are saying the improvement in sales is due to increased migration and the growing number of people obtaining full-time jobs. While real estate sales are increasing, Calgary is still below its long term average and is something that should be kept in perspective.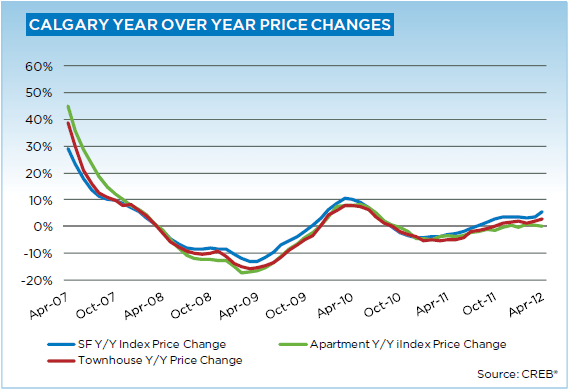 Calgary Real Estate Single Family Home Market

Year over year MLS single family home price index for April has increased 5.5 percent for an average price of $449,500
Listings are pproximately 3 months behind in supply of homes
Sales are outpacing new listings
Selling rates are quicker
Prices have gone up slightly due to high demand
Fortunately there is much opportunity in surrounding areas of the city and in the rapidly developing condo market for home buyers. Also, home builders have been stepping up to the plate to help ingest part of the overflow of demand Calgary is seeing.
Calgary Real Estate Condos and Townhome Market

Listings increased year over year for April by 5.9 percent
Condo townhouses has seen a year over year 2.7 percent increase in the price index
Average price for condos are at $294,500
Average price for townhouses is at $248,300
Even though condo sales and new listings rates are still below the long term mean for Calgary, the current spring market trends are better than when compared to 2011.
What about the Crime Rate in Calgary?
If I can help you in any way concerning real estate you can get a hold of me at 403-370-4180 or at [email protected] for a no obligation home evaluation or buyers consultation! Thank you for checking out the Calgary monthly real estate statistics for April 2012. Come back soon for more facts!