Calgary Restaurant Review of Borgo
September 22, 2011
By Cody Battershill
Borgo - Calgary Restaurant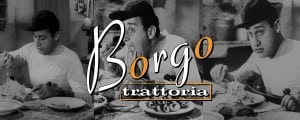 New to the Calgary restaurant scene, Borgo is Located just off 17th Avenue on the "Red Mile" between 8th street SW and 7th Street SW. Borgo is owned by Giuseppe Di Gennaro the head chef and owner of the renowned Capo restaurant in Calgary located in Inglewood, and Borgo is his latest venture. Borgo is located in a beautiful setting with a vaulted and soaring two-story ceiling at the front and with impeccable decor throughout
The food is simple and I found it to be delicious! I also noted they use the finest ingredients and I really enjoyed talking with the owner and head chef Giuseppe himself who was at the restaurant walking around and talking with his guests. This is a different take on Giuseppe's usual style for having an intimate flair and interacting with his guests. At Capo the kitchen is open and you can see him making your food. In the larger setting it was really nice to see him there walking around making sure everyone is having a great experience.
The food was amazing, and as I mentioned the ingredients were simply the best.  I liked the menu as I found it to be very interesting. You can order smaller portions and everything is designed to share or to be divided into smaller portions. Perfect for either yourself to enjoy multiple items or to share several items with one or more guests. We started with several appetizers including the egg plant frittata, bruschetta and marinated olives (the olives there are by far one of my favourites), we also had the jumbo shrimp which were absolutely amazing. I highly recommend the shrimp and everything else, the appetizers were impeccable.
For our tables main course we shared the flank steak, ricotta gnocchi and string beans, again absolutely amazing for the quality of ingredients and culinary skill invested was evident and everybody really really enjoyed both the second and third courses.
For desert our table enjoyed some grappa and had family style sharing platter of four desserts, again I said it before and ill say it again,the food was amazing. All in all my first time to Borgo was impeccable and Borgo is now one of my favorite restaurants in Calgary, I will definitely be coming back.
I must also mention that Borgo opens at 7:30 AM with a huge variety of coffees and Italian pastries served in the morning with international news and magazines. Both are available for dine in or take out. Borgo is also open through lunch and of course for dinner. Next time you're looking to go out check our Borgo, I think it's pretty cool spot and I'm glad Giuseppe has opened a second restaurant, in addition to the already amazing and well-known Capo.
They dont take reservations so maybe call ahead to see how busy it is!  818 16th Ave SW, Calgary AB. Ph: 403-245-2202