Calgary Restaurant Review Viet Hai
March 12, 2012
By Cody Battershill
Viet Hai on Macleod Trail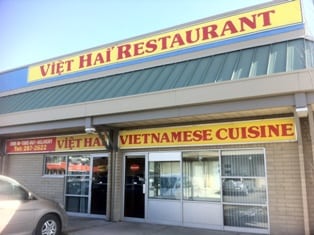 Once in a while I find myself stumbling into a random Vietnamese restaurant for a lunch break with my fingers crossed. Doing this is like getting your haircut by someone other than your hair stylist; it usually turns out not as good as you hoped. Viet Hai on Macleod Trail SW is an exception to this general rule that I have. I ate lunch twice at the restaurant and was impressed at how tasty the food was. The interior is a little bit old, but the seating is spacious and has dividers that provide ample privacy. Another nice thing is the flat screen TV's that were tuned into the sports game both times I was there. Now let's talk about the food.
I was a little bit disappointed with the amount of noodles in my large bowl of pho satay soup, but nevertheless it was delicious. The amount of meat provided in the soup was almost more than the amount of noodles I received and was gristle free. Concerning my salad roll appetizer, they were made fresh, which is the most important thing when it comes to salad rolls. My second sitting I decided to switch it up and order bun, a meal consisting of rice vermicelli noodles, spring rolls, lettuce, sliced carrots, chicken, beef and some fish sauce poured over top. This meal was absolutely delicious, one of the best bun meals I have had recently. The meat was flavored nicely with a sweet taste and I didn't have to add any sweet or hot sauce to give it a desirable taste, which is something I usually do with bun meals.

Check out this Calgary Restaurant Review list of the Best Calgary Pho
I would recommend Viet Hai on Macleod Trail SW to anyone. The food and service were great. Viet Hai is in the same strip mall as The Back Alley, Hooters, and The Dive Shop, tucked in on the back right of the lot if you were to face eastward. Check it out and we hope you enjoyed this Calgary Restaurant Review.
Viet Hai: 4640 Macleod Trail SW, Calgary, AB 
Phone Number: - 403.287.2622