Calgary Restaurants – Open Sesame
October 11, 2011
By Cody Battershill
Open Sesame Calgary Restaurant Review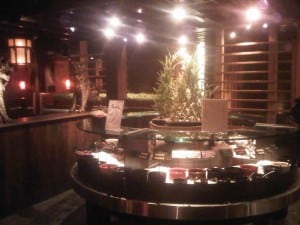 Open Sesame is one of my favourite places to eat in Calgary. This Asian fusion restaurant on Macleod Trail by Chinook Centre has a great menu with a bunch of different Asian flavors. Open Sesame is a unique and fun experience with Asian decor.
My absolute favourite is the Asian market stir fry where you pick your meat and noodle or rice, (I enjoy Shanghai noodles and chicken). Your server will bring you a bowl and  then you go to the fresh stand to pick your vegetables, sauces and varying accompaniments to go with your stir fry. Beside the stand are chefs waiting to cook your stir fry to perfection with all the delicious flavours you've chosen.
Open sesame is open all day during the  week and open for dinner Saturday and Sunday night. Be warned this place is wicked good and it gets wicked busy. They only take a certain number of reservations and after that it is first come first served. If you go during 6-8pm expect to wait! Great value, good food and cool decor makes Open Sesame one of Calgaryisms favourites!
Open Sesame is delicious and affordable fun. A great place for a date or to go with the whole family! Call ahead to check how busy it is (403) 259-0123  6920 Macleod Trail  South Calgary, AB T2H