Calgary Restaurants – Ruth's Chris Steakhouse
July 25, 2011
By Cody Battershill
Best Calgary Steak
I am all about Calgary. I Love Calgary and Alberta and Canada. We have so many amazing restaurants here and one of them, my favourite steakhouse in Calgary is Ruth's Chris. Serving the best of the best with both Alberta Triple A and USDA prime beef (American) with amazing service and an amazing overall experience.
Ruth's Chris Steakhouse is the worlds largest upscale restaurant franchise and has 3 Canadian locations. The Calgary restaurant opened in 2007 and yes after my first visit became my favourite place for steak in Calgary. Yes there are other amazing and awesome places for steak in Calgary but my real number one favourite is Ruth's.
To summarize the history of the restaurant, Ruth's Chris all started with (yes you guessed it!) a woman named Ruth Fertel of New Orleans. In 1965 she purchased a popular restaurant called "Chris's Steak House" giving it the name "Ruth's Chris Steak House". In 1985 Ruth's Chris had become a global sensation with restaurants opening all over the world!
Located right in the heart of downtown at Calgary's most famous and recognizable landmark, Ruth's Chris is located in the Calgary Tower. An amazing location, amazing service, amazing food and an overall amazing experience.   There's nothing like biting into a juicy, sizzling USDA prime  steak while overlooking Calgary's downtown core.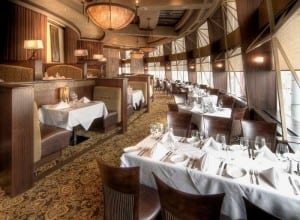 Ruth's Chris also serves Triple A Alberta Beef but their specialty is the USDA Prime. Of all American cattle only 2% are fine enough to be classified as "Prime".  My Favourite meal at Ruth's Chris? Start with the huge Shrimp Cocktail followed by the Ruth's Chop Salad. Follow that up with the best and juiciest steak one could order and get the Petite Fillet with Shrimp. Simply amazing. Top the meal off with the Creme Brulee, Chocolate Cake or Banana Pudding.
Really no matter what you order you cannot go wrong and the staff all work together to make sure your experience is as fine as it can be, this is after all true fine dining with fine food in a fine location.
What is the Calgaryism verdict? Ruth's Chris is amazing. I recommend going to their website HERE to preview the menu and prices and then make a reservation! 403-246-3636