Calgary Roughnecks 2013 Season Begins!
January 7, 2013
By Cody Battershill
Calgary Roughnecks 2013 Season Starting Soon!!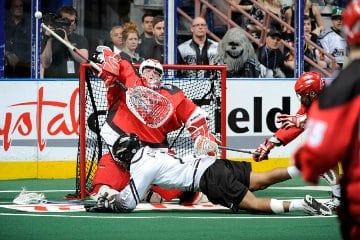 Ladies and gentlemen, prepare yourself to be entertained by one of the roughest professional sports there is with the beginning of the Calgary Roughneck's 2013 lacrosse season!
In recent years professional lacrosse has become increasingly popular amongst Canadians. Similar to hockey in many ways it's not hard to see why this is so.
Committing to go to a Roughnecks game instead of a Flames game might take a concerted effort at first, but once you do you will be astonished at the level of intensity of the athletes and the action packed atmosphere you will experience at a Calgary Roughnecks game.
If you haven't been to a Calgary Roughneck game just yet, you don't know what you're missing!
10 Things I Love about Calgary Roughneck Games
Insane intensity of the athletes. You can feel their passion for the game!

Lively atmosphere and energized crowds

Action packed physical aspect to the game of lacrosse – hacking, slashing, body checking... you name it. It's ruthless and I love it!

Absence of penalties for the actions mentioned above giving great flow to the game

Astonishing feats of athleticism in terms of hand eye coordination and speed

Calgary Roughneck games are a great family event – fun for the whole family

Great ticket prices, a fraction of the cost of those for a Calgary Flames game

Opportunity to get good seats even if you are not a season ticket holder

Fights. Who doesn't love a good old fashioned scrap?
Benefits of Buying Season Tickets
Reserved seating for 8 games on the weekend from January to April

Given the first opportunity for playoff tickets in the same seats

Save 35% on the price at the door

Dedicated customer service personnel ready to serve you

No hassle process for exchanging tickets.

Discount card for FanAttic store

Discount opportunities for Calgary Hitmen Season Tickets

Invited to exclusive events for season ticket holders

Useful coupons for each game including

Find more information on costs at http://www.calgaryroughnecks.com
Go Roughnecks Go!!
The announcement of a new 40 to 50 game 2012 / 2013 NHL season beginning in a few weeks time is great!! Until then, why not head down to the Scotiabank Saddledome for an exhilarating game of professional lacrosse and support the Calgary Roughnecks!
You might be surprised at how much fun their games really are, like I was!!
For some of the best Calgary activities, be sure to check out these great articles...
Best Calgary Winter Activities

Best Late Night Entertainment Food and Drink