Calgary Real Estate Market Update August 2012
September 4, 2012
By Cody Battershill
August 2012 Calgary Real Estate Market Update
Residential sales in Calgary have increased by 10 percent, while sales in towns have increased by a whopping 42 percent.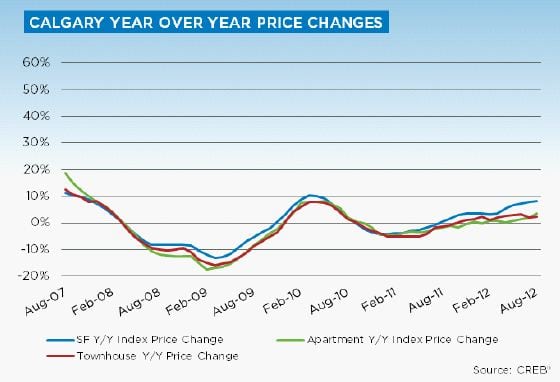 After seven months of higher than anticipated growth in sales, Calgary's residential sales for August of 2012 have increased 10 percent on a year over year basis totalling 1,725 units. While these numbers still show a strong sales growth, a lack of new single-family home listings in Calgary's residential market have people turning their sights elsewhere to surrounding towns, new homes and condos.
New listings in Calgary for August 2012 are down 13 percent in comparison to August 2011, at 2,585 units. On the flip side, new listings in surrounding areas have increased by almost 10 percent after the first eight months of 2012.
Affordable pricing and improved selection in surrounding towns combined with a lack of listings in Calgary's single family market has driven residential sales growth in these areas and are comparable to periods of peak sales activity.
Calgary Real Estate Single Family Home Market
Sales totalled 1,169 units, a six percent increase year over year
New listings decreased by 14 percent year over year
Demand is outpacing supply, causing substantial loss of inventories
Benchmark price year over year has increased 8 percent, at $432,600
Benchmark increase is still $20,000 below climax levels during July of 2007
Calgary Real Estate Condos and Townhome Market
Year over year condo and townhome sales have grown significantly in comparison to single family market
Year to date condo sales have increased by 10 percent
New listings have remained at comparable levels to August of 2011
Benchmark price of condo has increased 3.6 percent, at $248,700
Benchmark price for townhomes increased only 2.5 percent, at $278,200
Benchmark prices still remain almost 16 percent lower than during climax levels
Want to follow common trends? Check out our previous monthly market updates for June and July of 2012 below!
July 2012 Calgary Real Estate Market Update