Crestmont Calgary Southwest Community and Home Search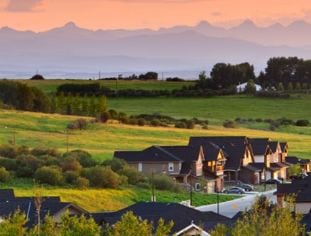 Find a little bit of peace and escape from the big city life in Crestmont.
Found on the southwest brim of Calgary, Crestmont is a relaxing and peaceful foothills community many have chosen to call home, and for good reason!
Crestmont has an abundance of natural areas, playgrounds, parks, pathways and waterscapes that combine together magnificently for a very comfortable and enjoyable living experience. In fact, 30% of the neighbourhood has been dedicated by the developer for preservation of natural areas and wildlife!
Behind this exceptionally designed neighbourhood is an experienced developer who knows the A B C's when it comes to creating family communities. Six decades of experience has given Qualico more than enough tools to create the highly desirable neighbourhood of Crestmont almost any family would love.
Location
Crestmont Amenities
While Crestmont is an escape from the big city life, it isn't too far away to make living inconvenient by any means. There is plenty of amenities and services located close by at West Hills,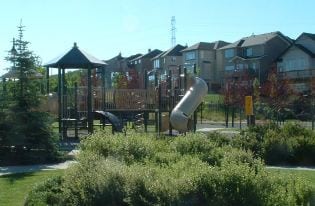 Strathcona Square, West Springs Village and Aspen Landing in Aspen Woods, as well as indoor and outdoor recreation at Canada Olympic Park and West Side Rec Centre, not to mention the vast expanses of natural areas west of the community.
A trip to downtown won't take you too long either, only around 20 minutes give or take, while escaping west to the foothills, Rockies and beyond is easier done than said!
School Designations
Public Elementary – Belvedere-Parkway – 4631 – 85th Street NW – 403-777-6010

Public Junior High – Thomas B. Riley – 3915 – 69th Street NW – 403-777-7260

Public Senior High – Bowness – 4627 – 77th Street NW – 403-286-5092

French Immersion Elementary – Varsity Acres – 4255 – 40th Street NW – 403-777-6090

French Immersion Junior High – Branton – 2103 – 20th Street NW – 403-777-7440

French Immersion Senior High – William Aberhart – 3009 Morley Trail NW – 403-289-2551
Crestmont Demographics
Here are some relative demographics collected by various government surveys that you might find interesting!
Ages 24 and below – 37.1% (2011)

Ages 25 to 54 – 53.5% (2011)

Ages 55 and up – 9.3% (2011)

Average household income – $131,414 (2005)

Percentage of population with a High School Diploma or higher – 88.4% (2006)

Ratio of residents who own their property – 96.7% (2006)

Ratio of residents who rent their property – 3.3% (2006)
Crestmont Borders
North – Trans Canada Highway

East – Farmland (future developmental area)

West – Farmland (future developmental area)
More Calgary Homes for Sale
Questions about Calgary Real Estate?

Please call me anytime at 403-370-4180, or message me below! I am 100% committed to helping you find the best home, for the best price, with the best value while providing you with all the information you need to make the best decision!
I am looking forward to helping you accomplish your real estate plans!
Search Crestmont Calgary Homes for Sale