Cucina Calgary Restaurant Review
October 22, 2012
By Cody Battershill
Cucina Calgary Restaurant Review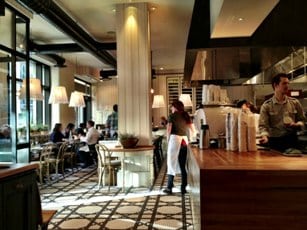 Today while downtown at the core shopping mall I decided to stop over at Cucina, one of Calgary's newest eateries and bistros in the base of Eighth Avenue Place.
Great decor and ambiance greet guests with the option to either order takeout or sit down in the bistro. They have an awesome selection of locally sourced menu items and in house made baked goods with Phil & Sebastian coffee.
I had a peppermint tea with a hazelnut pastry that was absolutely delicious and a salami sandwich to go. For the three items I had, it was about 15 bucks, not a bad value at all for the quality and deliciousness of the food.
Next time you're near Eighth Avenue and Fourth Street or at the downtown core mall or visiting eighth avenue place make sure to check out Cucina, one of Calgary's newest and most delicious eateries.
Whats your favourite menu item at Cucina? Let us know below!
Cucina

Stephen Avenue – 515 8th Avenue SW, Calgary, AB
Phone Number – 587.353.6565