10 Exciting Things Happening in East Village in 2019
February 24, 2019
By Cody Battershill
East Village in 2019: What to Expect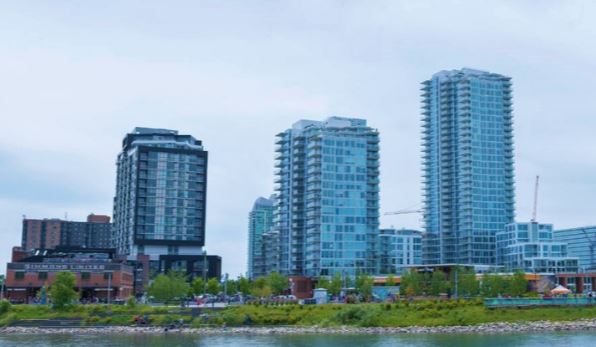 It's almost March, and we haven't had the opportunity to discuss what's new and what to expect in East Village in 2019! From new condominiums and businesses to announced activities and events, there's lots to be excited about in East Village this year!

If you've heard of East Village already, then you'll know it's one of the most exciting up and coming neighbourhoods in the City Centre of Calgary.

Since plans to reshape the community were approved back in 2005, slowly, but gradually has East Village taken shape into the vibrant and eclectic mixed-use community it is known to be today.
Major milestones in EV the past few years:
You may be planning on making a move to an East Village condo, or perhaps simply just want to know what's new in the area. Whichever it is, here's what's new and what to expect in EV in 2019:
#1 - New ALT Hotel Opens its Doors
At the end of 2018 the trendy new Alt Hotel opened up its doors in East Village. Behind this excellent addition to this downtown community's amenity puzzle is no other than Le Germain Hotels. If you're familiar with Calgary, you'll know Le Germain is a super luxurious condo / hotel just a stone throw away from the Calgary Tower renowned for its location, amenities and services.

Alt Hotel made its grand debut with the shebang we were all hoping for. Inside you'll find sharp angles, dark colours, wood paneling and art-covered displays everywhere, inside the rooms and in the public spaces. This is a common trend among other Alt Hotel locations across Canada.
What rooms are there? Alt Hotel offers four types:
two queen beds
king bed with river views
corner king bed
king bed

Rooms range by just $30 from the cheapest to most expensive and are located just steps away from all that East Village has to offer.
#2 - Alt Hotel Underground Parking
A new heated underground parkade is now open for public business in EV. It's located at the new Alt Hotel and should keep you warm when temperatures are far below zero (unfortunately that happens often in Calgary).

Found directly beside RiverWalk, this will give you the chance to discover everything there is in East Village during all seasons without having to find streetside parking. We both know that it can be tough to find a spot in EV at any time of the day.
#3 - More Parking to Open in 2020
With all the condos, restaurants, public buildings, hotels, festivals, businesses and other stuff in East Village, there's a dire need for parking – and lots of it!

Thankfully another must-have parkade is on its way. The 9th Avenue SE Parkade broke ground at the end of 2018 and is on track for completion sometime near the end of 2020.

It will have hundreds of car stalls as well as bike parking for you cyclists out there. A ground-level sport court and café are also included in the blueprints.

Another neat feature of this parkade is the "innovation space" that will most likely be used for community events, local projects and everything in between.
#4 - New Retailers Open Up Shop
East Village's promise of a mixed-use community with streetside restaurants, retailers and services while residential and office units stretch into the skies above is turning out to be more vibrant than ever in 2019 with the opening of these new businesses:

Panago Pizza – your one-stop shop for pizza, pastas and other made-to-order food and drinks. Chances are you've had Panago Pizza at one point or another

Beat Drop – a music production / DJ school based out of Bell Studio offering individual courses, kids' programs, producer certificates and more. If you or someone you know is interested in a career in music, this may be the perfect place to start

LUKES Café – this new café is one of two now open for business in the New Central Library. Refuel on food made with locally-sourced ingredients such as breakfast pastries, coffee and other café-style edibles and drinks on your way

But wait, there's many more we haven't talked about...
#5 - Honorable Mention: 5th & THIRD
We can't forget about the epic amenities that are set to open with the brand new Arris condo by Embassy Bosa Inc. in East Village.

Unfortunately, this massive project will be under construction throughout 2019 and is set to open Q1 2020. Regardless, here are the confirmed tenants so far:

Loblaws City Market
Shoppers Drug Mart
ScotiaBank
Olympia Liquor

Also see the 5th and Third Video giving you a glimpse into what it will look like when finished!
#6 - New Rental Units Opening Soon
Ever wonder which new and shiny condo building it is that's on the rise in East Village that isn't the INK or Verve buildings? It's called The Hat, and it will be opening its doors with new rental opportunities quite soon - in the summer of 2019!

With 221 units across 28 floors, Cidex Developments will be the first company to bring new construction rental units to the area. Floor plans will cater to a wide range of renters and will include everything from one bedroom to three bedroom layouts.
#7 - New Condo Buildings Open
Exciting new real estate opportunities are now in East Village with the opening of Verve Condos and INK by Battistella. Learn more:
#8 - M2 Building Completion in 2019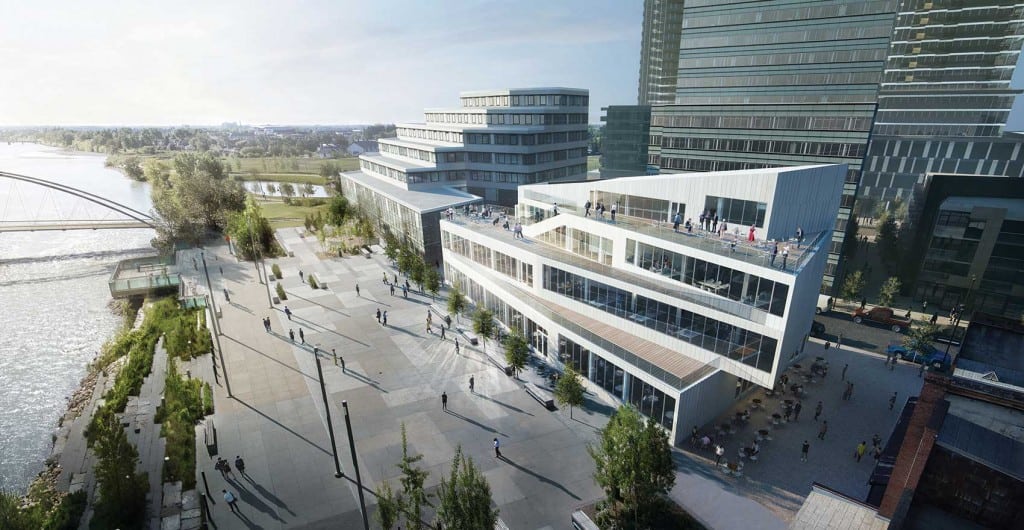 Another exciting new building called M2, which we discussed in this blog, will be opening its doors sometime this year. M2's stunning jaw-dropping architecture will define RiverWalk and become a new meeting point for social gatherings and activities of all sorts.

New businesses are expected to open their doors on the first three floors of M2 sometime in 2019 and will include:

Two main-floor restaurants that spill out onto RiverWalk
Village-format retail shops
Second and third floor office spaces
#9 - New & Improved Cycle Tracks
Whether it's living at the "car-less" N3 condominium or perhaps the vibrant streetscapes of East Village that motivates you to get on the bike, you'll be happy to learn about changes that will make EV even more bike-friendly.

Improvements are coming to the east-west connection between the Elbow River pathway and Macleod Trail S along 9th Avenue SE. There's also a new north-south route to be built along 4th Street SE that will help connect cyclists to RiverWalk.

If you thought biking along the river through East Village was easy before, you just wait until these paths are up and in service!
#10 - Activities & Events Year-Round
Last but not least are the countless activities and events happening in East Village year-round. There's too many to mention one-by-one here; you're better off to go to the CMLC's official event page to check what's happening in the weeks ahead.

Some of our favourite community events in East Village year-round:

Daily shows at the King Eddy
Paint nites at Raw Canvas
Concerts at Studio Bell
Events at St. Patrick's Island
East Village Junction
Yoga and Food Truck events + more!

See all scheduled Activities and Events in East Village here.
I Love East Village
We absolutely love and adore this up-and-coming downtown community! See all the rest of the articles we've written about EV here: