Evansview Calgary – New Homes for Sale in Evanston
Just when we thought Evanston couldn't get any better, it does!

Genstar Development Company is introducing Evansview, a new subdivision of Evanston in Calgary offering upscale townhomes and semi-estate single-family homes, and with only 167 units available between two phases, it is an exclusive living opportunity in one of Calgary's most popular northwest suburban neighbourhoods.
Residents of Evansview will be able to experience all that Evanston already has to offer, including the extensive pathway network and ample outdoor green spaces, not to mention the West Nose Creek environmental reserve, just minutes from the community!
Evansview Quick Facts
Developed by Genstar Development Company

Arcuri Homes, Cardel Homes and Homes by AVI

Upscale homes starting in the $450's to $590's price range

Hybrid of Craftsman, Prairie and European Traditional architecture

Breathtaking panoramic views of Symons Valley

A good amount of nearby amenities and services, as well as access to Calgary via Stoney Trail
Location
Evansview Calgary Home Builders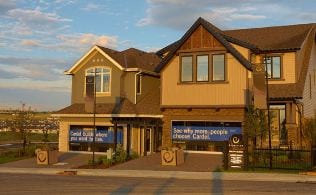 CARDEL Homes – is the exclusive home builder featured in Phase 1 of Evansview. CARDEL is an exceedingly experienced home builder, offering an amazing starting price point in the $450's which includes landscaping and a year of lawn maintenance!
Arcuri Homes – A custom home builder with over 30 years of experience in the Calgary region. Arcuri Homes are building semi-estate homes with a beginning price point in the $590's.
Homes by AVI – Another well reputed home builder in the Calgary region. Homes by AVI are responsible for the 60 townhome units of Evansview, all of which are already sold out!
Genstar is providing Evansview home owners with backyard fencing, another huge perk of buying a new home in the new and exclusive community.
Evansview Amenities
One of the main amenity mainstays for Evansview Calgary is the Evanston outdoor shopping centre, where you will find a Bank of Montreal, CO-OP, RONA and a bunch of other small business. COST-CO is also very close to Evanston, less than a 5 minute drive away while access to the rest of Calgary is easy via Stoney Trail.
More amenities and services can be less than 10 minutes away in Coventry including CARDEL Place, one of the best Calgary indoor recreation centres there is, EMPIRE Studios theatre and much, much more.
Let's not forget about the massive outlet shopping mall in Balzac, also a very short drive away from Evansview. Cross Iron Mills is one of the best Calgary shopping centres we have and is a great alternative to driving across the city to Chinook or Southcentre to get what you need.
School Designations
Public Elementary – Cambrian Heights – 640 Northmount Drive NW – 403-777-6150

Public / French Immersion Junior High – Georges P. Vanier – 509 32nd Avenue NE – 403-777-7460

Public Senior High – James Fowler – 4004 4th Street NW – 403-230-4743

French Immersion Elementary – King George – 2108 10th Street NW – 403-777-6210

French Immersion Senior High – William Aberhart – 3009 Morley Trail NW – 403-289-2551
Evansview Demographics
Here are some relevant statistics for Evanston, Evansview's parent community. Check them out! (Calgary Civic Census)
Age 24 and under – 36.3% (2011)

Age between 25 and 54 – 58.5% (2011)

Age 55 or older – 5.4% (2011)

Average household income – $85,418 (2005)

Percent of population with a High School Diploma or more – 80.1%

Percent of people who own their residence – 93.5%

Percent of people who rent their residence – 6.5%
Are you looking to build new in Evansview? Find out Why Using a Realtor to Build a New Home is in your best interests!
Also be sure to check out Evansridge Calgary, another subdivision in the neighbourhood of Evanston!
Questions about Evansview Homes?

…from an experienced Calgary REMAX Realtor! Anything you need to know about Evanston or any of its subdivisions, ask me and I will provide you with all the information!
Please contact me direct at 403-370-4180 or message me below. I am looking forward to helping you accomplish your real estate goals!