Fionn MacCool's Calgary Restaurant Review
December 30, 2012
By Cody Battershill
Fionn MacCool's Calgary Restaurant Review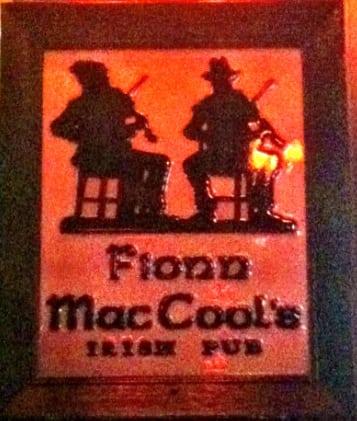 Often enough I drive by Fionn MacCool's when I am in the Eau Claire Market area and haven't thought anything of it. After I heard a friend of mine say this pub had great food, exceptional service and amazing prices, I decided I would see if it was all true.
Atmosphere
Fionn MacCool's has a lovely European feel to it. The whole interior is wood from the ceiling to the floor; it really makes you feel like you have stepped into a nifty corner pub somewhere in England.
I noticed the menu had noticeable differences in comparison to most pubs, but I wasn't complaining. I was actually quite interested in many menu items and needed help in deciding which one to choose, so I asked the waitress.
Lo and behold, our waitress was so familiar with the menu that she could have been the head chef! Every menu item I asked her about she knew every detail and her service was above exceptional. She really gave us 5 star service even though the place was almost full!
Our Orders
Baked French Onion Soup – Caramelized onions simmered in a beef broth, crowned with Swiss and Parmesan cheeses - If you love French Onion Soup, then you will love Fionn MacCool's take on it! A lovely chunky broth filled with a mountain of onions and topped with baked cheese, this French Onion Soup was one of the best I have had in a long time!
Rosslare Lamb Shank – Hand-rubbed with fresh rosemary, onions and cracked pepper, then slow-cooked. Served with buttermilk mashed potatoes and seasonal vegetables – This lamb was SO good. It literally melted in my mouth and was very reasonably priced for the quality of ingredients. This is a must try dish if you like lamb!!
Chicken Tikka Masala Curry – Chicken and onions simmered in the U.K.'s number-one-selling medium-spiced curry sauce. Served with basmati rice, peas and a poppadum – I had to try this dish because it sounded so different from your traditional pub meal. If you love spicy and curry then you will love this dish! I basically mixed my peas, rice and chicken curry all into one concoction...
Fionn MacCool's is definitely one of the top Calgary pub's I have been to in terms of service and quality of food. Next time you're in the Eau Claire area, you should give it a try! Find it in the base of the Sheraton Hotel across the street from Joeys Eau Claire.
Fionn MacCool's

Sheraton Eau Claire Hotel – 255 Barclay Parade Southwest, Calgary, AB
Phone Number – 403-517-6699