Kanpai Sushi on 8th Japanese Restaurant Review
May 26, 2019
By Cody Battershill
Kanpai Sushi on 8th Restaurant Review


Sushi restaurants that I would categorize as the "cream of the crop" are always fun to find. Which is why when a friend recommends to go to a top-notch sushi restaurant like Kanpai, one that I've never been to before, it's exciting to say the least.

It's been a few times now where I've been to Kanpai with that friend. We've made it our new "sushi spot" so to speak and absolutely love the food, service and atmosphere each time we go.

Here's Calgaryism's review for Kanpai Sushi on 8th Street SW in the Beltline community.

Atmosphere - 9.5/10
Service – 8/10
Food – 9.5/10
Cost – 7/10
Overall – 8.5/10
Kanpai Sushi: Location
[map src="" width="100%" height="350px"]
Located at 1414 8th Street SW, Kanpai Sushi is an ideal inner city restaurant to hit up when you're craving the best Japanese food you can get your hands on in Calgary.

If you live in Emerald Stone, Montana, Drake, Smith, The Royal or another nearby condo, a walk to Kanpai takes just a few minutes or less (you guys are lucky).

Parking is usually available along 8th Street SW and on nearby avenues. Just remember not to park directly on 8th during restricted hours or you'll be towed for blocking rush hour traffic.
Kanpai Sushi: Atmosphere & Service
Inside this restaurant you'll find a mix of booths, half booths and some tables. The décor is really well done with hints of Japan everywhere you look (it's a Japanese restaurant, so that's good!). A dark colour palette makes the interior quite cozy and relaxing for whatever the occasion is.

Kanpai's atmosphere is dimly lit which sets a good mood for date night during the evening or night time. During the day, it's brightly lit by natural lighting that comes through its large floor-to-ceiling glass wall which faces west towards 8th Street SW.

The few times I've been here now the service has been excellent. Very fluid and consistent drink refills, food delivery and everything in between that a server should do to make your experience the best it can be.
Our Orders
The best thing about Kanpai Sushi's menu is how many different types of Japanese cuisine it has on it. Some restaurants focus solely on sushi, while others more so on ramen and donburi, for example.

At Kanpai, you can order something of everything – ramen, udon, appies, sushi, sashimi, temaki, maki, rice bowl – and it's always good.

I was actually shocked at how good the ramen was considering there were only a few on the menu. It was so good in fact, it will be going on our list of Best Ramen in Calgary.
Spicy Dan Dan Ramen - $14 - Diced pork, spicy peanut broth, corn, scallion, sesame chili oil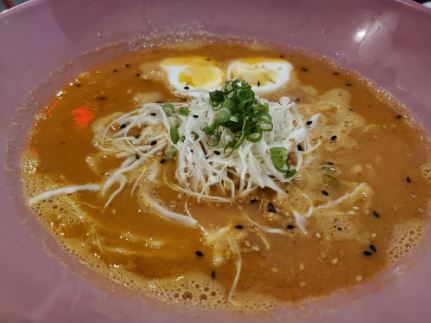 We absolutely loved this spicy dan dan ramen. Its peanut broth was rich in flavour but not to heavy or oily, and the spice was just right, striking a perfect balance between the two.

The ramen noodles were quality also and absorbed some of the rich peanut broth. The minced pork is at the bottom of the bowl, so you'll have to use your spoon to get to it.
Crazy Buster - $16 – spicy tuna tempura, fresh albacore, crispy garlic, green onion, tobiko, sriracha mayo
Lotus Blast - $14.50 – crispy tuna, salmon, cream cheese, crab, lotus root chip, spicy teriyaki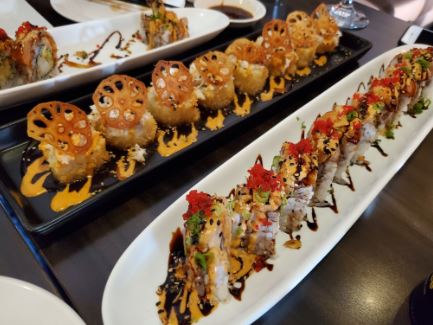 Crazy Buster was my favourite order of the evening. It had a mix of textures and a rich taste with hints of spice, garlic and sweet Japanese mayonnaise. Absolutely lovely!

Lotus Blast was interesting in the fact that the outside is slightly fried to a crisp and as a result the inside is somewhat warm when first served. I don't know about you, but warm cream cheese isn't my favourite thing in the world. It was still good, but we let it cool down for about 10 minutes before eating the rest.

Overall, however, the lotus blast was still an excellent roll. Its fried outside was complimented well the fresh tasting crab, tuna and salmon with added texture and flavour from the crunchy lotus chip and sweet but spicy teriyaki sauce.
Final Word
Kanpai Sushi has an very convenient location for inner city / downtown residents and an atmosphere that will enhance your dining experience every time.

Its food is excellent, and they offer a wide range of Japanese cuisines just in case your not feeling like sushi.

We highly recommend you check out Kanpai Sushi the next time your in for an all-round Japanese cuisine dining experience in the Beltline.
Kanpai Sushi
Address – #110, 1414 8th Street SW
Phone Number – 403-460-6363
I Love Calgary
Looking for more of the best local restaurants? See our best in Calgary list today. Also be sure to check us out at Calgaryism on Facebook and Instagram for more of everything YYC. We hope to see you there!