New Calgary Condos in Kensington – Pixel
December 4, 2011
By Cody Battershill
Pixel - New Kensington Condos in Calgary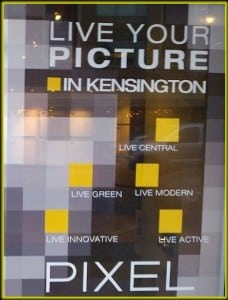 New condos in Kensington ? Yes they do exist! We don't often hear of many new project but recently there have been two higher profile projects started in Kensington.
First St. Johns Tenth Street launched to great success ( Currently 80% sold) and now Pixel. Being developed by Batistella, a local Calgary developer who's previously completed the Colours , Chocolate and a few other new Calgary condo buildings.
The Best Kensington has to Offer
Pixel will highlight the best of everything Kensington has to offer, starting with the location on the corner of 2nd Avenue and 9a Street Northwest. You can walk or catch the LRT into downtown and also access the river, pathways and more, all located a close distance away.
This building will be extremely close to the Sunnyside LRT station and conveniently located so you can walk to Vendome,  Safeway, Sushi, Area spas and more restaurants including Pucinellas, Crave Cupcakes, Spoon Me, Starbucks, FATS Bar and Grill, Osteria De Medici, Broken Plate, Muse and much much more.
Pixel will feature a mix of Studio, One, Two and Three bedroom floorplans as well as some street-level townhouse style condominiums. Pixel will be 8 stories tall and feature approximately 101 units most with underground parking.
Pixel Condo Details
8 Stories Tall
About 100 Units
Underground Parking and Bike Storage
Prices start around 500/ Square Foot
Currently about 30% Sold
Possession Planned for 2014
Some of the buildings highlights include a green roof for residents to enjoy, one secured bike stall per unit, energy star windows, energy star appliances, front loading washer & dryers and stainless steel appliances.
The building will be certified built Green and you also have three finishing packages to choose from. Pixel will also have polished concrete floors. This can either be viewed as a positive or a negative depending on your perspective. (Send me a message below to chat more about this)
The Most Important Aspect of Pixel
No matter what it is extremely important you contact a New Calgary Condominium Expert  before making a decision to purchase in Pixel or any other new condominium in Calgary. There are many different nuances to every building, every location, every time frame for possession and every developer.
With me on your team you have an independent third-party expert  and negotiator working for you and you alone. Remember the sales staff work for the developer, not for you!
Questions about Pixel New Condos in Calgary?

Contact me today for the best advice in real estate! Call me direct at 403.370.4180 or message me below. I am looking forward to helping you accomplish all your real estate goals!
[gravityform id="35" name="Here to Help" title="false" description="false"]