New Calgary Condos in Victoria Park – Guardian
December 27, 2011
By Cody Battershill
Guardian in Victoria Park - New Calgary Condo Review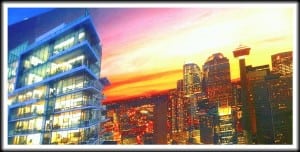 Exciting times for Victoria Park with a new condo tower to be named "Guardian" which will be the tallest residential building in Calgary at 42 stories! Guardian will feature 321 new condo suites which will rise from the former Arriva 2 site which stopped construction at the height of the 2008 recession.
Guardian will feature a range of suites, the smallest will be a 441 square feet one bedroom up to the largest at 1830 square feet two bedroom plus den penthouse with many floor plans and sizes in between. The new condo prices will start at $150,000 up to $1.5 million and the focus by the developer Hon Towers Ltd. is to provide affordable luxury. Hon Towers Ltd. is owned by the same family who runs Jager homes and has completed previous residential condominium towers in Vancouver and are certainly experienced in the construction, homebuilding & new condo building industries.
Victoria Parks at the heart of a revitalization effort which includes several new condo towers including the Arriva tower to which Guardian will be her new companion building. The Stampede grounds is across the street and is also under way a redevelopment including a new multimillion dollar expansion and retail development along with the future new Saddledome. Guardian will also feature some mixed-use development with commercial and live work units at the base in addition to a full gym, yoga studio and other amenities for the building owners.Guardian is set to be an exciting new condo addition to the Calgary skyline offering amazing views and by looking at the building drawing, stunning architecture.
The most important aspect of buying a new condo in Calgary
It is critical when buying a new condo in Calgary to have your own expert advice. If you are considering doing more research on the Guardian or any other new condo in Calgary I can provide you with all the facts and comparisons, save you time and help you successfully navigate the new Calgary condo market.

I want to make sure you get have all the information, get the best value, find the best condo to meet your criteria and make the best long-term decisions to meet your goals. Please send me a message below so I can you can be your independent adviser working only for you help you accomplish your new Calgary condominium goals.
[gravityform id="10" name="Contact a Calgary Condo Expert"]