New Calgary Condos in East Village
December 30, 2011
By Cody Battershill
East Village new Calgary condos coming soon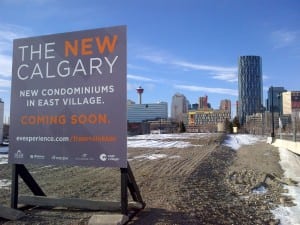 East Village is rising out of the dust east of downtown Calgary! This large area has been under developed and neglected by the city and new development for decades. East Village sits on the corner of Fort Calgary, where the city was born! The city now encompasses more than 1 million people and is going to finally start developing the promising but long forgotten East Village.  We are witnessing the birth of a desirable and brand new inner city area where location, lifestyle and living are its most attractive features. To date over $100 million has been spent by the CMLC (Calgary Municipal Land Corporation) a city-owned group that is managing and developing the area.
New condos emerge in East Village
There are two exciting new condos set to start sales in 2012 from a shared 8,000 square-foot discovery center. The East Village Experience centre will showcase each new condos unique advantages and the overall plan for the area.
Fram+Slokker plans on using four phases of construction to complete their development, starting with the first building which will appropriately be named First. This 18 story building will have  191 units with studio one and two bedroom condos later phases will have both condos and townhomes with mixed-use retail and commercial incorporated into the development.
There's also going to be the Embassy Bosa development who was the first developer to purchase land in the area. This project will be 20 stories tall with 223 units. The name for this new condo? Also appropriately named Evolution. Watch out for these two groundbreaking and record-setting developments in the newly revitalized and rebuilt East Village.
Get the best East Village new condo value
For more information on the past, present and amazing future potential of East Village or any new condo in Calgary please contact me. I would love to put my experience, expertise and insight to work for you as your independent, third-party advisor. Remember the sales staff at the work for the developers and it is critical you have your own representation. Make the best, most informed choices and get the best value.
[gravityform id="10" name="Contact a Calgary Condo Expert"]