Pho HouZ Vietnamese Kitchen Restaurant Review
October 26, 2018
By Cody Battershill
Pho HouZ Kensington Restaurant Review


Just last summer a new Vietnamese & pho noodle house opened its doors in the Kensington District. Called Pho HouZ Vietnamese Kitchen, it's the newest and most modern restaurant of its kind in the area.
We decided to check it out this past week and weren't disappointed. Here's Calgaryism's review of PhoHouz Vietnamese Kitchen in Hillhurst.

Atmosphere – 10.0/10.0
Service – 9.0/10.0
Food – 8.0/10.0
Cost – 6.0/10.0
Overall – 8.25

*10 rated as best
Location
[map src="" width="100%" height="350px"]
Located at 411 10th Street NW, Pho HouZ Vietnamese Kitchen is found in the base of the St. John's on Tenth condo across from the Safeway and beside the RBC.

Sunnyside C-Train is also in sight from Pho HouZ's front door, making it easy for passerby's to stop in to and from public transit.
Atmosphere & Service
Inside Pho HouZ you'll find a modern atmosphere with a dark colour palette and spacious seating plan. Booths line the walls and in the back there's multiple bathrooms with just as much room in them as the eating area.

Our server kept our drinks topped up and was quick to clear dirty dishes off the table. No complaints whatsoever. As a matter of fact, we were serviced by multiple servers which made for an effective way to take care of our needs as customers.
Our Food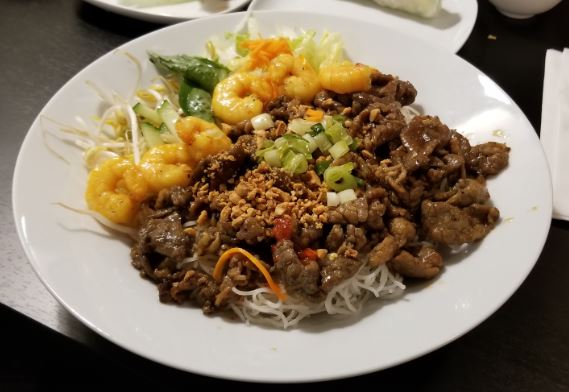 #22A – Grilled Meat & Shrimp with Vermicelli - $13.00 – served with shredded lettuce, carrots, bean sprouts, basil, green onions, cucumbers & peanuts
Choose from beef, chicken or pork for your rice vermicelli dishes at Pho HouZ. This dish was particularly delicious, served with the ingredients above and fish sauce to put on top for added moisture and flavouring.

The beef was lean and juicy and there was lots of it; sometimes you don't get enough meat in your bun dishes and its disappointing, but not at Pho HouZ. Meanwhile, the shrimp were also quite flavourful; they were doused in a sweet sauce and were grilled to perfection.

Overall I enjoyed the bun dish at this pho restaurant. I thought it was better than the bun at the other Vietnamese restaurants in the Kensington District. Next time ill try the soup and add it in to this review!

For more good Vietnamese, be sure to check out our list of Best Calgary Pho Restaurants.
Pho HouZ Vietnamese Kitchen
Address – 411 10th Street NW
Phone Number – 403-229-0215
I Love Calgary
Looking for more of the best local restaurants, activities, events and everything else in YYC? If so, join us at Calgaryism on Facebook and Instagram for more – we hope to see you there!