Sellers' Market Leads to Rising Home Prices: February 2021
March 2, 2021
By Cody Battershill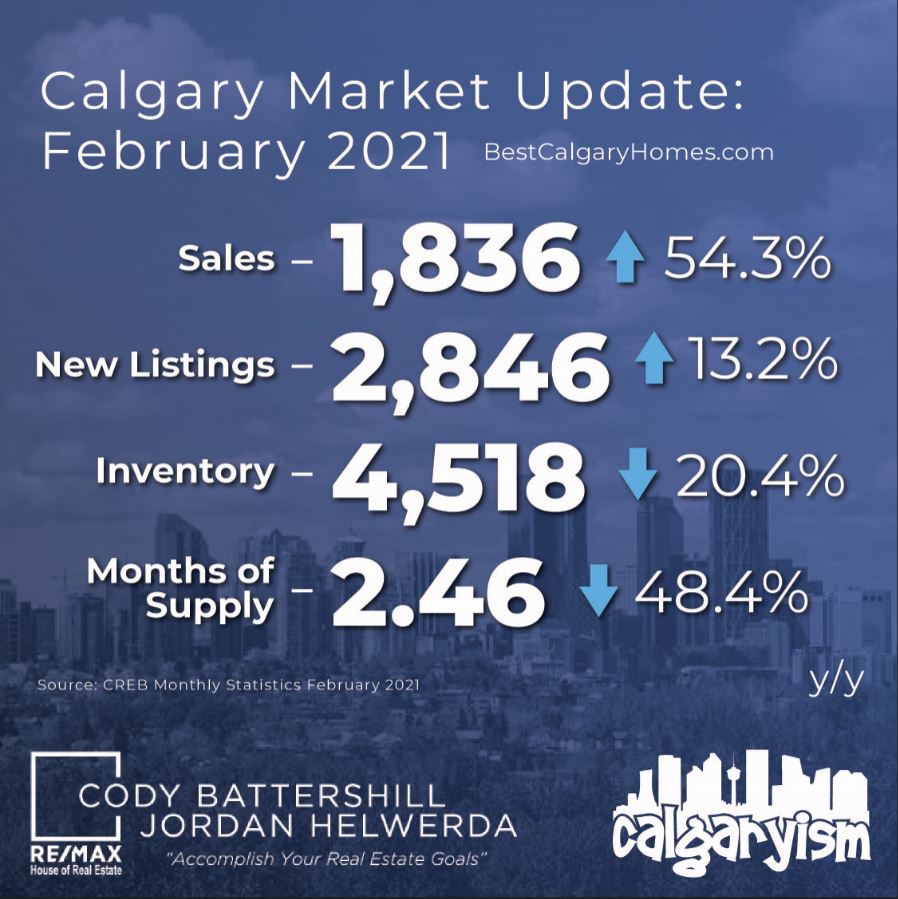 Calgary's residential market has recently seen a dramatic change, turning from a full-blown buyers' market to now a red-hot sellers' market (for most segments) in just a few months. Residential sales in February totalled 1,836 total units, with gains in every price range - although some more moderate than others. The gap between new listings and sales also narrowed, causing the sales-to-new-listings ratio to increase to 65 per cent, keeping the months of supply below three months.
"Despite continued COVID-19 restrictions, housing activity continues to improve. Much of the strong sales activity is expected to be driven by exceptionally low mortgage rates," said Ann-Marie Lurie, Chief Economist at the Calgary Real Estate Board (CREB®). "Confidence is also likely improving as vaccine rollouts are underway. Additionally, some of the worst fears concerning the energy sector are easing with recent gains in energy prices."

Calgary's detached sector has much tighter conditions compared to other segments, especially for homes priced below $600,000 where strong sellers' market conditions are present due to the fact that there's only two months of supply.
Overall, the residential market has seen relatively low inventory levels compared to sales over the past several months, causing average benchmark prices to increase across the board. For example, in February of 2021, the residential benchmark price grew versus January and currently sits about 4 per cent higher than levels seen last year.
Detached homes have the lowest months of supply and has seen the largest price gains as a result. Meanwhile, the apartment sector still has a relatively high level of inventory versus sales, which has impacted price recovery for this particular segment.
Here's more facts on Calgary's residential real estate market for February of 2021:
Calgary Detached Real Estate Market Facts: February 2021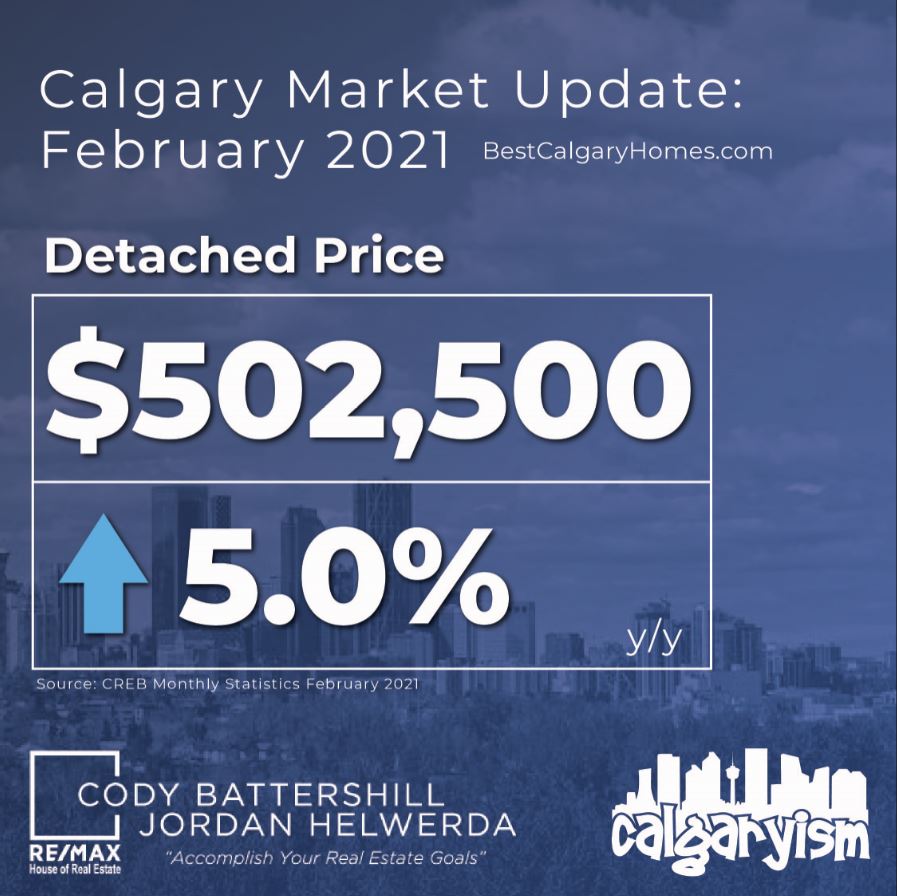 Detached sales improved across every price range
New listings rose, but not enough to prevent further tightening in the market as the sales-to-new-listings ratio rose to 71 per cent
Months of supply fell to under two months, the lowest in February since 2007
Properties below $600,000 saw months of supply fall to just above 1 month
Detached sector overall saw significant price gains, with a benchmark price of $502,50, nearly 2 per cent higher versus January and 5 per cent higher y/y
This is the first month that detached prices have risen above $500,000 since 2018
Current prices sit 5 per cent below previous highs recorded in 2014
Calgary Semi-Detached Market Facts: February 2021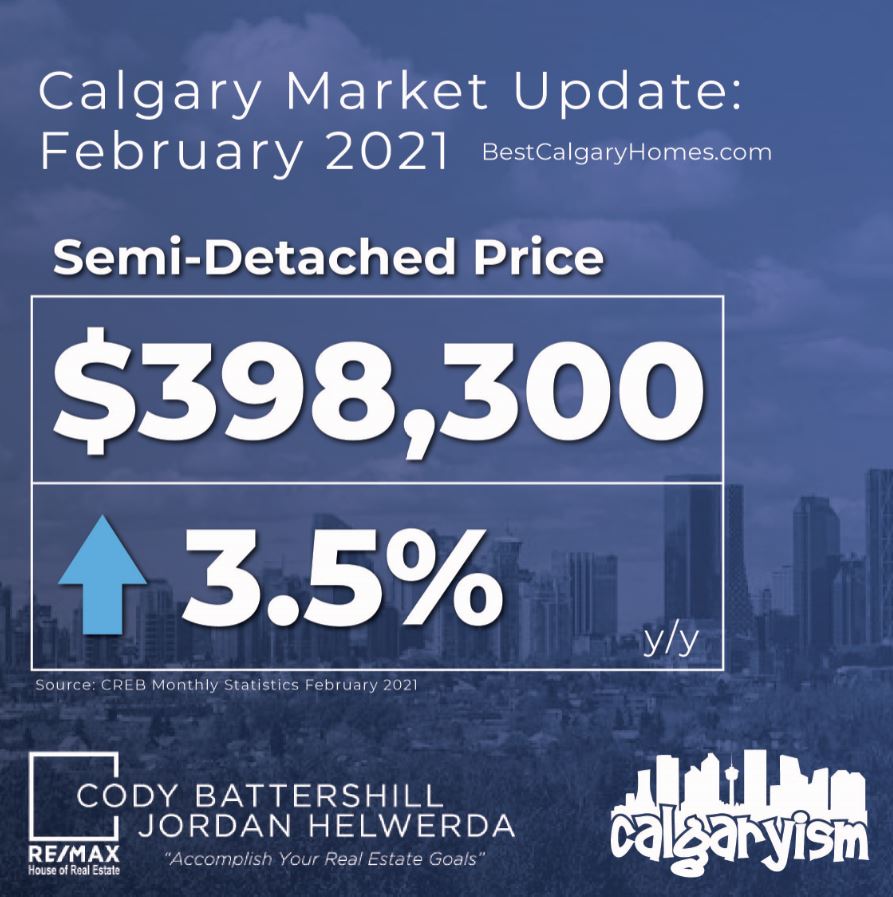 Sales saw significant gains in February, pushing activity to the highest levels seen for the month in 13 years
Increase in new listings was not enough to offset sales, ensuring a continued sellers' market for this segment
Benchmark prices improved over both the prior month and y/y with lower levels of supply relative to sales
Benchmark price increases not consistent across all districts, with the South East and North reporting the strongest year-over-year price gains, and the West District remaining 2 per cent higher than last year
Calgary Townhouse Market Facts: February 2021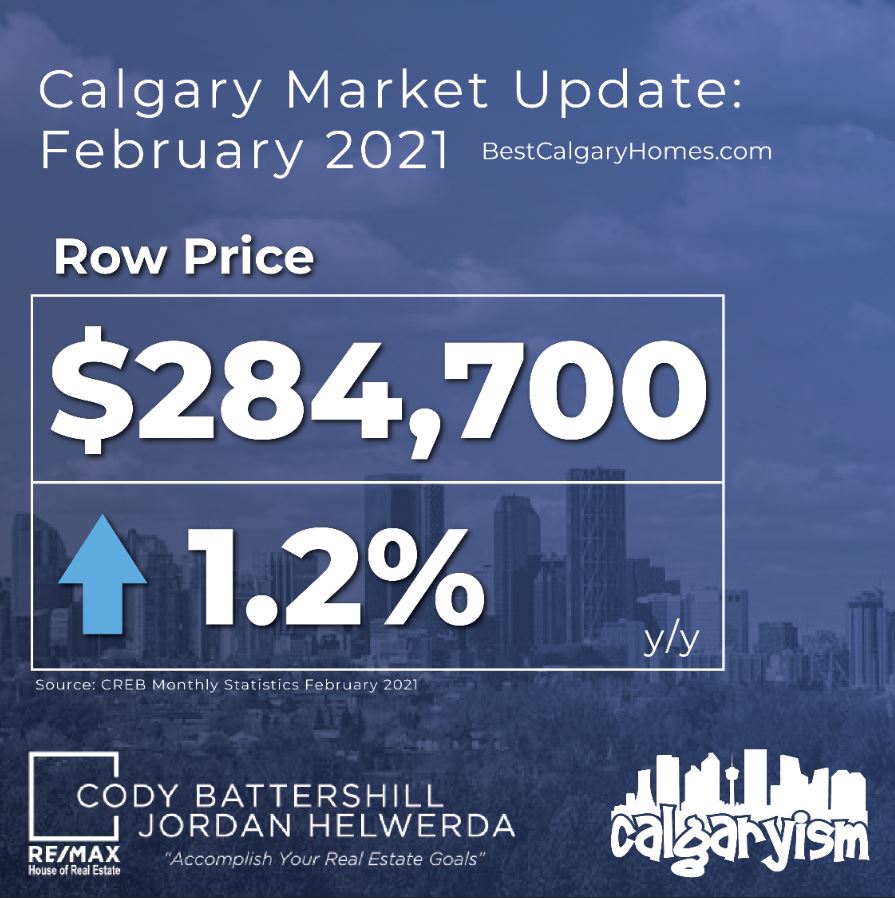 Improving sales offset gains in the row / townhouse sector and the months of supply fell to three months despite a significant increase in new listings
Conditions in this segment reflect an improvement relative to the oversupplied conditions on a year-over-year basis
Citywide reductions in inventory relative to sales supported some price improvements, with benchmark prices trending up from last month and just over one per cent higher y/y
North, North West, South and South East districts still are seeing prices lower than those in February of 2020
Calgary Apartment Market Facts: February 2021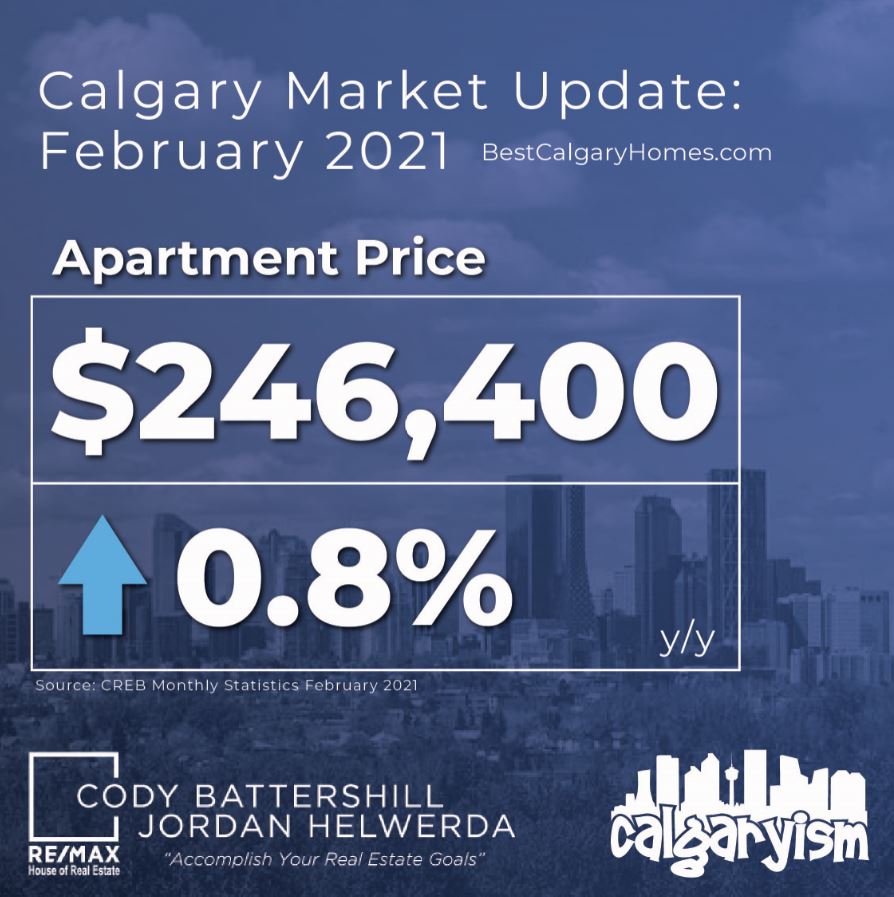 Apartment condominium sales improved to the best levels recorded in February since record-highs seen in 2014, largely driven by product priced mostly under $300,000
The gain in sales activity was not enough to cause any significant changes to inventory levels, with city-wide benchmark price remaining relatively stagnant (a slight increase y/y)
Months of supply has trended downwards but still remains above five months, preventing the same type of price recovery seen in other segments
Questions about Calgary Real Estate?

Contact us anytime if you have questions about buying and / or selling real estate in Calgary. As top-producing agents with RE/MAX House of Real Estate, we are highly experienced REALTORS and would love to put our knowledge and skills to work for you!