Tekkotsu Ya Ramen Calgary Japanese Restaurant Review
March 3, 2018
By Cody Battershill
Tekkotsu Ya Calgary Ramen Restaurant Review

While Googling up ramen restaurants in Calgary the other day I noticed a new restaurant called Tekkotsu Ya in the deep southeast. After a bit of research, I found that this ramen restaurant just opened its doors in January of 2018!
Being a huge ramen lover, I decided to set a date for some time soon and check it out. It took a month to finally get the chance, but the wait – and persistence of reminding myself to go – was well worth it! Also see our list of Best Calgary Ramen Restaurants.
Much like pho restaurants, ramen restaurants serve a lot of the same dishes but have their own signature broths, ingredients and tastes. It's this originality that makes going to check out ramen all over the city as exciting as it is adventurous from a foodie's perspective.
We were not disappointed having to drive 20 minutes to reach Tekkotsu Ya on the outskirts of the southeast (I live in the west). The excellent food, atmosphere and service made up for it however!
Ratings
Location
[mappress mapid="391"]
Atmosphere & Service
The exterior of Tekkotsu Ya is somewhat unassuming. Once you arrive at the address keep an eye out for the not-so-noticeable sign with a plain white background and small red letters – both English and Japanese.

Walking inside you'll find a contemporary atmosphere with lots of tables and space in between. The white walls and dark hardwood used for tables, chairs and flooring make a pleasant, airy and comfortable atmosphere. The interior is also adorned with Japanese and Chinese letters on the walls along with other Asian décor which is always a nice touch.

Our server was very friendly and helpful in making suggestions for which ramen to choose. There was one ramen bowl that my dinner partner and I had never heard of – the Jigoku ramen – which was basically a spicy version of chicken or pork broth soup.

Other than that, everything on the menu had been seen before and our server did a good job of keeping us happy with drink refills and service. The menu was actually quite simple and easy to read.
Our Orders
Jigoku Ramen - $13.50 – pork or chicken spicy house made broth, pork or chicken chasu, flavoured egg, spinach, negi, toasted seaweed, choice of sauce
Tekkotsu Ya's Jigoku scored well for the three main categories of what makes a good bowl of ramen: broth, noodles and meat. The chicken version of the Jigoku ramen had a not-too-hot, medium-spiciness broth with a sweet chicken flavour.

You can tell Tekkotsu Ya's noodles are house made and you're given an option of thin or thick egg noodles to boot. Meanwhile, the chicken chasu was moderately thick, juicy and savoury and gristle free. One unique aspect of this bowl was the amount of spinach – there was lots! In addition to the negi and seaweed, you feel like you're getting a decent amount of vegetables to boot.

One downside to this ramen bowl was the serving size. It could have used more noodles, but then and again I am a bigger guy!

Overall, I would have to say that Tekkotsu Ya is up there with the best ramen restaurants in Calgary. Check it out the next time you got a craving for some good Japanese egg noodle soup and want to try somewhere new!
Edamame - $4.00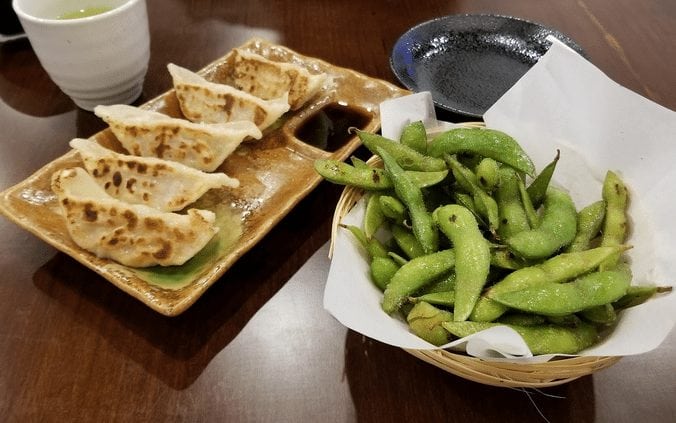 I've never felt the need to rant and rave about edamame before. Well, Tekkotsu Ya's take on the common Japanese appetizer changed that!

They slightly grill or deep fry theirs and add a tasty seasoning salt that makes these edamame go down the hatch one by one, until the bowl is all gone. These are a must try appetizer at Tekkotsu Ya!
Gyozen - $5.00
These Japanese dumplings were handmade as far as I could tell. Each had a decent amount of pork inside, was lightly fried to perfection and sweet to taste.

Gyozen are always a good starter before scarfing down a bowl of ramen! In this particular case, they helped me fill up!
Tekkotsu Ya
Address – #4 - 1704 61st Street SE
Phone Number – 403-569-0785
I Love Calgary
Looking for more of the best local activities, restaurants, and everything else to do with Calgary? If so, we invite you to join us at Calgaryism on Facebook, Twitter and Instagram to stay updated via your live social media feed today. We hope to see you there!