Towa Calgary Restaurant Review
December 18, 2012
By Cody Battershill
Towa Calgary Restaurant Review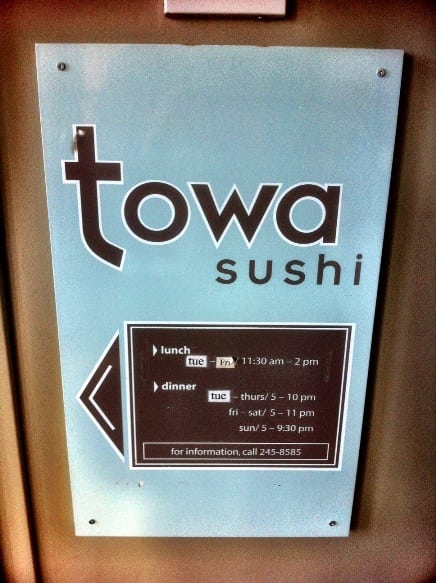 Every time I crave sushi Towa is one of the first places that come to mind. Known for their larger than usual sushi rolls, Towa is definitely the place to go if you are hungry and want to fill up on sushi. Why settle for miniature rolls at another sushi joint when you could stuff your mouth full with the biggest, freshest and best tasting sushi in Calgary!
Atmosphere
Towa's atmosphere is always enjoyable to be in. Choose from either a table or a bar style seat in front of the sushi chefs or looking onto 4th Street SW, it's up to you. The whole restaurant is one room with the chefs working away behind the bar counter and the waitresses getting everything ready at their prep section. It's a lively atmosphere!
Servers are always very attentive to tables making sure everyone of Towa's customers is taken care of. I have never had an issue with a lack of service or friendliness at Towa Sushi.
Our Orders
Tempura Udon with added beef – $16 - thick noodles, two sliced hard boiled eggs, two crab legs, tender beef and one other main ingredient I'm not necessarily sure what it is, but its sweet to taste and delicious. All of this mixed into a duck broth and a side of tempura vegetables. This is one of my favourite dishes at Towa other than sushi. It's a nice alternative to having Vietnamese Pho all the time. Try it!!
Fire Cracker Roll - $14 – jalapeno tempura, sour cream and smoked salmon – if you like spicy then this sushi roll is one you should try! While the jalapeno spices things up the sour cream acts to soften the spice and gives the salmon a very unique taste that makes you want more! Do it!
Rainbow Roll - $16 – shrimp, salmon, tuna, avocado, cucumber, flying fish roe – want a sushi roll packed to the max with delicious, fresh ingredients? Towa's rainbow roll fits right into these specifications. Warning: you might drop some ingredients onto your plate when attempting to eat this roll. It's huge! Nonetheless, the Rainbow Roll is a must try with some of the best native ingredients to sushi cuisine.
Towa is an absolute must try if you like sushi! It is definitely one of the best Calgary sushi joints, so what are you waiting for! Head on down to Towa today! Open for lunch and dinner.
Towa Sushi
Address – 2216 4th Street SW, Calgary, AB
Phone Number – 403-245-8585