Watermark Bearspaw Calgary Luxury Homes
March 5, 2013
By Cody Battershill

Watermark Bearspaw Calgary Luxury Homes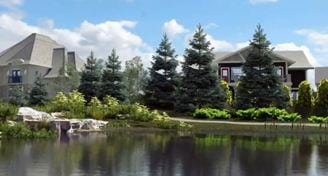 A new northwest Calgary neighbourhood is setting the standard higher than ever before for luxury communities in Calgary, and is gaining more than just local attention for its accomplishments.
Watermark at Bearspaw has been named as the Canadian Community of the Year in 2012 and the Best New Calgary Community of the Year in 2012 at the 2012 National SAM Awards!
With so many other new community developments in the Calgary area, let alone Canada for that matter, being named as #1 for such awards speaks volumes as to how "standard setting" Watermark at Bearspaw really is. It is a remarkable achievement, and this community really has made a lasting impression on Calgary luxury home buyers.
Before I go on any further about how amazing this new luxury community is, let me introduce you with some quick facts…
Watermark Bearspaw Quick Facts
Developed by Macdonald Development Corporation

Home Builders include Wolf Custom Homes, Trickle Creek Custom Homes, Albi Homes, Homes By Us, and Astoria Custom Homes

Estate home living on larger than life lots, anywhere from one fourth to more than one acre in size

Starting price of $1 million for home and property

Breathtaking panoramic views of the foothills and Rocky Mountains

More than 5 kilometres of paved pathways

All inclusive public amenities

20 minutes from the Calgary Airport and the downtown core
Location
[mappress mapid="11"]
Distinct Luxury Home Builders at Watermark
While Watermark at Bearspaw received much distinction as a finalist in the CHBA's 2012 Awards, to have one of its home builders be recognized as one of the best in Canada is only further testament to the high caliber of luxury that Macdonald Development Corp has created at Watermark.
Albi Homes was a finalist in four different categories in 2012, including the Grand SAM, one of the most prestigious awards for home builders which recognize the highest level of excellence in marketing and building.
But let's not forget about the other home builders who have participated just as much in the creation of this exclusive, premier luxury community in Calgary…
[caption id="attachment_16028" align="alignright" width="305"]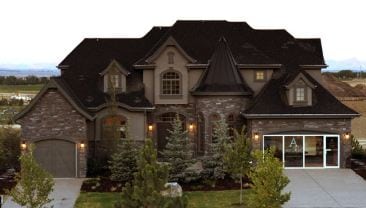 Astoria Showhome at Watermark[/caption]
Astoria Custom Homes
Astoria has an exceptional reputation as a luxury builder with many years of excellent customer satisfaction. Their show home at Watermark is 3788 square feet with an additional 2200 square foot basement. 5 bedrooms, 3.5 bathrooms, although homes will vary in customizable options.
Albi Homes
As mentioned above, Albi Homes is an outstanding luxury home builder in Calgary, who has grown to be one of the most recognized in the city. Albi Homes is also involved in other notable upscale communities in Calgary including Aspen Summit and Timberline Estates. Albi Homes have 25 lots in phase one at Watermark as well as more to come in Phase 2.
Homes By Us
is a Calgary based, award winning builder with over 400 homes under their belt. Homes By Us show home at Watermark is 3861 square feet with an additional 3282 square feet on the basement level. Homes By Us emphasizes customization in their homes for ultimate customer satisfaction.
Trickle Creek Custom Homes
Another distinctive luxury builder in Calgary with over 30 years of experience. Trickle Creek has 4 lots at Watermark Bearspaw, two of which are recently built.
Wolf Custom Homes
is another award winning builder who has been involved in acreage properties and estate homes in the Calgary region since 2004. Their show home is 8,800 square feet across 3 stories with 6 bedrooms and 7 bathrooms.
Watermark at Bearspaw Amenities
Watermark at Bearspaw has an all-inclusive amenity list hard to look past for any luxury buyer.
[caption id="attachment_16030" align="alignright" width="299"]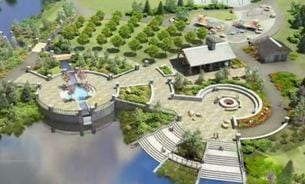 Central amenity plaza[/caption]
Included in the community design is a central plaza on waterfront with verandah, fire pit, BBQ and outdoor kitchen facilities, multiple playgrounds and paved pathways that have been combined seamlessly with open green spaces, natural vegetation, cascading streams and soothing ponds to create the ultimate luxury living experience.
Watermark's central plaza is a focal point in the community, where people can enjoy the waterfront and landscapes while making use of the amenities listed above. Summer BBQ's, birthday parties, a picnic or some rest and relaxation outdoors are only a few possibilities of use.
And for those who love the outdoors, Watermark's five kilometres of paved pathways are only a starting point of an extensive network of such spanning through countless hectares of natural areas located in the Glenbow Ranch Provincial Park. 3200 acres of pure outdoor bliss is only a short distance away!
Watermark at Bearspaw residents have ample access to necessary amenities and services provided by outdoor shopping centres located in various suburban centres, like those in Crowfoot and Royal Oak, while access to the rest of the city is quick and easy via Crowchild and Stoney Trail. Let's not forget, Calgary's downtown core and the airport are only about 20 minutes away when living at Watermark!
With so much to offer, it's no wonder Watermark at Bearspaw has become a very popular living destination for luxury home buyers looking for a lot more than the typical out of their home and community.
Questions about Calgary Luxury Homes?

…from an experienced luxury real estate agent in Calgary. Call me today at 403-370-4180 or message me below, anytime! Why Should I Use a Realtor When Building New?
Search Watermark Bearspaw Calgary Luxury Homes

[mrp account_id=21736 listing_def=search-559678 context=recip init_attr=ipp~10,sort~price_desc perm_attr=_theme~default]