The Downtown Calgary Plus 15 Network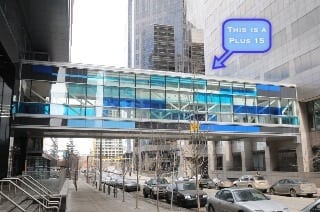 So, what is a plus 15 ?
We better find out considering Calgary has the largest +15 network of its kind in the world. The +15 system traces its roots back to the 1970`s with the first bridge connecting the Westin Hotel to Calgary Place across 4th Avenue. It soon became known as the "Plus 15 System" because the bridges are located approximately 15 feet above ground level.
Calgary is home to the second largest concentration of head offices in Canada and is this countries energy capital. With the most recent quarter of downtown office space leasing activity being the strongest ever recorded and the best quality space (AA and A) at a vacancy rate of just 3.47% , all signs point to more construction and more connections into the + 15 system. Not surprisingly one of the conditions of building new downtown office space is connecting into the existing system from building to building.
One of the big reasons behind the system is our winter weather makes it less than desirable to run outside from building to building. With our winter weather the plus 15's make it dry, warm and comfortable to get almost anywhere downtown, no jackets, boots, mittens or ear muffs required! These raised pedestrian bridges are the conduits that help business men and women get from meeting to meeting while keeping their shoes dry!
Did you know Calgary has about 18 kilometers and counting of these raised walkways with 63 bridges (more being added yearly with new construction). This makes Calgary's plus 15 system the largest of its kind in the world according to the City of Calgary.
Plot your course and explore the Plus 15 network in Calgary!