Talisman Centre – Do What the Locals Do – Episode 16
January 10, 2013
By Cody Battershill
Do What the Locals Do – Episode 16 – Talisman Centre
Any devoted gym goer in Calgary who doesn't already go to the Talisman Centre knows deep down inside he or she is missing out on one of the best indoor recreational centres there is in the city.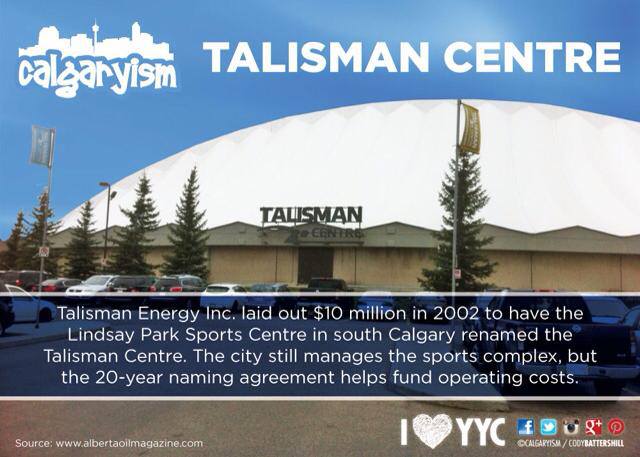 While we all would like to believe our own gym is the best in Calgary (and it very well might be for you), the Talisman Recreational Centre simply has too much to offer in comparison to other Calgary gyms to be considered equal. For those who want an ultimate recreational playground throughout the year, the Talisman Centre is your best bet!
And for those visiting Calgary who are staying in the inner city or downtown areas, the Talisman Centre can be reached in only a few minutes of driving and has very flexible hours of operation!
Talisman Recreational Centre Facilities
5 full-sized gyms with a variety of public times and scheduled activities

2 running tracks, one of which is multi-lane and runs around the circumference of the inner gymnasiums

Massive fitness facility with approximately 25,000 square feet of space filled with all your needs for cardio and weight training

Every week Talisman hosts over 60 public fitness classes in their dry land facilities

2 eight-lane Olympic sized swimming pools with daily public swim times

Scuba diving tank and Olympic diving platforms at 3, 5, 7 and 10 metres

2 hot tubs, one with ramp access
Another amazing benefit to visiting the Talisman Recreational Centre in the spring and summer is its riverside location. Tucked away in a nook surrounded by the Elbow River, going for a riverside walk, run or jog is easier than ever with the amenities offered by the Talisman Centre only a stone throw away. Check out these Top 10 Inner City Parks you might discover on your river walk!
If you are visiting Calgary, the network of parks and pathways found on our two main rivers is worth checking out. They are a highlight of Calgary and are used by countless people!
Talisman also offers...
Wide range of different programs for people of all ages, abilities and talents

Recently renovated locker rooms

Caregiver and family locker rooms

Lockers for daily use in locker rooms

Daycare options for parents

Free parking provided while using the facility (maximum of 3 hours)

Volleyball, basketball, badminton courts

Jugo Juice and Good Earth Cafe at the main entrance
Want to know more? Check out these Calgary Activities at the Talisman Centre!
Whether you're new to town, are visiting for a short while or have lived here for ages, there are always a number of fun fulled activities and events happening at the Talisman for all age groups. Check it out!
For more Calgary activities, be sure to Do What the Locals Do and experience some of the best in the city!
Talisman Recreational Centre
Address – 2225 Macleod Trail South, Calgary, AB

Phone Number – 403-233-8393

www.talismancentre.com
Hours of Operation
Monday to Friday - 5am to 11pm

Saturday – 6am to 10pm

Sunday and Holidays – 7am to 10pm