Cody Battershill
Cody Battershill is a born-and-raised Calgarian who has been serving the community as a Realtor® since 2004. During his career he has received several achievement awards, earned many professional designations and served on multiple real estate boards, all the while consistently ranking high amongst his peers as a result of his motivation to provide excellent client service.Just recently, Cody received the Queen Elizabeth II's Jubilee Medal in in recognition of his significant contributions to the province of Alberta.
In 2013, 2014 and 2015h, Cody ranked as one of the Top 100 Remax Agents in Canada out of 19,100 agents. In 2017, he was named as the Top Realtor® in Canada by Property Spark for his excellence in branding, marketing and social media – he is the founder of Calgaryism with more than 75,000 followers across various platforms. In 2018, Cody was named one of the Top Real Estate Influencers in Canada by POTLOC due to his success in real estate, influence in social media and energy advocacy which today is supported by hundreds of thousands of Canadians across the country.
Cody has sold hundreds of properties since he began his career in 2004. As one of the most trusted names in Calgary real estate, he takes pride in providing his clients with the best service, advice, and third-party representation the industry has to offer. Contact him anytime to discuss your real estate goals!
Cody's Accomplishments & Awards
The Queen Elizabeth II's Platinum Jubilee Medal 2022
Certified Condominium Specialist
Top 100 REMAX Agents in Canada 2013, 2014, 2015(1h)
Individuals out of 19,100 Agents
REMAX Hall of Fame
REMAX Chairman's Club
REMAX Lifetime Achievement Award
MLS Million Dollar Club
Top Real Estate Influencer in Canada 2018 – POTLOC
Top Realtor in Canada 2017 – Property Spark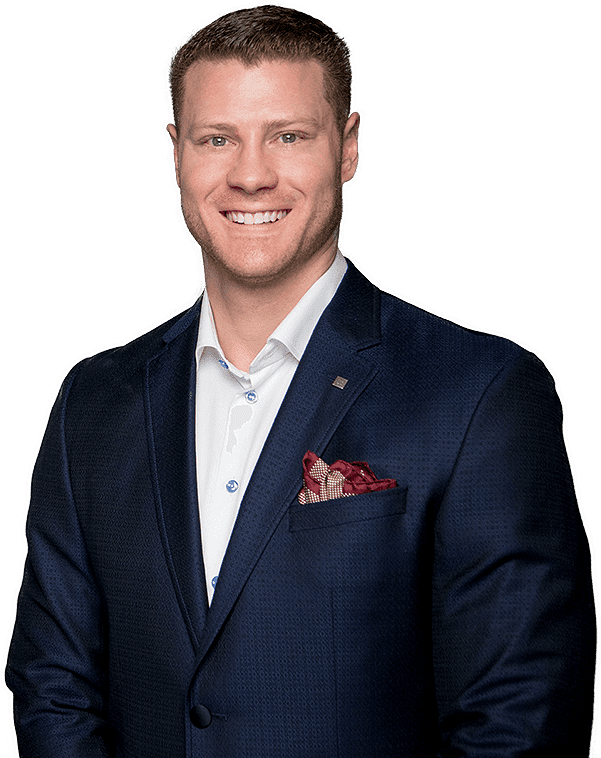 Jordan Helwerda
Jordan Helwerda is a born-and-raised Calgarian who has been involved in the real estate industry for over a decade. With a background in raising capital, development, investment, negotiations and sales, Jordan feels like being a licensed realtor is his true calling – and is certainly his passion!
In 2011, Jordan graduated from the University of Calgary with a Bachelor in Economics. In 2014, Jordan became a Realtor® and ever since has experienced great success in the industry with hundreds of sold listings to date, a true testament to his dedication to clients and effort to make sure they are taken care of every step of the way throughout the home buying / selling process. When Jordan isn't working hard in real estate, he giving back to his community by volunteering at the Alberta Animal Rescue Society and Habitat for Humanity, the latter of which he helps build homes for deserving families and mentors them into home ownership. Jordan gives a portion of every real estate transaction he does to the Children's Miracle Network.
Jordan is passionate about providing you with unparalleled service and advice as Realtor® in Calgary. Contact him anytime if you have questions about the market or would like to discuss your real estate goals!
Jordan's Accomplishments & Awards
Certified Condominium Specialist
Bachelor's Degree in Economics (B.A. Economics)
REMAX Hall of Fame
REMAX Platinum Club
MLS Million Dollar Club
Eric Palin
Eric Palin is an Albertan with rural roots and a big city heart. Moving to Calgary was a pivotal step in setting the stage for his competitive figure skating and where his journey as a professional athlete took flight. His high-performance work ethic and interpersonal training quickly took him to the top as a professional athlete. As a leader in his discipline, Eric served as a Mentor for media relations, prepping colleagues for all media outlets from print to the big screen. After navigating 48 different countries as a representative for Disney On Ice/Feld Entertainment and Royal Caribbean, Eric has chosen to use his global insights here in Canada and to call Calgary home once again.
As a Realtor, Eric's unique skill set has ranked him one of the top ten producing individuals, more than once, as recognized by Remax House of Real Estate. Remax Western Canada has awarded him consecutively for his outstanding achievements.
Eric brings a fresh breath of integrity, people passion, and creative genius to the Real Estate marketplace, where building relationships is his number one priority. Eric seeks out effective channels to collaborate and celebrate community at every turn.
Eric's Accomplishments & Awards
Certified Condominium Specialist
Professional Figure Skater and Principle Performer with Disney on Ice
Professional Figure Skater & Principle Performer with Royal Caribbean International.
RE/MAX Platinum Club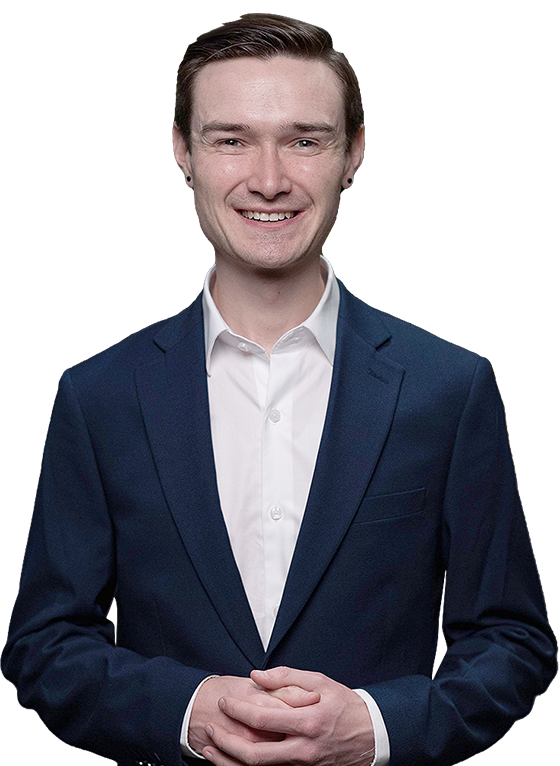 Ben Pinckney
Ben Pinckney is a born-and-raised Calgarian who started his real estate journey in 2021 after reflecting on how he could make a difference in his personal and professional life as well as in his community. After buying his first home in 2020, the whole experience made him want to find a way to help others achieve their real estate goals.
Ben is proud of the relationships he's built with his clients and owes it all to his strong work ethic, organization, forethought, and 'people first' mentality. These characteristics exemplify Ben's commitment to ensuring his clients receive the care and attention that they deserve throughout their real estate journey.
Ben is always actively looking for ways to give back to his community. Ben donates a portion of every real estate transaction to the Children's Miracle Network. He also led initiatives with other industry members to raise funds for the Brain Tumour Foundation of Canada and has collaborated with various local business' here in Calgary to not only support but promote them as well!
Whatever chapter you are at in your life, Ben is there to ensure that you and your real estate needs are taken care of because people always come first!
Ben's Accomplishments & Awards
Certified Condominium Specialist
Bachelor's Degree in Earth Science (B.Sc. Earth Science)
Bachelor of Applied Science in Geographic Information Systems (GIS)
REMAX Executive Club

Jeff Sexsmith
Jeff Sexsmith is a born-and-raised Calgarian. Through his travels and life experiences outside the city, he has gained a great appreciation for Calgary and what it offers to the people who are lucky enough to call it home.
Being a people-oriented person, Jeff has always worked best in a team environment. His passion to work with people, and his experience in a customer service setting, led him to management where he helped to grow and lead a team of 70 employees. He was a key driver in operating a very successful business focused on customer care and retention. During his time in this role, he gained invaluable experience in working to overcome obstacles. He is of the belief that with hard work, the right mindset, the desire to take new approaches to challenges and working cohesively with like-minded individuals, a solution can be found for all problems. For these reasons, when entering the Real Estate world, Jeff was attracted to working with the Calgaryism Real Estate team. He felt he could collaborate and work with agents he considers some of the best in the business, and together the team would be able surpass the expectations of their client's. He sees his clients as another member of the team, working side-by-side towards their goal.
Jeff's number one priority is that his clients are completely satisfied with their Real Estate transactions. When searching for property, he wants to find the right property at the right price. When selling property, he wants to ensure that his clients get the most out of their investment. He understands the stress that comes with Real Estate and strives to ensure that the process runs smoothly, causing the least amount of interruption possible to his clients lives. His greatest gratification comes from helping people, and seeing their satisfaction once a set out goal has been met. Wherever you may be in your journey in the market, Jeff will be there to help you achieve your Real Estate goals.
What You Get with
Cody & Jordan
24-hour email notifications as soon as properties that fit your
criteria are listed on the MLS®
24-hour support in your home search via Cody & Jordan
Excellent communication via telephone, email or text message.
You stay updated on the development of your transaction as a
buyer / seller
Full benefit of Cody & Jordan's professional marketing skills
and intimate knowledge of Calgary's residential market, current
trends and conditions
Referral to trustworthy and experienced industry professionals
if you need it – real estate lawyer, condo document review
expert, home inspector, mortgage specialist, etc.
Professional third-party representation and adept negotiation
skills with your best interests at heart
Objective information and advice throughout your transaction
Listing of your property on our websites which get more than
20,000 monthly visitors
Professional HDR wide-angle / drone photography services and
print media for sellers designed to spark the interest of potential
buyers
SEO-tailored blog posts for sellers to maximize exposure of your
property online to a full spectrum of potential buyers
Social media advertising on our Facebook and Instagram
accounts with tens of thousands of followers