Let a Calgary Relocation Specialist & REALTOR® Help You!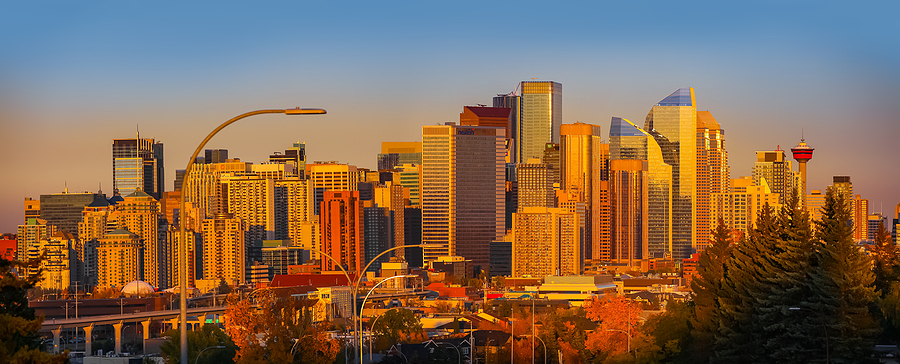 Moving to Calgary can sometimes be extremely stressful and complicated with a lot of different things to micromanage all at once. The process of relocating doesn't always have to be this way though; our goal as born-and-raised Calgarians and Relocation Specialist Agents with RE/MAX House of Real Estate is to assist you in finding the perfect place to call home in Calgary and make your relocation process as smooth as possible!
Over the years, we have helped countless people move to Calgary from different parts of Canada and around the world. After all, we've called this city home all our lives and want you to love and experience all that it has to offer – just like we have been showcasing on Calgaryism for more than a decade now, our Facebook page with nearly 60,000 followers!
Apart from sharing the best in Calgary through our social media channels, we are top-producing agents in our office (out of hundreds of agents) on a regular basis and would love to put our knowledge, skills and experience to work for you and help your relocation to Calgary go as smooth as possible! Begin your Calgary Home Search now.
Here's everything that you need to know before moving to Calgary below. Leave your questions in the comments section below or contact us anytime and we will be happy to assist you!

Why Choose Calgary?
Calgary is youthful with 1.4 million people and an average age of 37.2 years
Calgarians enjoy 333 days of sunshine each year – more than any other major city in Canada
Calgary is just 45 minutes from the foothills and Rocky Mountains: ski, snowshoe, hike, bike, canoe amid beautiful natural scenery year-round
Calgary is diverse with more than 120 languages spoken throughout the city
Calgary has been named the 5th most livable city in the world for nearly a decade
Calgary is home to one of North America's largest pathway networks, with over 700 kilometres of paved trail connecting natural areas, parks and communities.
Calgary is situated in the western Canadian province of Alberta, about a 45-minute drive east from the Rocky Mountains. Established at the congruence of the Bow and Elbow Rivers, the city is located in a hotspot for a favourable weather phenomenon called Chinooks that can change a winters day from cold to warm in a matter of hours. Besides having Chinooks, Calgary has more days of sunshine per year than every other major Canadian city.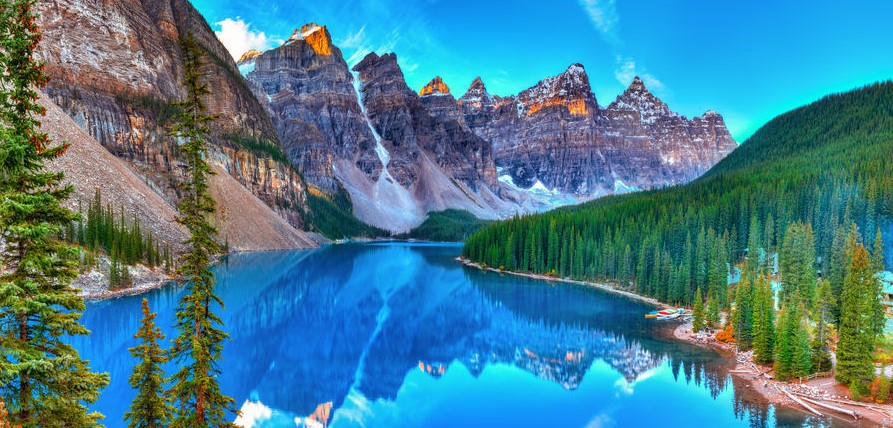 Moraine Lake Near Banff, AB
The city has a truly awesome location in southern Alberta within moderate driving distance to a number of beautiful lakes, world-class ski resorts, national parks and the U.S. border, not to mention an international airport with direct flights to most locations around the world.
Calgary has also been named as one of the top 5 global cities to live in by the Economist Magazine's Global Livability Index consecutively from 2010 to 2019, as a result of high scores in stability, healthcare, infrastructure and education. Also see:
Cost of Living in Calgary
How much it will cost to live in Calgary? It's likely the first question you have in mind when considering relocating, and rightfully so. According to a recent report by MoneySense and Macleans, the average price of a single-family home in Calgary Metropolitan Area ranges from $430,202 in High River (an hours' drive to the city) up to $761,966 in the City Centre area.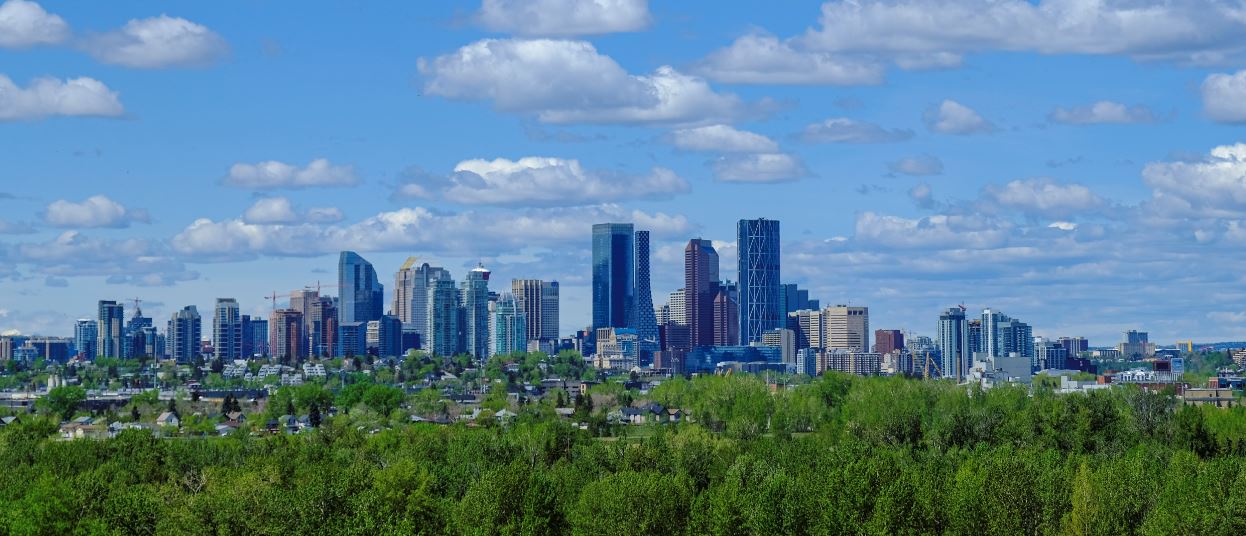 Downtown skyline view from the southeast
Another analysis by Zoocasa on the cost of living in Calgary in 2018 found that:
$26,327 is the minimum average income needed to afford living in Calgary (a townhouse in the East District)
$116,960 is the minimum average income needed to afford living in the most expensive area of the city (semi-detached home in the City Centre)
The most affordable real estate is in the northeast and east districts
The most expensive real estate is in the west and city centre districts
Condos are the most affordable type of product, then townhouses, semi-detached, and detached properties
Renters can expect to fork out anywhere from $500 (for a single bedroom) to more than $2,000 for an upscale townhouse in the inner city. Renting a detached home can start anywhere from the mid $1,000s and go all the way up to several thousand dollars per month depending on your budget and needs.
Jobs in Calgary

Stampede Grounds / Beltline / Downtown as seen from Erlton
When people think of moving to Calgary, they probably think of two things: oil and gas and the Stampede. They may also think of good jobs and high wages, as the average family household income was one of the highest, if not the highest for major cities across the country in 2018 at nearly $103,000.
While the oil and gas sector still plays a huge role in the city's economy, times are changing and jobs in the industry are on the downturn. New jobs in the tech, manufacturing, financial, retail and other sectors are providing both locals and those who are relocating to Calgary with job opportunities outside of the struggling oil and gas industry.
Alberta's public sector is also a major employer. The Alberta Government has a number of job search resources available for you to use if you're planning on making the move to the province and need some help finding employment. Other resources to use include:
Calgary Attractions & Events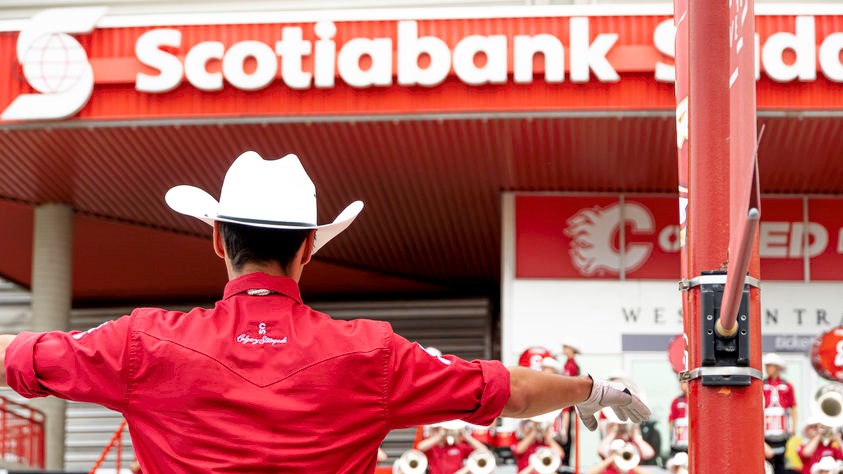 Calgary Stampede band performs on Saddledome steps in 2019
Calgary is a lively city with year-round activities, events and attractions for all to enjoy, all the more reason for you to relocate. Whether you're in for a night out on the town with your friends or perhaps want to spend some quality family time with the kids, it's all fun to do with the activities, events, and facilities found in the city, including:
Prince's Island Park – Enjoy the sights and sounds of lush vegetation, wild animal life and the Bow River amid Prince's Island Park, found adjacent to Eau Claire and a block north of the downtown business core. Prince's Island Park is host to several annual festivals and events while being a major hotspot for outdoor leisure and recreation year-round.
St. Patrick's Island – The Calgary Zoo is now part of a fully developed island with multiple bridges, public art, children's playgrounds, a tobogganing hill, nature walkways, picnic and fishing coves and lookout points in every which direction.
East Village – Since the early 2010s, East Village has been all the hype in the city centre and is where you'll find the New Central Library and National Music Centre. The mixed-use neighbourhood is a vibrant community now known as one of the city's festival and event hubs and is a go-to place to live for many downtown workers.
Stephen Avenue – 8th Avenue SW is the equivalent to Calgary of what Robson Street is to Vancouver. This pedestrian street is closed off to traffic after hours and is lined with many restaurants, shops and nightlife venues, some of which are the best you'll find in Calgary.
17th Avenue SW – 17th Avenue SW is one of the most vibrant and eclectic streetscapes you'll find in Calgary. Find hundreds of different restaurants, shops and services along the street, which stretches for miles from the west to east of the Beltline, ending at the Saddledome.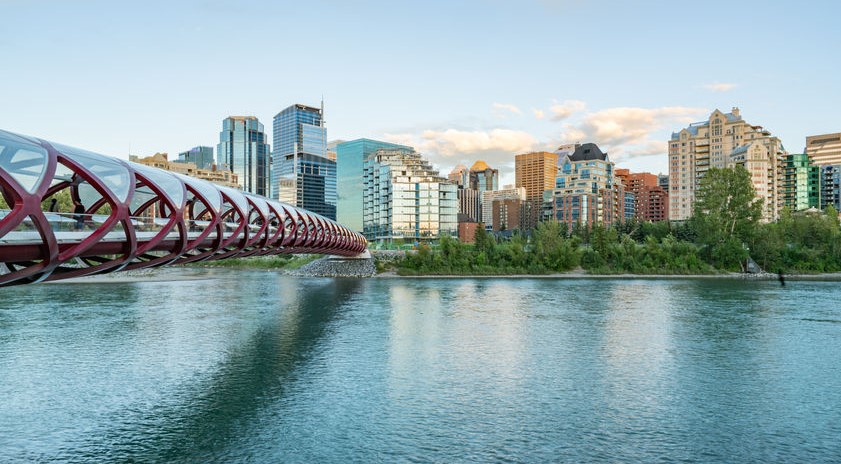 Peace Bridge along the Bow River pathways
Business Improvement Areas – Kensington, Marda Loop, Atlantic Avenue, 4th Street SW, 17th Avenue SW and a few other areas of Calgary fall into this category. A Business Improvement Area (formerly known as Business Revitalization Zones) are some of the most energetic parts of town and are where you'll find countless streetside businesses ready to serve you.
Bow and Elbow Rivers – Calgary's rivers are anchors of the community and provide locals with leisure and recreation opportunities year-round. Paved pathways span from the city's northwest to south and southeast areas which are part of one of the longest networks of such you'll find in North America.
Stampede Grounds – Calgary's Stampede Grounds are where you'll find the annual Stampede, the BMO Centre, Big Four Building, Saddledome (home of the Flames) all nestled up beside the Elbow River. Some of the best annual activities and events are held down at the grounds.
Chinatown – This little gem is home to authentic restaurants, grocers and other Chinese amenities that contribute immensely to the multiculturalism Calgary is known for. Find some of the best Chinese restaurants, as well as cultural activities and events in Chinatown.
Canada Olympic Park – C.O.P. is the perfect place to hit the ski hill if you can't make it out to the mountains. C.O.P. features two high-speed lifts, a snowboard park and T-bar for beginners looking to learn. Meanwhile, its facilities have been completely redeveloped and now feature multiple hockey rinks, event rooms and so much more.
Lilac Festival – The annual Lilac Festival is just one of many culturally rich events that happen each year in Calgary. With over 100,000 visitors annually, enjoy food trucks, live performances, and artisan shops spanning several city blocks along 4th Street SW.
Learn More About Calgary Here:
Are You Moving to Calgary?
So, are you excited to relocate to Calgary? I hope so! Together we can make your move a success and accomplish your real estate goals. Contact us anytime at 403.370.4008 to get started in the right direction!
For more on moving, be sure to check out these great articles!