Alberta and Interprovincial Migration
August 7, 2012
By Cody Battershill
Alberta and Canadian Interprovincial Migration
Alberta has continued to attract people from all over Canada according to a recent report on migration and population. The population of the western province in April of 2012 was approximately 3,847,119 persons, up 2.4 percent year over year and is leading Canada`s provinces in growth by a long shot. A primary contributor to this population growth is interprovincial migration.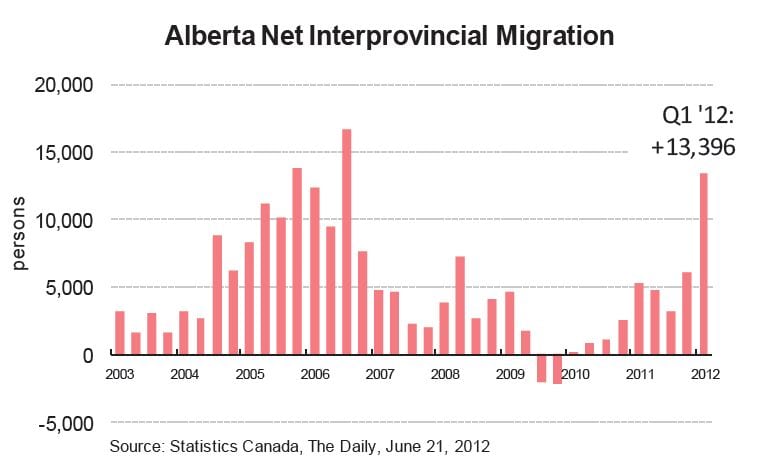 Around 26,910 persons from other provinces had moved to Alberta in the first quarter of 2012. Meanwhile about 13,514 persons decided to pack their things and move to another. If we look at the net gain or loss, Alberta gained almost 13,400 people from interprovincial migration. This is the largest increase in people coming to the province from others in Canada since 2006, where net inbound migration climaxed at around 17,000 people!
Migration rates to and from the western province are following a common trend with it's  economic condition; during the booming periods people move to the province to participate in the abundance of opportunities, while during the bust periods some people lose their jobs and move out. Regardless, outflow periods are generally short with not too much population loss and the massive amounts of people moving into Alberta during the booming periods more than covers for it.

Why Alberta?
One of the main reasons for the strong attraction of Alberta to interprovincial migrants in Canada is its growing job market. As North America's Job Leader, it's no wonder people are looking to find their next best opportunity within its borders. As Canada's leader in lowest unemployment rate at 4.5% and a massive labour shortage causing much worry and concern for many companies and their industries, it's no wonder Canadians are persuaded to move to Alberta!
For more Canadian economics, be sure to check out our Canadian Economics Summary. Thanks for stopping by and hope to have you back soon!