Best Calgary Neighbourhoods for Families
October 21, 2022
By Cody Battershill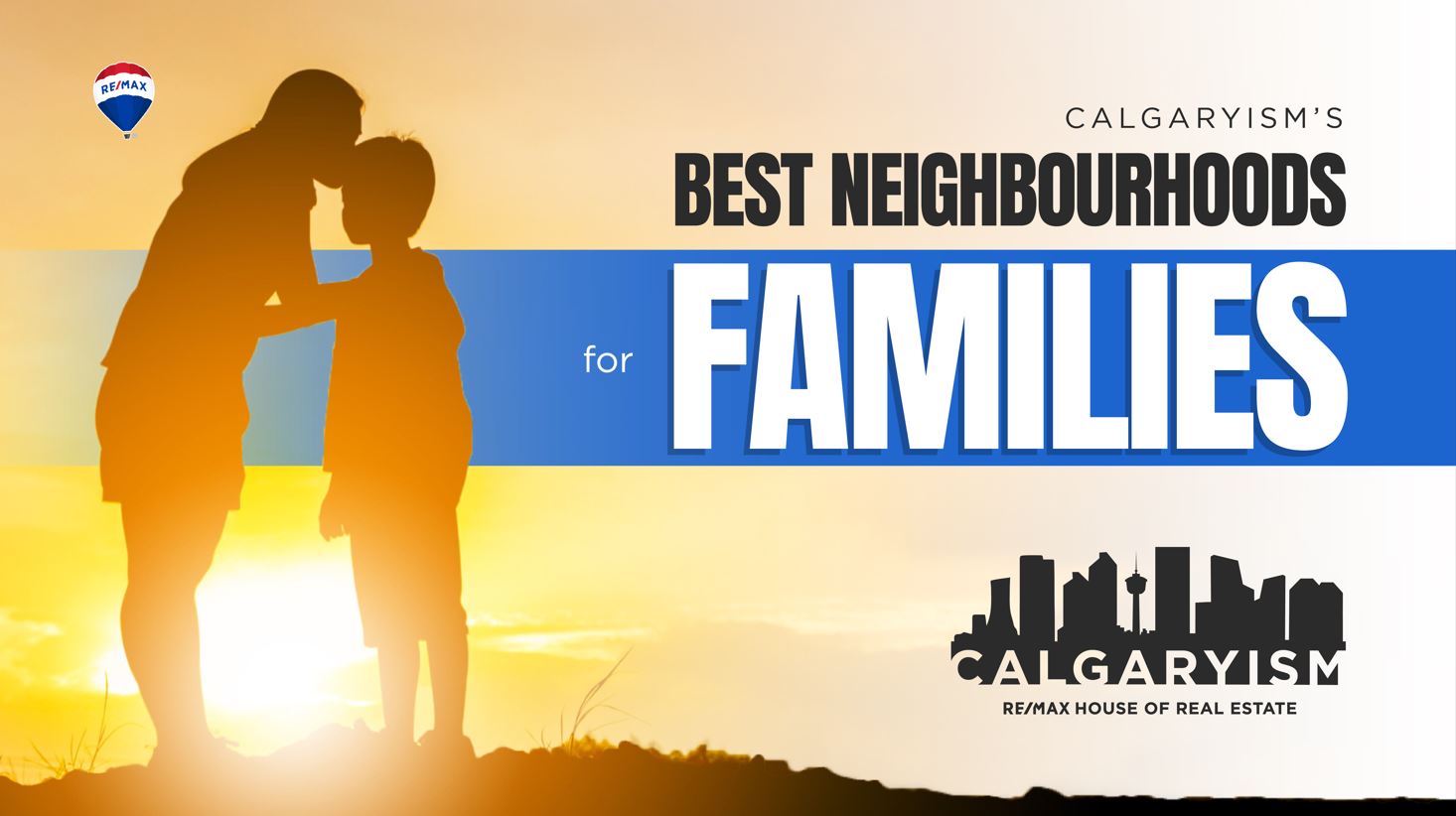 What are the Best Family Neighbourhoods in Calgary?
Which communities are the best places for families to live in Calgary? To be honest, that's a hard question to answer because our city is home to many, many lovely and enjoyable communities each with their own set of unique characteristics.
But there are some areas that are far safer and family-oriented with a location that's conducive to a healthy family and community, a few of which we've laid out for you below.
So, here's our shortlist of some of the best Calgary neighbourhoods for families that should make you feel right at home. Also see:
Altadore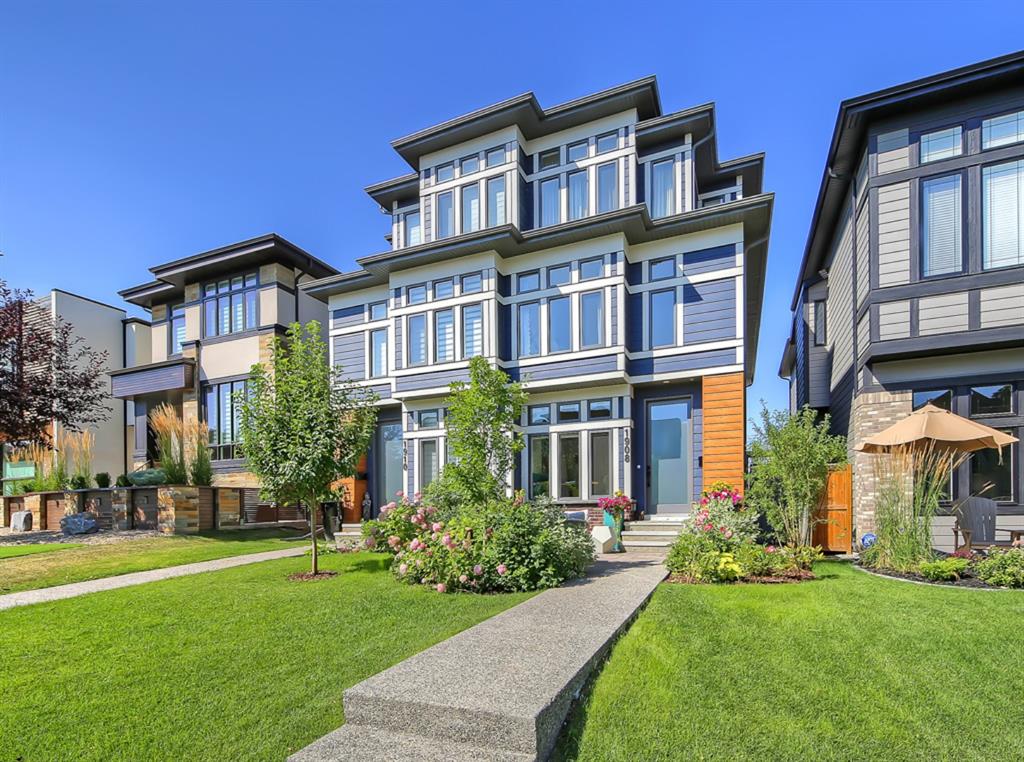 New Infill Listing in Altadore
Why Families Love Altadore:
A short drive to downtown and the Beltline
Adjacent to amenities in Marda Loop
Adjacent to Elbow River parks and pathways
Rejuvenated ambiance with new infill developments
Diverse real estate portfolio including new townhomes + more
Altadore is one of Calgary's most sought-after communities for families because of its close-to-downtown location that just so happens to be adjacent to the Elbow River parks and pathways. Marda Loop, a business improvement area with more than 100 different restaurants, shops and services lining the streets is found on the north side of Altadore, also contributing to the area's desirability from a family viewpoint given the convenience of living nearby.
Urban professionals who frequent the city centre often look to Altadore as a community of choice for themselves and their families for all of the reasons above, in addition to the fact that the sheer number of youths in the area is astounding. The City of Calgary's 2016 Census, for example, found that 20 per cent of Altadore's population was between 0 to 14 years old, slightly higher than the city's average.
Arbour Lake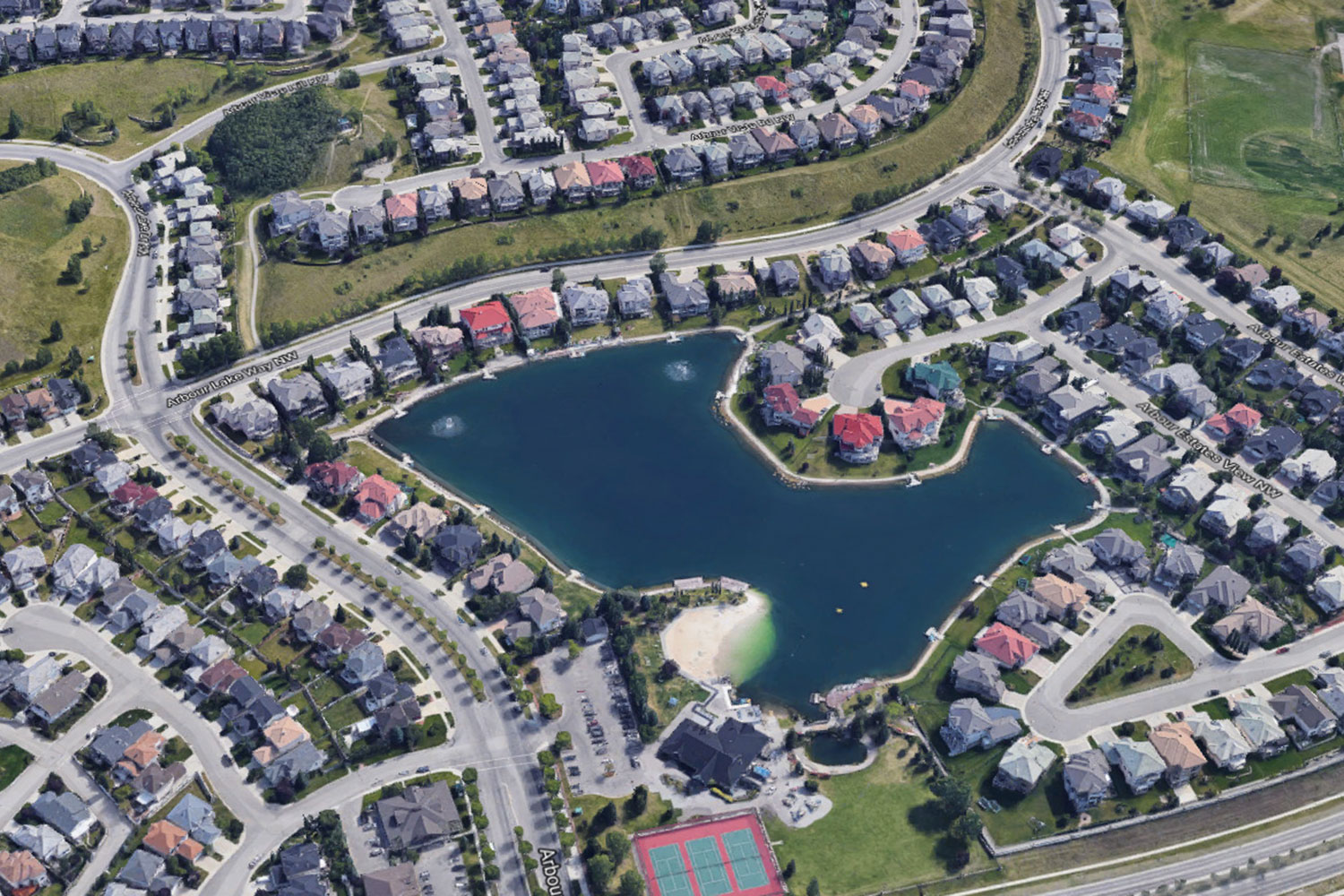 Central Lake at Arbour Lake
Why Families Love Arbour Lake:
Central lake with exclusive access for residents
Large community with a diverse real estate portfolio
Close to Crowfoot Crossing and all the amenities you could ever need
Easy access to the city via Stoney and Crowchild Trails
New mixed-use community Arbour Lake West
Arbour Lake's central lake and proximity to nearby amenities make it one of the best Calgary neighbourhoods for families hands down. During the summer, residents and their friends flock to the central lake and enjoy exclusive access. During the winter, the lake is turned into an outdoor ice rink for shinny hockey and recreational skating. Arbour Lake's community centre is also very active with lots of annual activities and events for families to engage in.
Crowfoot Crossing is also just a short drive from any point of Arbour Lake. Find a full list of amenities at one of Calgary's largest outdoor "strip malls" including Lowe's Home Improvement, Shoppers Drug Mart, Visions, Chapters, Safeway, TD Bank, Co-op, Community Foods, Party City, Cineplex Odeon, Sport Chek and so much more.
Aspen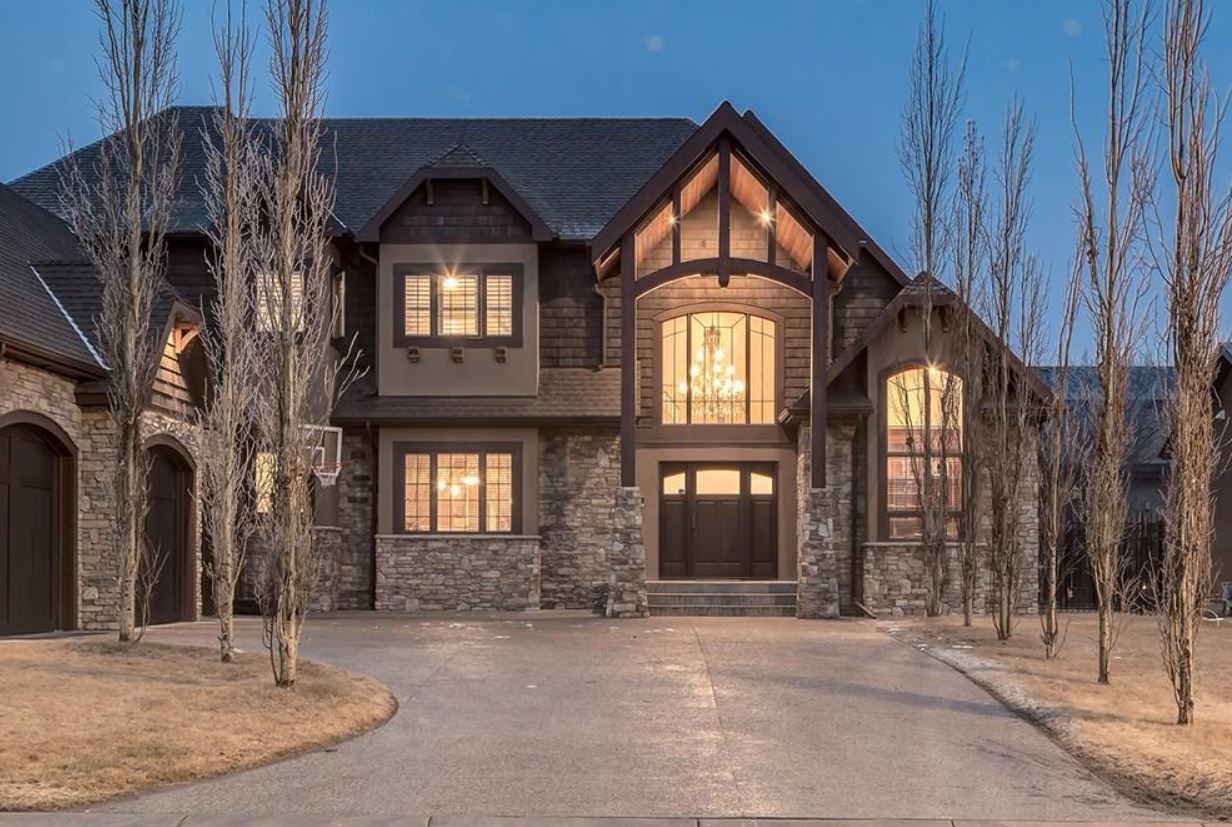 Luxury Estate Home in Aspen Woods
Why Families Love Aspen:
Upscale neighbourhood with upscale real estate
Suburban living about 15 to 20 minutes from the city centre
Built amid aspen groves and rolling foothills in West District
Panoramic foothill and mountain views for some homes
Quick and convenient access to the Rockies
Aspen Woods has long been one of the best communities for families in Calgary for a number of reasons, including the large detached homes, semi to estate sized lots, and paved pathway systems inherent to all subdivisions of the West District neighbourhood.
Find the Westside Recreation Centre – one of the best indoor rec. facilities in the city – just minutes away on 85th Street SW. To get there, you'll pass by Aspen Landing which is home to dozens of important day-to-day amenities like restaurants, grocers and professional services.
Aspen's "brim-of-the-city" location also makes it ideal for families who frequent the foothills and Rocky Mountains for leisure. Spend less time stuck in Calgary rush hour, and more time on your favourite trails or picnic spots out amid nature.
Brentwood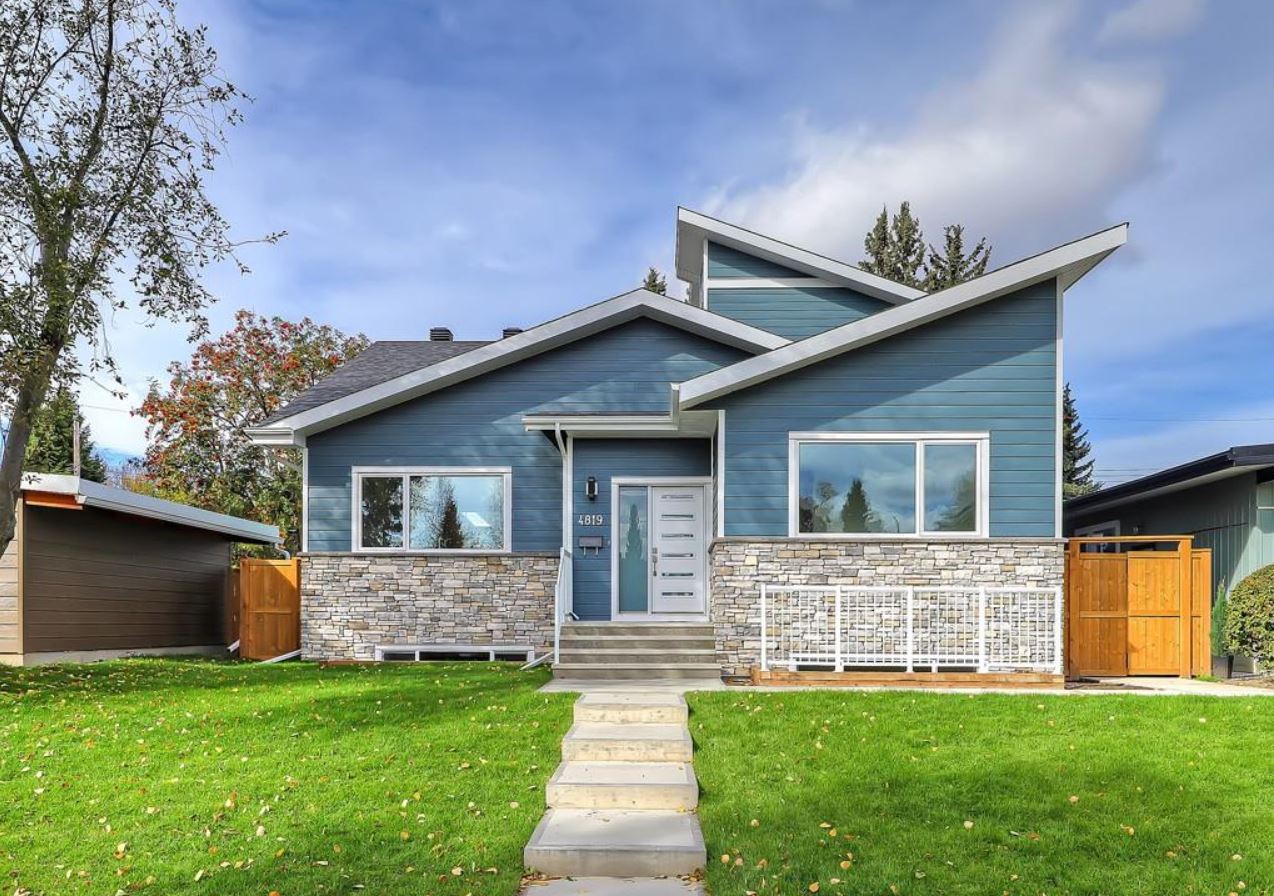 Renovated Bungalow Listing in Brentwood
Why Families Love Brentwood:
Inner city location less than 10 minutes to downtown
Quick access to the Brentwood C-Train Station
Amenities galore at Brentwood Village Shopping Centre
Near the University of Calgary
Host to an abundance of parks and adjacent to Nose Hill
Brentwood is ideal for families looking to stay in the area long-term because of the public transportation infrastructure and post-secondary institutions that make life convenient for young teens and adults.
Inside Brentwood you'll find lots of green spaces and children's parks, great for those who enjoy outdoor leisure with the family dog at their side. Designated nearby schools are within or near the community which also make Brentwood very convenient for families to live and age in over the years.
The community is also just a few minutes from downtown and is located on the east side of Crowchild Trail, providing smooth access to the city centre and mountains to the west.
Cougar Ridge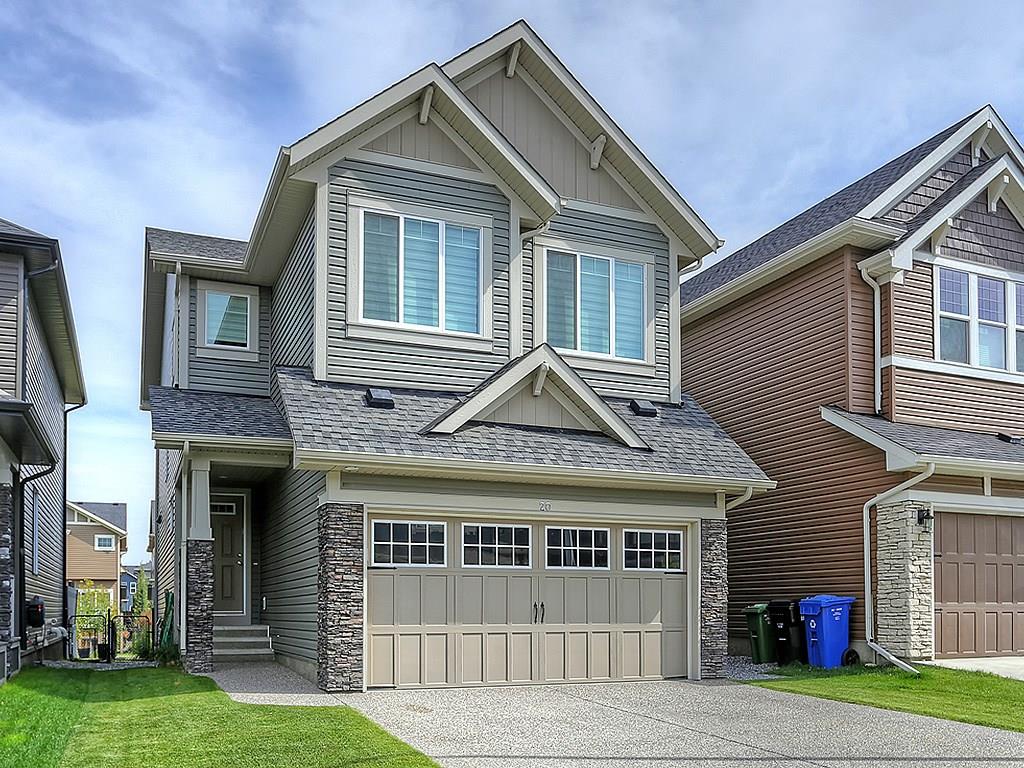 Single-Family Home Listing in Cougar Ridge
Why Families Love Cougar Ridge:
Part of the sought after West District
Easy access to facilities at WinSport's Canada Olympic Park
Close to outdoor strip malls with countless amenities along 85th Street SW
A short drive away from Westside Rec. Centre, one of the best facilities in the city
Convenient access to the mountains and foothills out west
Cougar Ridge is well known as one of the best places for families to live in Calgary because of its upscale real estate portfolio, abundance of parks and green spaces, and overall "westside" location that puts it near some of the best amenities and recreational opportunities the city has to offer.
Paskapoo is a highlight of Cougar Ridge; the subdivision is host to relatively new construction single-family homes and sits directly behind WinSport's Canada Olympic Park. It is well connected to other parts of the community via an extensive network of paved pathways, great for younger generations to connect with their friends and other families.
Cougar Ridge's location overlooking the Bow River Valley and the northwest offers some properties like those at the Cougarstone Villas and The View luxury condos, for example, with some of the most spectacular panoramic views the city has to offer.
Discovery Ridge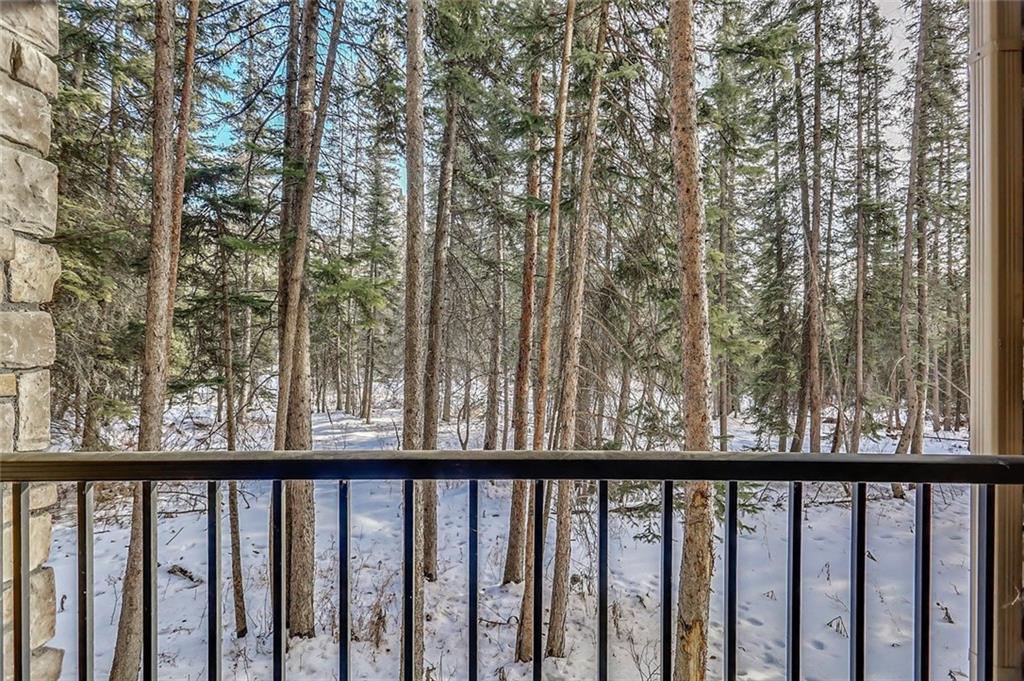 View from an Old Listing in Discovery Ridge
Why Families Love Discovery Ridge:
Was carved out of forests just north of the Elbow River
Diverse real estate portfolio with everything from condos to semi-estate properties
As close as it gets to Bragg Creek and the mountains beyond
Family-oriented community with multiple parks and paved pathway system
Close to Westhills, your one-stop shop for amenities
Nature lovers, dog enthusiasts and fitness buffs all have one thing in common when it comes to Discovery Ridge. That is, they all love it, of course!
This community was carved out of thick forest lining the meandering Elbow River in the deep southwest of the city. Paved pathways laid through the forest and near the Elbow River provide families in Discovery Ridge with second-to-none access to outdoor leisure and recreation year-round.
Westhills provides residents with all the amenities they could ask for just minutes away, including a Cineplex Odeon great for a family movie night on the weekend. Chinook Mall is also just a short drive from Discovery Ridge, as are Bragg Creek, Kananaskis Country and the Rockies.
Edgemont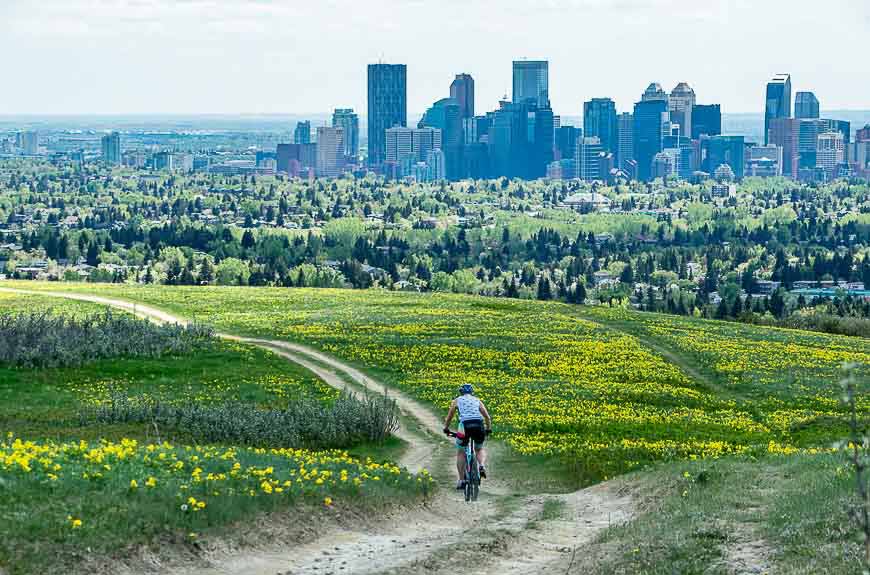 Views from Nose Hill Park beside Edgemont
Why Families Love Edgemont:
Huge community with a diverse set of real estate for sale
Built on top of a massive foothill amid multiple ravines
Connectivity to Nose Hill Park
Designated schools within the community
Quick access to amenities at Country Hills Village
Edgemont's "top of the hill" location is extremely unique given that it is the highest point any community sits within Calgary. Edgemont has a lot to offer families, including several ridgeside properties with incredible views of the city as far as the eye can see.
Inherent to the hilltop are beautiful parks and ravines, most of which have paved pathways running throughout and serve to keep youth connected with one another. They also make for a fun, yet adventurous jog or bicycle ride for some healthy outdoor leisure and recreation.
Country Hills Village is a major amenity resource for Edgemont families. Complete with a Superstore and several other restaurants, shops and services, the strip mall makes life convenient for residents, as do the in-community Tom Baines Junior High and Edgemont Elementary School.
Evanston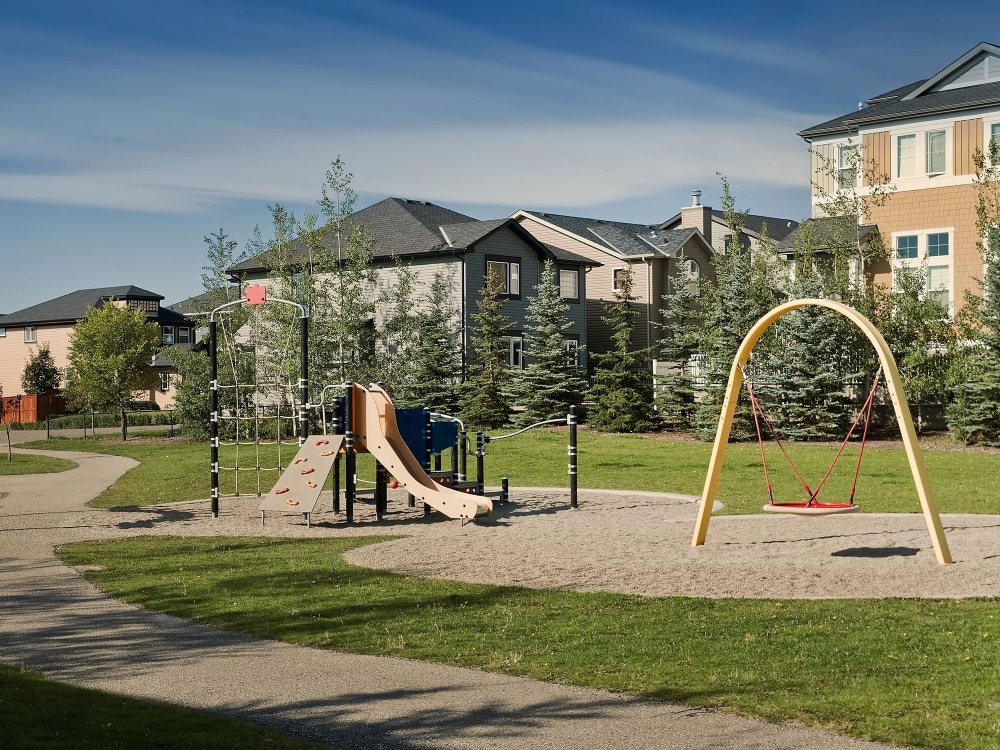 Evanston Outdoor Park and Playground
Why Families Love Evanston:
Easy access to amenities at Creekside and strip malls inside the community
Expansive neighbourhood with interconnecting parks and paved pathways
In-community schools for public and catholic designations
Stoney Trail ring road makes getting to other parts of the city as easy as possible
Tight-knit, family-oriented community with lots of youth
Evanston is an award-winning neighbourhood brimming the north district of Calgary. Home to thousands of residential homes ranging from more affordable townhomes to semi-estate single-family properties, Evanston's pristine rolling prairie setting is the perfect place for families to grow with one another through the years.
With several parks and interconnecting pathways between the various sub-divisions of the community, Evanston makes it easy for young children to connect with one another. These pathways also serve well for outdoor leisure and recreation throughout the year.
Today, Evanston is home to three schools, a thriving commercial centre, seven playgrounds, 16 green spaces, and more. It's no wonder Evanston is by far one of the best neighbourhoods in Calgary for families!
Garrison Green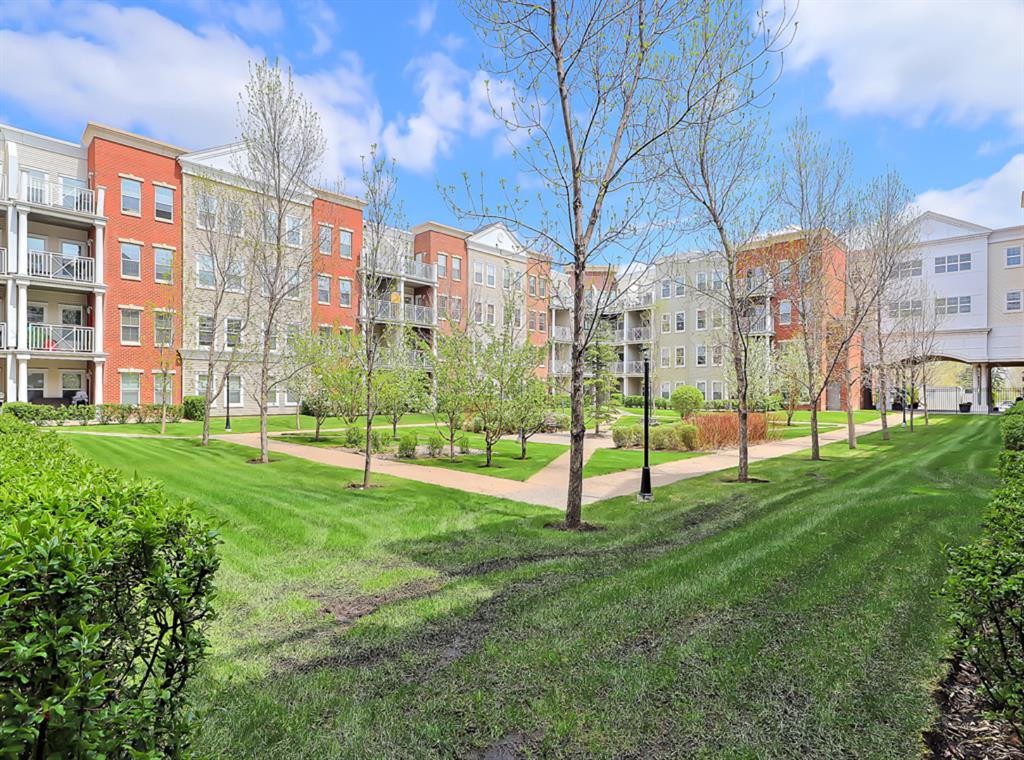 Lush Condo Courtyard in Garrison Green
Why Families Love Garrison Green:
Three large parks with open space and playgrounds are central to the neighbourhood
Family-oriented atmosphere with many young families in the area
Nearby public, private and post-secondary schools make life convenient for parents
Close to downtown and amenities galore with its inner city location
Quiet ambiance with low-flow traffic into the community
Garrison Green is a highly sought-after neighbourhood coveted by families from many walks of life. Well known as one of the best Calgary communities for families, Garrison Green has a lot to offer including three large central parks, a tight-knit ambiance and interconnecting paved pathways.
Residents are often seen using the park space in the spring and summer time, where you'll find several war memorials honouring Canadian soldiers who have fought in past wars and peacekeeping missions abroad. In the winter, it's not unusual to see homemade ice rinks, created by locals with a passion for outdoor activities year-round who want to see the kids enjoy some Canadian-made sports.
Additionally, most streets are lined with row townhomes and others with laned or semi-estate properties, perfect for families from a wide range of backgrounds and sizes.
Mahogany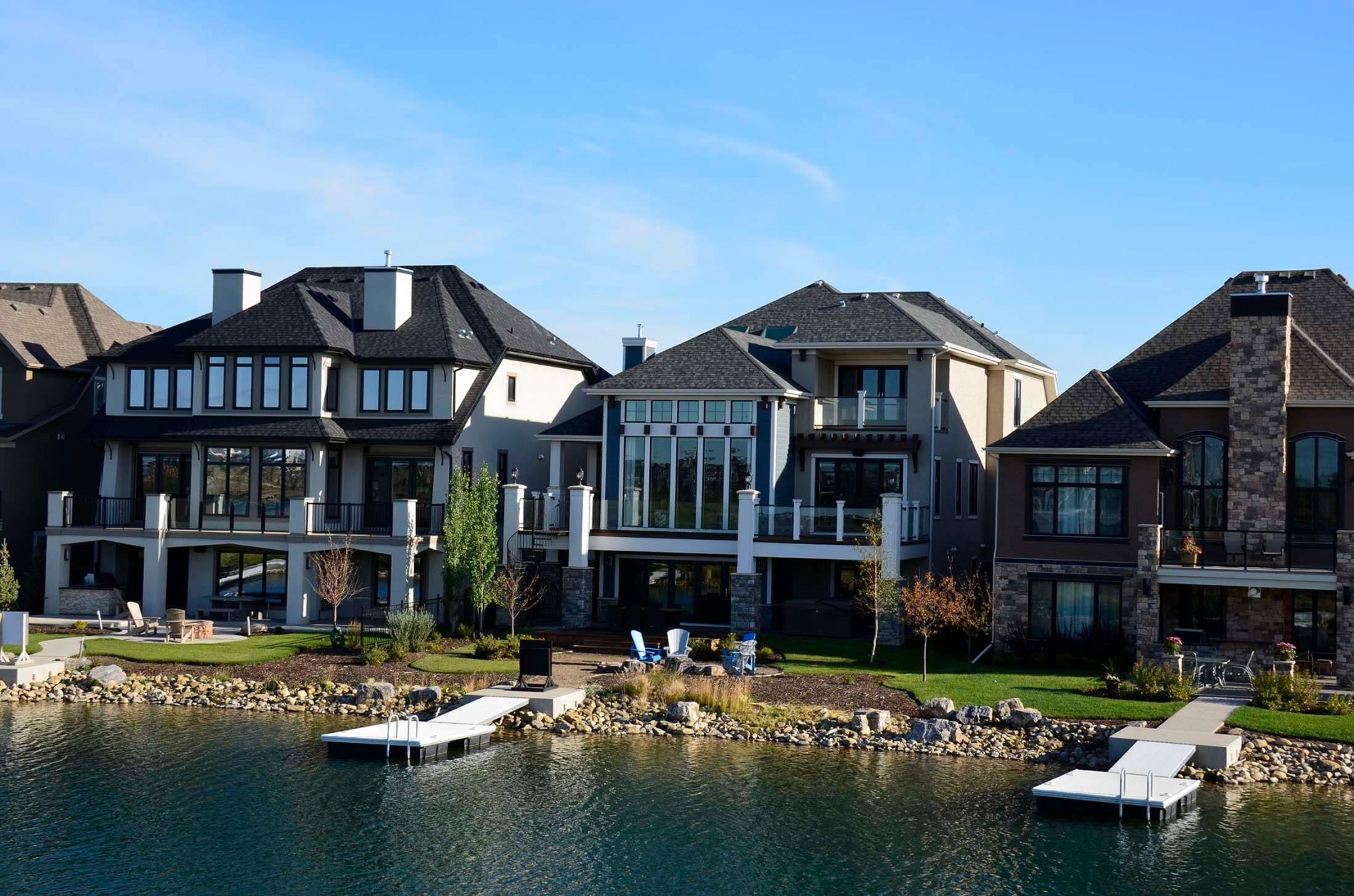 Lakeside Estates Backing onto Mahogany Lake
Why Families Love Mahogany:
Central lake with exclusive access for residents and company
Active community association with year-round activities and events
Tight-knit, family-oriented community propped up by associations
Close to amenities in Mahogany, Auburn Bay and the Seton area
Diverse portfolio of real estate with everything from starter homes to lakeside estates
Like Auburn Bay, it's hard to begin explaining why Mahogany is one of the best Calgary neighbourhoods for families to live in because there's just so much to talk about.
For starters, in the summer time residents have exclusive access to a large central man-made lake complete with watersports and equipment which are free to rent. Enjoy a paddleboard, paddleboat, or perhaps a canoe for a few hours under the summer sun with the kids, or perhaps a handful of your friends?
Second, there's a ton of activities and events for both children and parents to choose from offered by the Mahogany Beach Club and Copperfield-Mahogany Community Association. Families have a real opportunity to spend time with one another and make lasting memories when growing up in Mahogany.
Sunnyside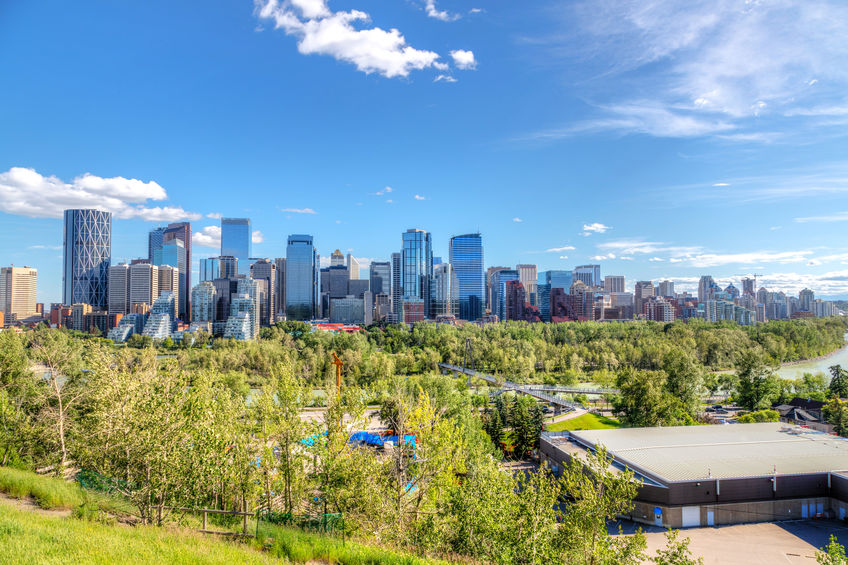 Views of Sunnyside and Downtown
Why Families Love Sunnyside:
Just minutes from Prince's Island Park, St. Patrick's Island, the Calgary Zoo + more
Bow River pathways provide excellent outdoor leisure and recreational opportunities
Quick and easy access to the downtown core for urban professionals
Adjacent to Kensington, home to more than 100 different businesses
Close to the University of Calgary and Southern Alberta Institute of Technology
Sunnyside is without a doubt another one of the best neighbourhoods in Calgary for families due to its close-to-everything location. The neighbourhood provides quick-and-easy access to not only restaurants, shops, and services, but also work in downtown for a parent or the classroom for a student at one of the nearby post-secondary institutions.
Feel like taking a casual stroll to the river pathways on a warm summer day? Maybe grab a meal on a Kensington patio first before heading to Prince's Island Park to check out a festival event? Whichever the case, residents in Sunnyside will have more time for what's important in life – like family – by skipping the traffic while walking to and from work.
Tuscany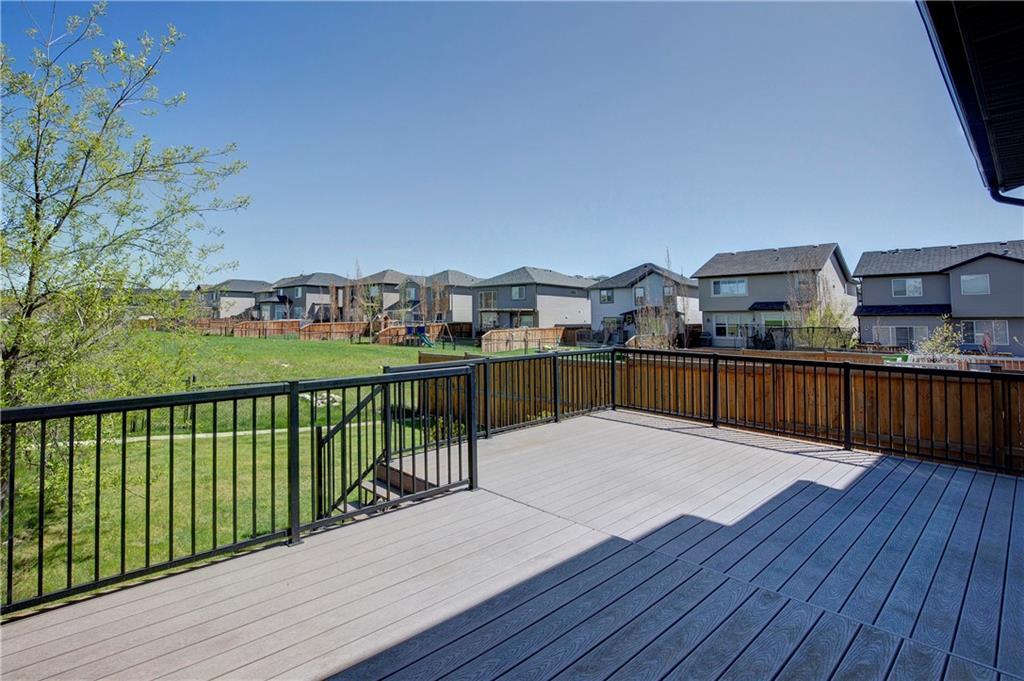 View from Prior Listing in Tuscany

Why Families Love Tuscany:
Central amenity hub with a grocer, gas station, restaurants and more
Built amid rolling foothills and ravines that offer ample outdoor recreational opportunities
Active community association with year-round activities and events
Convenient access to the Rocky Mountains via. Sarcee and Crowchild Trails
C-Train Station for family members looking to travel around the city
Tuscany was built from the ground up for families, and you notice it just being in the community. From the outdoor ball parks to central amenity plaza, Tuscany has all the amenities, leisure and recreational opportunities that any family would love to have a chance to engage in, sometimes on a daily basis.
Tuscany's active community association encourages youth to engage in activities like ice-skating in the winter and basketball in the summer. The area is also home to schools that host programs for both regular and Catholic students from kindergarten through to the end of junior high.
What's Your Favourite Family Neighbourhood in Calgary?
Let us know what community you would say is one of the, if not thee best Calgary neighbourhood for families, and we'll add it to our list! Also see these Best Areas of Calgary to Live In.
Have questions about buying and / or selling in these family-oriented neighbourhoods? Contact Cody & Jordan, experienced Realtors® with RE/MAX House of Real Estate anytime to discuss your real estate goals!