Calgary Hidden Gems – Tuxedo Source for Sports
January 15, 2013
By Cody Battershill
Calgary Hidden Gems - Tuxedo Source for Sports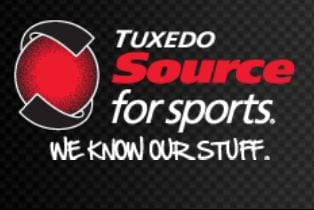 When it comes to buying hockey equipment here in Calgary, most would immediately think of making a trip to Sport Check or Sport Mart for all their needs. Now there is nothing wrong with these athletic department stores, but those looking for a more customizable buying experience should definitely visit Tuxedo Source for Sports.
This Calgary hidden gem has been providing countless hockey players of all ages with the most trusted professional advice on hockey equipment for years. Sales representatives at Tuxedo Source for Sports are some of the most knowledgeable in the city when it comes to hockey gear.
Above the Standard of Service
In order to provide only the best to the hockey players of Calgary, the team at Tuxedo have gone above and beyond the standard call of service. They have teamed up with hockey brand companies such as Bauer and CCM to develop products unique to their store alone in all of Canada!
Exclusive items found at Tuxedo Source for Sports combine essential features with specific enhancements to deliver customers with a product that will last longer and perform better. What an amazing opportunity for those looking to step up their game in such a competitive sport where the slightest difference in equipment functionality can make the winning difference.
Tuxedo's inventory doesn't end with hockey. Baseball, lacrosse, sports training and bicycles are also a part of their repertoire. While hockey is their specialization, they are just as adept in service and expertise for the other sport categories found at their store. Expect only the best from Tuxedo Source for Sports!
My Experience
My most recent visit to this Calgary hidden gem made me realize how truly unique their store is. While looking for a pair of skates, I gradually noticed the stock they had on their wall was different than Sport Chek's. I asked a sales rep about a few of the different skates that caught my eye and he explained to me about their exclusivity to the store and what they have to offer.
His knowledge of the product blew me out of the water. I'm pretty sure he even could have told me what the SIN code was for each individual pair of skates in the store (seriously!). Simply amazing!
When it comes to getting expert advice on your next hockey equipment purchase, put your trust into Tuxedo Source for Sports.
You can find this Calgary hidden gem in the inner city community of Tuxedo in Calgary's northwest on Centre Street North and 25th Avenue NE.
Tuxedo Source for Sports
Address - 2520 Centre Street North, Calgary, AB
Phone number - 403-277-2872
More Calgary Hidden Gems