Calgary Real Estate Market Update March 2013
April 3, 2013
By Cody Battershill
Calgary Real Estate Market Update March 2013
March 2013 has seen a decline of active home listings in Calgary. As a matter of fact, March 2013 claims the title for having the lowest inventory of homes for sale out of all the months of March in the past five years!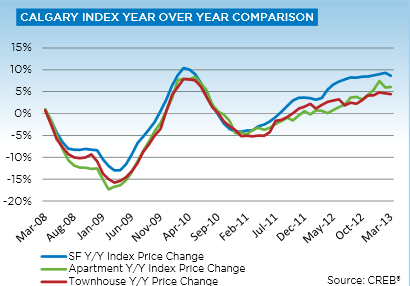 Less home listings has halted sales growth for resale homes in Calgary, shrinking more than two percent this month in a year over year comparison with March 2012.
New home listings are also on the decline, diminishing by five percent year over year and also in comparison to the first quarter of 2013.
Currently there are approximately 4,000 homes for sale in Calgary which is up from February 2013, but this number still remains lower than seen in March 2012.
Some buyers might have been accustomed to a wide supply of resale homes but with the lessened inventory levels seen in March 2013, they now do not have as much time to make decisions. And while buyers ponder their decisions more quickly, limited sales growth has supported an upward trend of prices for resale homes in Calgary.
Calgary Real Estate Single-Family Home Market
6 percent decline in sales growth year over year, reflective of less home inventories

22 percent less home inventory year over year at 2,713 units

Is the lowest inventory levels seen since March 2007

9 percent price gain year over year to an average price of $446,500, favouring home sellers

Declining single-family home listings for under $500,000 has many buyers looking at other, more affordable home styles.
Calgary Real Estate Condominium and Townhouse Market
Condo apartments saw a 6 percent increase in sales activity with 830 units sold for the first quarter of 2013 compared to that in 2012

Condo apartment sales decreased by 3 percent year over year

Condo apartment benchmark price of $257,700, increasing 6 percent year over year

Condo townhouse sales increased by 15 percent with 652 units sold in the first quarter of 2013 in comparison to the same time frame in 2012

Condo townhouse benchmark price of $286,800, increasing 4 percent year over year
More Calgary Real Estate Statistics
Calgary Real Estate Market Update February 2013
Questions about Calgary Real Estate?

Don't hesitate to call me for answers! Reach me direct at 403-370-4180 or message me below. I would love to share my intimate knowledge of the Calgary real estate market with you!
[gravityform id="35" name="Here to Help" description="false"]