Calgary RE/MAX Housing Market Outlook Fall 2021: Summary
October 12, 2021
By Cody Battershill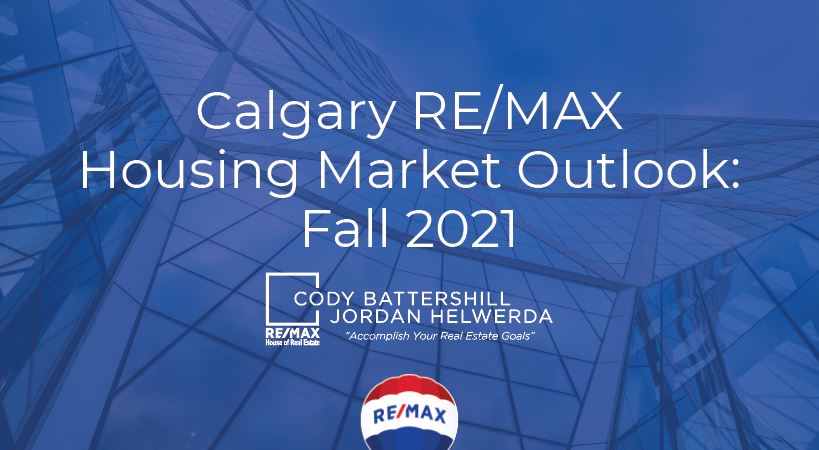 Calgary's residential market saw sales activity slow down this past summer after a spike in activity driven by the remote trends earlier in the year. Today, the market is returning to stability and back on par with sales activity seen in 2020.
Here's a quick summary of RE/MAX's Fall 2021 Housing Market Outlook for the Calgary Municipal Area (CMA):
Calgary Housing Market Fall 2021: Quick Facts
The 3rd quarter of 2021 saw average sales for detached homes increase by 95%, apartments by 85% and townhomes 108%
Calgary's relative affordability versus other major cities like Toronto and Vancouver have helped first-time home buyers and young couples move towards home ownership
Calgary vacancy rates nearly doubled from 2.9% in 2020 to 6.6% in 2021
Average price change, full year of 2020 vs. January to August of 2021:

+9.6% detached benchmark price
+2.5% condominium benchmark price
+3% townhouse price
Sales Slowing Down Towards Year-End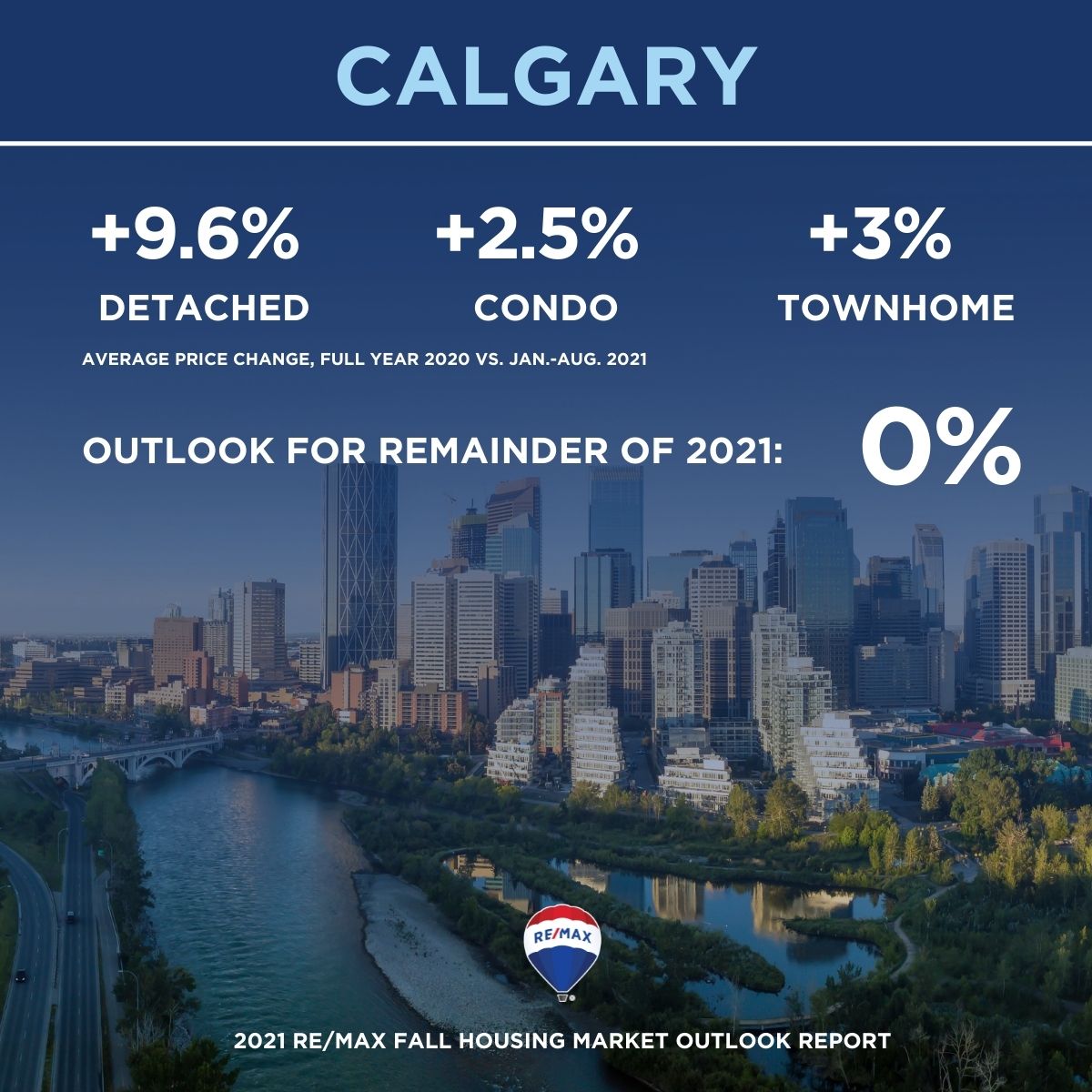 Average sales have increased by roughly 95% for detached homes, 82% for apartments and 108% for townhouses. Balanced conditions are expected to continue through to the end of 2021 despite REMAX's Fall Housing Market Outlook suggesting that a majority of regions analyzed are in seller's territory.
The most common property types sold this year thus far were semi-attached and single-family homes. New home construction in both suburban and inner city areas has also slowed due to several factors including city staffing challenges, new land development, and increasing costs for materials.
Home owners – many of whom saw a boost in benchmark prices throughout the spring and summer – will be happy to know that average benchmark prices across the CMA are expected to hold steady for the remainder of the year.
Young Buyers Driving the Market
Thus far in 2021, demand in Calgary's housing market has been driven largely by millennial buyers, young families and young couples. Calgary's affordability has helped many of these first-time buyers step into home ownership much more easily versus other major metropolitan centres in Canada.
Despite high sales activity on a year-over-year basis this spring and summer, Calgary's vacancy rates have doubled from 2.9% in 2020 to 6.6% in 2021. This is largely a result of affordability in the housing market in addition to many younger adults moving towards online learning, freeing up far-away rental units. Interprovincial movements of Canadians have increased dramatically, putting downward pressure on vacancy rates in Calgary.
Western Canadian Outlook
From a much broader perspective, most of Western Canada is seeing benchmark price growth driven by low supply and high demand, resulting in difficult buyer circumstances in large urban centres like Vancouver. However, homebuyers do have some options in alternative housing markets such as Burnaby and other more remote locations given their improved adaptability resulting from the recent pandemic.
Calgary, with its affordability versus larger Canadian cities, remains an excellent choice for young adults looking to make the switch from renting to owning.  Thanks to this affordability and lower interest rates, buyers are leveraging more purchasing power and stepping into the home they've always been looking for.
Questions about Calgary Real Estate?

As top producing REALTORS® with RE/MAX House of Real Estate, we have the knowledge and skillset to help you accomplish your real estate goals when the timing is right for you!
Give us a call anytime at 403-370-4008 or send us a message if you have any questions about the real estate market or would like to know more about particular listings and we will be happy to help!
We are looking forward to connecting with you!