Calgary Real Estate Market Update August 2016
September 12, 2016
By Cody Battershill
Calgary Real Estate Market Update for August 2016
- Sales activity down again, but not reflective of entire market -
The total number of units sold in August was down again – at 1,567 units – following a trend that has been seen throughout 2016.
However, it is important to note that this does not necessarily reflect activity in the detached sector, but more so the higher density apartment and attached segments of Calgary's residential market.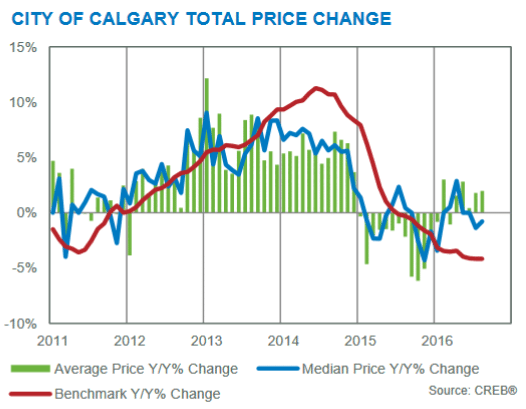 Along with lower sales activity there has been fewer new listings coming onto the market, releasing some of the downward pressure on benchmark prices. However, this isn't true for the apartment and attached sectors both of which recorded inventory levels close to the highest ever seen in August.
Apartment inventories rose well above the long-term average while sales were at their weakest since 2003, causing months of supply to average at more than 6 months throughout 2016. Also see our Calgary Real Estate Market Update for July 2016.
In today's market it's extremely important that both buyers and sellers play close attention to the dynamics of the area they live or are interested in because of the differences in data between apartment, attached and detached segments.
This is where using a highly experienced real estate agent who has intimate knowledge of the local residential market will play in your favour. Don't sell yourself short; rely on their experience and expertise to make your next real estate transaction a success!
August 2016 Real Estate Market Facts & Statistics
12,518 total sales through to the end of August 2016, lower than last year and long-term averages

7,889 total detached sales so far in 2016, 6.2 percent lower compared to the same time frame in 2015

Year-to-date detached sales account for 63 percent of sales, while apartment dropped from 17 percent last year to 15 percent

$503,200 detached benchmark price, 3.3 percent lower year-over-year but similar to those in July 2016

$274,900 apartment benchmark price, 7 percent lower year-over-year and comparable to those at the end of 2013

2.6 average percent benchmark price decline for semi-detached properties throughout 2016

5.7 average percent benchmark price decline for row-style properties throughout 2016

1,936 total apartment sales year-to-date, 19 percent lower on a year-over-year basis

3 percent increase in new listings year-over-year, keeping inventory levels 28 percent higher throughout 2016 compared to the same time frame in 2015

Most significant inventory gained in the under $400,000 price range due to attached and apartment segments flooding the market with listings
More Market Updates
See our complete list of Calgary Real Estate Market Updates for month-to-month sales trends, statistics and analysis today.
Questions about Calgary Real Estate?

As a highly experienced REMAX real estate professional and REALTOR® in Calgary, I promise to guide you through every step of your next transaction while providing only the best level of service and advice the industry has to offer.
Call me anytime at 403-370-4180 or message me below for a quick response. I am looking forward to helping you accomplish your real estate goals!

[gravityform id="35" title="false" description="false"]