Calgary Real Estate Market Update August 2017
September 4, 2017
By Cody Battershill
Calgary Real Estate Market Update for August 2017
- Residential market recovery a tricky act –
While sales activity saw a modest gain last month, an increase in new listings kept inventory levels above long-term averages. At 6,624 total units, Calgary's residential market inventory was comprised of mostly apartment and attached style properties.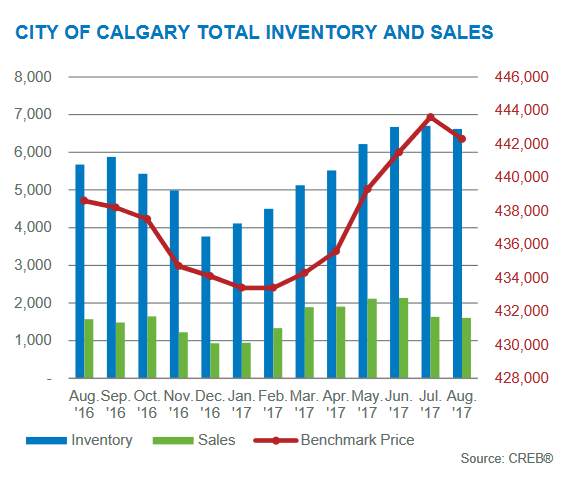 Year-over-year, inventory levels were 16 percent higher although the slight increase in sales activity prevented months-of-supply – sitting at 4 – to go any higher than it currently is. One contributing factor to increased sales activity is employment growth, although this growth is not yet high enough to make a substantial dent in Calgary's inventory levels.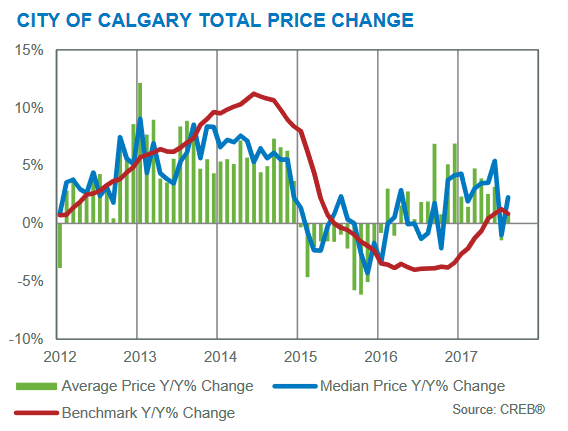 It will take more widespread economic improvements in the city and province for the local residential market to really begin a strong recovery back to previous sales activity and price benchmarks.
August 2017 Real Estate Market Facts & Statistics
$442,300 unadjusted city-wide benchmark price, 0.3 percent lower compared to July 2017 but close to 1 percent higher year-over-year

$510,900 detached benchmark price, slightly lower compared to July 2017 but 1.5 percent higher year-over-year

Detached prices vary the most of all product: the West sector benchmark price at $738,900 while the East sector had a benchmark price of $356,700

Overall detached prices beginning to stabilize in all sectors, highest price gains seen in City Centre and West sectors.

Detached sector has 3,280 units in inventory with months of supply at 3.32

$283,300 apartment benchmark price, 1 percent lower than July 2017 and 3 percent lower year-over-year

Apartment prices vary from sector-to-sector: West sector saw a 2.5 percent benchmark price decline while the North sector saw a 6.6 percent benchmark price decline, both year-over-year

Apartment sector has more than 7 months of supply

Downward pressure on apartment prices expected as inventory levels remain high in new, resale and rental markets

$336,300 attached benchmark price, close to that in July 2017 but 1.5 percent higher year-over-year

Row-style (townhomes) remained 6.8 percent lower than peak benchmark price levels

Semi-detached homes remained only 2.9 percent lower than peak benchmark price levels

Inventories rose in all areas across the city in August 2017, the most of which were in the City Centre, North, Northwest & Northeast sectors
Ask a Real Estate Agent
Home buyers continue to have several options as the market is far from sellers' territory; therefore, if you're thinking about selling sometime soon, you should consider being realistic as to what you list your property for and what offers you expect to receive.
That's why it's imperative you get expert advice from an expert real estate agent who knows Calgary's residential sectors inside and out.
More Market Updates
See our complete list of Calgary Real Estate Market Updates for month-to-month trends, statistics and analyses sourced from the Calgary Real Estate Board (CREB®).
Questions about Calgary Real Estate?

As a highly experienced REMAX agent and REALTOR® in Calgary, I guarantee the best level of service and advice the industry has to offer while guiding you every step of the way through your next transaction.
Call me anytime at 403-370-4180 or message me below if you need advice on today's market. I am looking forward to helping you accomplish your real estate plans!

[gravityform id="35" title="false" description="false"]