Calgary Real Estate Market Update February 2019
March 5, 2019
By Cody Battershill
Calgary Real Estate Market Update February 2019
- Oversupply Continues to Weigh in on Market -

The economic climate in the city of Calgary continue to weigh in on sales activity and inventory levels. Not much has changed from January 2019.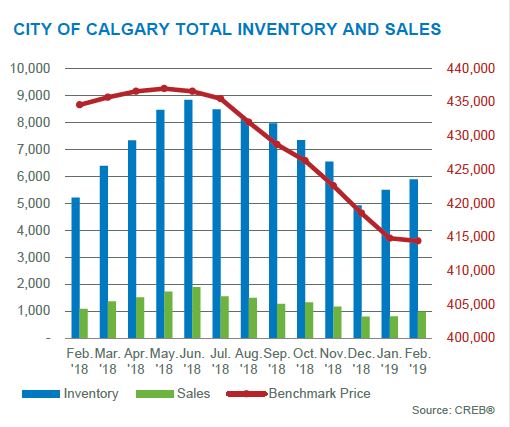 Benchmark prices across all sectors are being affected by the continual economic downturn in the city and province. Concerns regarding potential layoffs in the energy sector are also once again weighing in on the confidence of home buyers.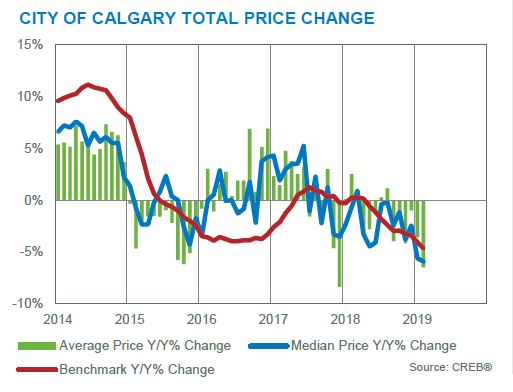 By the end of February 2019, citywide benchmark prices fell slightly month-to-month to $414,400. This is 5 per cent lower year-over-year and more than 10 per cent lower when compared to the city's long-term average.
February 2019 Real Estate Market Facts & Statistics
$414,000 citywide benchmark price, 5 per cent lower year-over-year and 10 per cent lower versus the 10-year average
New listings eased by 8 per cent compared to February 2018 for a total of 2,211 units
976 total units sold in February 2019, not enough to impact inventory levels which remain at 5,885 units
Attached Homes
Market conditions remain nearly unchanged in attached sector, with months of inventory near seven and benchmark prices nearly the same as in January
Attached citywide benchmark price remains four per cent lower on a year-over-year basis
Semi-detached benchmark prices dropped by 5 per cent year-over-year with the steepest reductions seen in the City Centre and South districts
Row benchmark prices remain just under 4 per cent versus February of 2019
Row prices eased in all of Calgary's districts versus last year and remain 14 per cent lower than monthly highs seen in 2014
Overall, attached home prices slightly increased in the North district
Detached Homes
1,079 total detached homes sold since January 1st, 2019,  13 per cent lower versus the same time frame last year and 30 per cent lower versus the long-term average for the city
Sales activity dropped in all districts except the North West and remain well below long-term averages
New listings adjustments range from a 15 per cent increase in the North West to a 23 per cent decline in the North
2,544 total year-to-date new listings, 2 per cent lower versus the same time frame in 2018
25 per cent increase in average inventory levels for the detached sector year-over-year
Detached homes in the most affordable districts – North East and East – saw inventory levels drop comparatively to 2018
Detached inventory levels remain above five months, putting downward pressure on benchmark prices
$475,600 citywide detached benchmark price, 0.2 per cent lower versus January and 5 per cent lower year-over-year
Apartments
149 total apartment sales, indicating an extreme slow down of sales in this sector
February 2019 was the 7th consecutive year-over-year decline in new listings, impacting inventory levels
1,301 total condo units in inventory, 9 per cent lower year-over-year and providing about 9 months of supply
$252,300 apartment condominium benchmark price, 1.7 per cent lower year-over-year but similar to that seen in January of 2019
Condo prices remain 16 per cent lower than previous highs seen in 2014
Some city districts have seen modest benchmark price gains, but not enough to erase declines while pointing towards some stability in the condo market
Get Expert Advice from a REALTOR®
Today's residential market is as dynamic as they come, which is why it's recommended you get expert advice when thinking about making a move. Get the best advice from an experienced REALTOR®!

Licensed REALTORS® are typically full-time real estate agents who do it for a living. They should have the knowledge, experience and skills to help you achieve your real estate goals in an efficient and timely manner.

Aren't sure about which REALTOR® to hire for the job? See these 10 important questions to ask at our Calgary REALTOR® Interview Guide.

As a highly experienced REALTOR® with RE/MAX House of Real Estate, I would love the opportunity to be your third-party representation and guide you towards a successful transaction. Call me anytime!
Real Estate Market Updates
Check out our month-to-month Calgary Real Estate Market Statistics for an in-depth look at sales activity, benchmark prices and associated analysis dating back to 2012!
Questions about the Calgary Real Estate Market?

Call me anytime at 403-370-4180 or send a message below to discuss your plans! I am looking forward to helping you accomplish your real estate goals!
[gravityform id="35" title="false" description="false"]