Calgary Real Estate Market Update for July 2014
– Double-digit listings growth surpasses that of sales in July –
July of 2014 saw a record number of sales for the month totalling 2,336 units; however, in a year-over-year comparison sales growth wasn't as high in previous months at only 3.18 percent.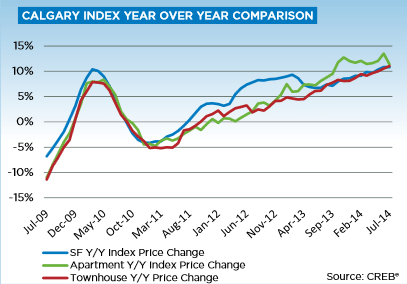 It is important to keep in mind that July of last year also saw a strong amount of sales so it may not seem like much growth, but it really is. The Calgary Real Estate Board (CREB®) reports July 2014 sales activity about 19 percent higher than the long-term average for the month.
New listings saw a double-digit year-over-year increase of their own at 18 percent totalling 3,219 units. An increase in new listings has also given way to more inventory, an increase of 14 percent year-over-year with 4,659 units.
Calgary Real Estate Market Single-Family Update
$511,600 benchmark price, a bit higher than last month (May 2014) but 10.8 percent higher year over year

1,553 total units sold, a 1.3 percent decrease compared to July 2013 but an 8.3 percent increase since the beginning of the year.

A decline in home sales of under $400,000 reflects the 1.3 percent year-over-year drop listed above.
More people are choosing to purchase townhome and condominium properties as an alternative to rising single-family home prices.
Calgary Real Estate Market Condo / Townhome Update
21 percent increase of sales in the condominium / apartment sector

11 percent increase in prices for the condominium / apartment sector

$298,100 condominium benchmark price

19 percent increase of sales in the townhome sector

$327,000 townhome benchmark price
More Market Updates
See our complete list of Calgary Real Estate Market Updates from the year 2012 and onward today.
Questions about Calgary Real Estate?

As an experienced Calgary REMAX Real Estate Agent, I will provide you with only the best level of service, advice and expertise the industry has to offer.
Call me anytime at 403-37-4180 or message me below and let's get you started!