Calgary Real Estate Market Update July 2016
August 3, 2016
By Cody Battershill
Calgary Real Estate Market Update for July 2016
- Housing demand down alongside net migration –
In line with the City of Calgary's census data, housing sales activity for the month of July 2016 was down – at a total of 1,741 units – alongside decreasing net migration levels. See last month's Calgary Real Estate Market Update (June 2016) here.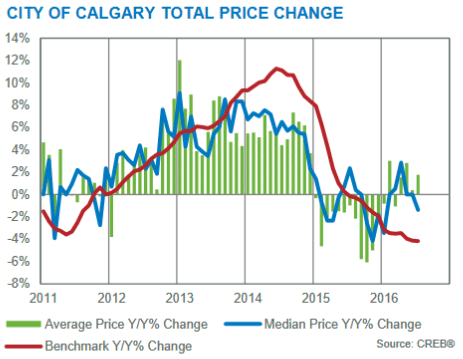 That's a 12.6 percent decrease on compared to the same month last year and the 20th consecutive month that sales activity has decreased on a year-over-year basis.
Slow sales activity is a tell-tale sign of current economic conditions. Combine rising unemployment with declining net migration levels and housing demand will suffer as a result.
Decreased sales were paired by decreased new listings last month, which did help prevent further increases in inventory and took some pressure off of slumping benchmark prices.
The average residential benchmark price across all sectors was $440,000 by the end of July, similar to that seen in June, but 4.2 percent lower on a year-over-year basis.
July 2016 Real Estate Market Facts & Statistics
6 months of supply in apartment sector continues to create sharp declines in prices

$277,000 apartment benchmark price, a 0.4 percent decrease month-to-month and 6.6 percent lower year-over-year

1,668 total year-to-date apartment sales, 21 percent lower year-over-year and 33 percent annual drop compared to 2014

$502,300 detached benchmark price, similar to last month and 3.4 percent lower year-over-year

$385,200 semi-attached benchmark price, 3.1 percent lower year-over-year

$310,300 row attached benchmark price, 5.5 percent lower year-over-year

Average year-to-date city-wide benchmark price declines range from 5.1 percent (downtown) to 0.8 percent (northeast)

63 percent of entire market is accounted for on a year-to-date basis by detached sales

6,908 total sales, 22 percent lower than the 10 year average and the lowest seen since 1996

Slowdown in detached new listings helped balance out decline in sales activity
Both buyers and sellers have been paying close attention to the housing market in and around Calgary as of late. With that in mind, it's no surprise that alongside declining benchmark prices there is a slowdown in sales activity.
More Market Updates
See our complete list of Calgary Real Estate Market Updates for month-to-month sales trends, statistics and analysis today.
Questions about Calgary Real Estate?

As a top-producing REMAX real estate agent and REALTOR® with over a decade of experience, I promise to help guide you every step of the way while providing you with only the best level of service and advice the industry has to offer.
Call me anytime at 403-370-4180 or message me below for a prompt response. I am looking forward to helping you accomplish you real estate plans.

[gravityform id="35" title="false" description="false"]