July 2012 Calgary Real Estate Market Update
Year over year housing sales in Calgary have increased dramatically. At 21.3%, the double digit increase represents a total of 1,936 sold residential units for July of 2012 and is reflective of economic growth in the region.
Two of Canada's biggest cities, Toronto and Vancouver, have begun seeing a decline in activity for residential home sales while Calgary has continued to have increases in its own activity and prices. Alberta's success in the area isn't a surprise to economists as the province led Canada in economic growth for 2011 and is the nation's capital of an ever growing energy industry that creates jobs, attracts job seekers and improves overall consumer confidence.
Year to date home sales have increased by 16.5% compared to the same time last year, returning to numbers more congruent with the long term trends seen in Calgary. Consumers have been hesitant to buy in the residential market due to the latest economic recession, but sales have increased substantially because of lower than peak home prices, appealing interest rates and a strong economist forecast for the city.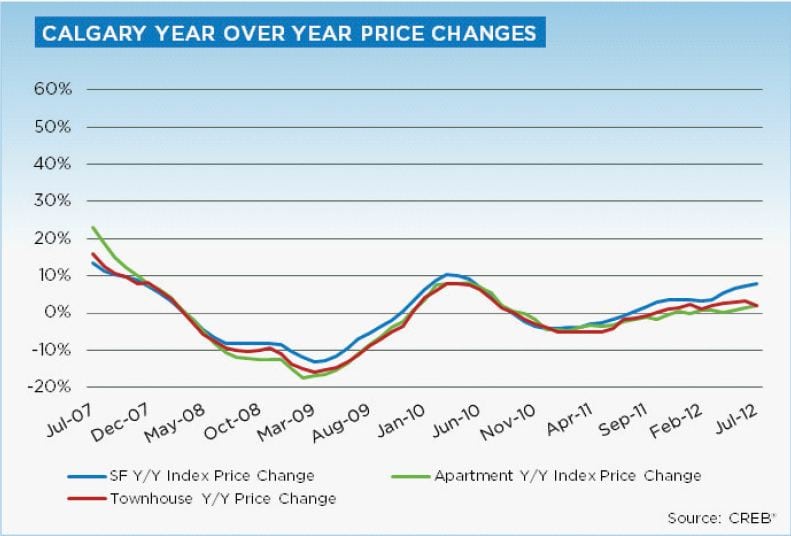 Calgary Real Estate Single Family Home Market
Year to date home sales increase of 18.9% when compared to the same time last year
7.5% less single family home listings compared to July 2011
Inventory for single family homes is approximately 20% less than July of 2011
Benchmark price increase of 7.8% at $432,400 over July of 2011 but is only a 5% increase on a year to date circumstance
Calgary Real Estate Condos and Townhome Market
Year to date condo sales increase of 9.4% when compared to the same time last year
3.1% less condo listings compared to July of 2011
Condo and townhome market benchmark gains of 2% over July of last year
Condo benchmark price of $247,600
Townhome benchmark price of $277,400
Risks of the economic recession have continued to put their weight on the residential market in Calgary, but consumers are starting to look past it with more employment opportunities and a heightened sense of job security.
Find our previous monthly Calgary real estate market update statistics for May and June below:

June 2012 Real Estate in Calgary Market Update