Calgary Real Estate Market Update June 2012
July 4, 2012
By Cody Battershill
Calgary Real Estate Market Update for June 2012
With a total of 11,752 residential units sold in the first six months of 2012, sales have gone up compared to last year's first half bringing activity levels closer to the long term norm seen in Calgary.
Calgary's residential market is returning to regular activity levels with help from increased migration to the city as well as improvements that have been made in the employment sector. Economists suggest the city's real estate market is returning to levels consistent with the long term trend. The market does have a small lack of supply of single family residences, but for the broader spectrum of the market this is not the case.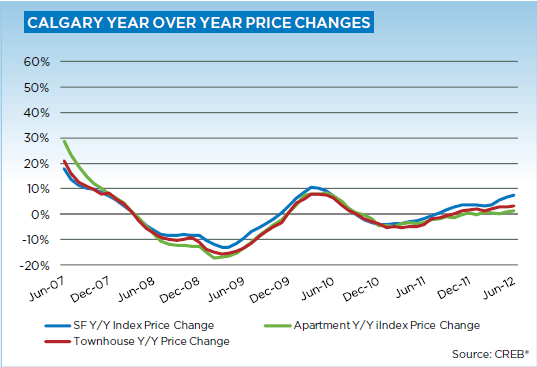 Calgary Real Estate Single Family Home Market
June sales pinnacle at 1609 units, a decrease compared to last month but still 16% higher compared to June of 2011.
New listings are on the decline as home owners are delaying the selling of their home until some more price recovery is seen in the market
More balanced inventory with 3817 units has eased the demand and supply constraint felt in previous months
Benchmark set at $430,800 for June 2012, which is a 7.3% gain compared to June 2011
As Calgary's residential market returns to the norm, expect to see price growth lose momentum in the months to come
Calgary Real Estate Condos and Townhome Market
June 2012 saw a decent improvement in condo sales compared to June of 2011
Year to date condo sales at 1858, an increase of 7% compared to 2011
Increase in sales mixed with less listings on the market has decreased excess supply of condos
Condo market is balanced with approximately three months of supply
Year over year gain in benchmark price of 1.5%, with a June 2012 benchmark of $246,300
Condo-townhome benchmark increased by 3.3% compared to 2011, and was set at $278,000
Economists suggest the overvalued Canadian real estate market doesn't apply to Calgary, as the city has already corrected its residential market because it is hovering at 8% under climactic levels. They also predict Alberta will lead Canada as number one in economic growth for 2012. Expect to see continued gains in employment and a positive residential market as a side effect of strong growth in the provinces economy.
Be sure to check out previous Calgary real estate market updates below!