October 2012 Real Estate in Calgary Market Update
Sales activity in the City of Calgary has increased 23 percent year over year in October 2012. The continued success seen in housing sales has pushed year to date sales activity 16 percent higher than the same time last year. Sales for all Calgary housing types have also improved on a year to year basis.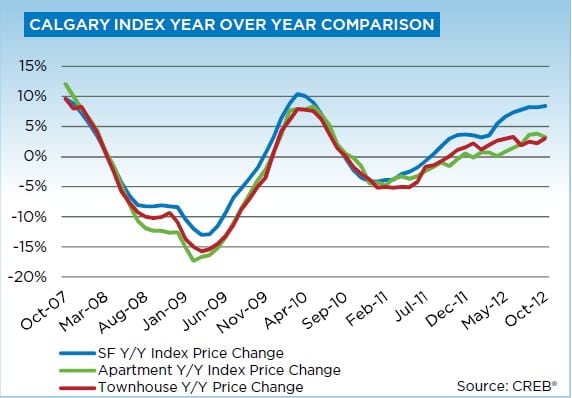 Despite national trends, Calgary has continued to see growth in both sales and prices, but it should be noted that the market is basically returning back to sales activity levels consistent with the long term standard and as far as prices go, they still have not fully recovered from the latest recession.
A total of 2312 new listings have been seen in October 2012, a 9 percent decrease year over year, resulting in lower inventory levels for all sectors but on a positive note still remain within balanced levels as we experience a typically less active period for real estate.
Calgary Real Estate Single Family Home Market
Improved year to date sales over the same time in 2011 by almost 17 percent
Single family home benchmark price of $433,300, an 8 percent gain year over year
Calgary Real Estate Condos and Townhome Market
Improved year to date sales over the same time last year by 12 percent
Condo Townhome sales at 2,279 units, a 16 percent year over year increase
Condo apartments benchmark price of $247,000, a 3 percent gain year over year, but lower than last months
Townhome benchmark price of $279,000, a 3 percent year over year gain
Condo prices are comparable to those seen in 2010
Even though much economic doubt still remains in our world, consumers have lessened their own worries as to how it will affect the local Calgary economy. A strong job market, migration growth and income levels are encouraging those to once again consider purchasing Calgary real estate.
For past Calgary real estate statistics, check out the following