Calgary Real Estate Market Update September 2012
October 1, 2012
By Cody Battershill
September 2012 Calgary Real Estate Market Update
Calgary's residential market continues to soar, regardless of national trends.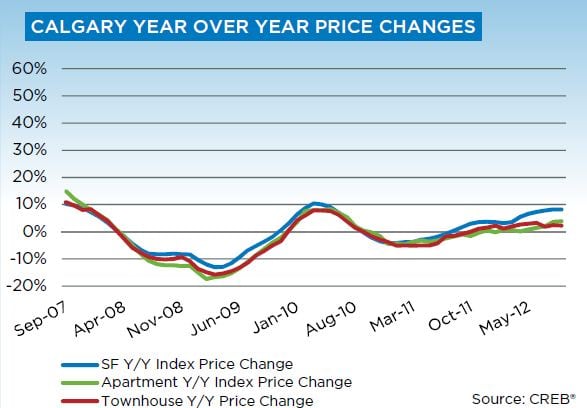 Residential sales for the Calgary area have continued to improve, as a year over year comparison with September of 2011 shows an increase of 11 percent. Another year over year comparison between the first three quarters of 2012 and 2011 show residential sales in Calgary are up 15 percent, totalling 17,018 units.
Despite national trends, Calgary's residential market is seeing increased price growth and activity, with no foreseen evidence to suggest its course will change anytime soon. As a matter of fact, Calgary's residential market is finally acting like it should be for the time of year, a behaviour not seen for a very long time (several years).
Calgary Real Estate Single Family Home Market
Sales activity continues to rise
New listings are gradually decreasing
Months of supply in a balanced equilibrium
Benchmark price of $432,900, a year over year increase of 8 percent
Calgary Real Estate Condos and Townhome Market
New condo listings on the decline
Increasing demand for condos
Condo benchmark price of $249,300, a year over year increase of 4 percent
Year to date condo sales up 10 percent over 2011, at 2,762 units
Townhome sales up 14 percent year over year for the first three quarters, at 2,061 units
Townhome benchmark price of $277,700, a year over year increase of only 2 percent
At the end of 2011, the resale market in Calgary was far below usual activity levels. These most recent substantial gains in 2012 are changing activity levels and price recovery in the resale market back to average.
While global economic uncertainty continues, consumers have had some of their confidence in Alberta restored. It really isn't such a huge surprise this is happening, as our province's economic growth has outperformed the rest of the Canadian provinces.
Unemployment rates in Calgary are continuing to decline, while wages and full time employment are increasing. No wonder Calgary's residential market is continuing on strong.
Find more monthly market updates below