Calgary Restaurant Review – Catch
November 30, 2011
By Cody Battershill
Catch Restaurant Calgary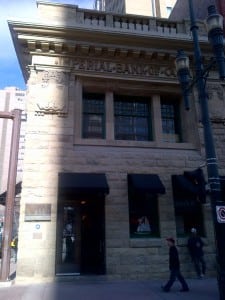 Catch is located in downtown Calgary on the historic Stephen Avenue block. Located on the corner of Center Street and Eighth Avenue SW (also known as Stephen Avenue) and is attached to the Hyatt hotel.
Known for amazing food, their oyster bar and fresh fish, Catch has some of the best food in Calgary. Recently renovated Catch has two levels with the main floor consisting of a oyster bar upstairs holding a more elegant upstairs dining room. Catch has a great menu,  always with the freshest fish and accompaniments.

I Love Catch and I think you will too! Check it out.
The Best of Catch
At Lunch The Tuna Melt is the best in Calgary
At Lunch Fresh and Delicious Prawn Cocktail
At Lunch Seafood Chowder
At Dinner Nicoise Salad
At Dinner Any of the Fresh Fish
Oyster Selection is always amazing and Fresh
The Menu is different for upstairs and downstairs