Best Sushi in Calgary: 15 Sushi Restaurants You'll Love
January 25, 2021
By Cody Battershill
Where to Find the Best Sushi in Calgary?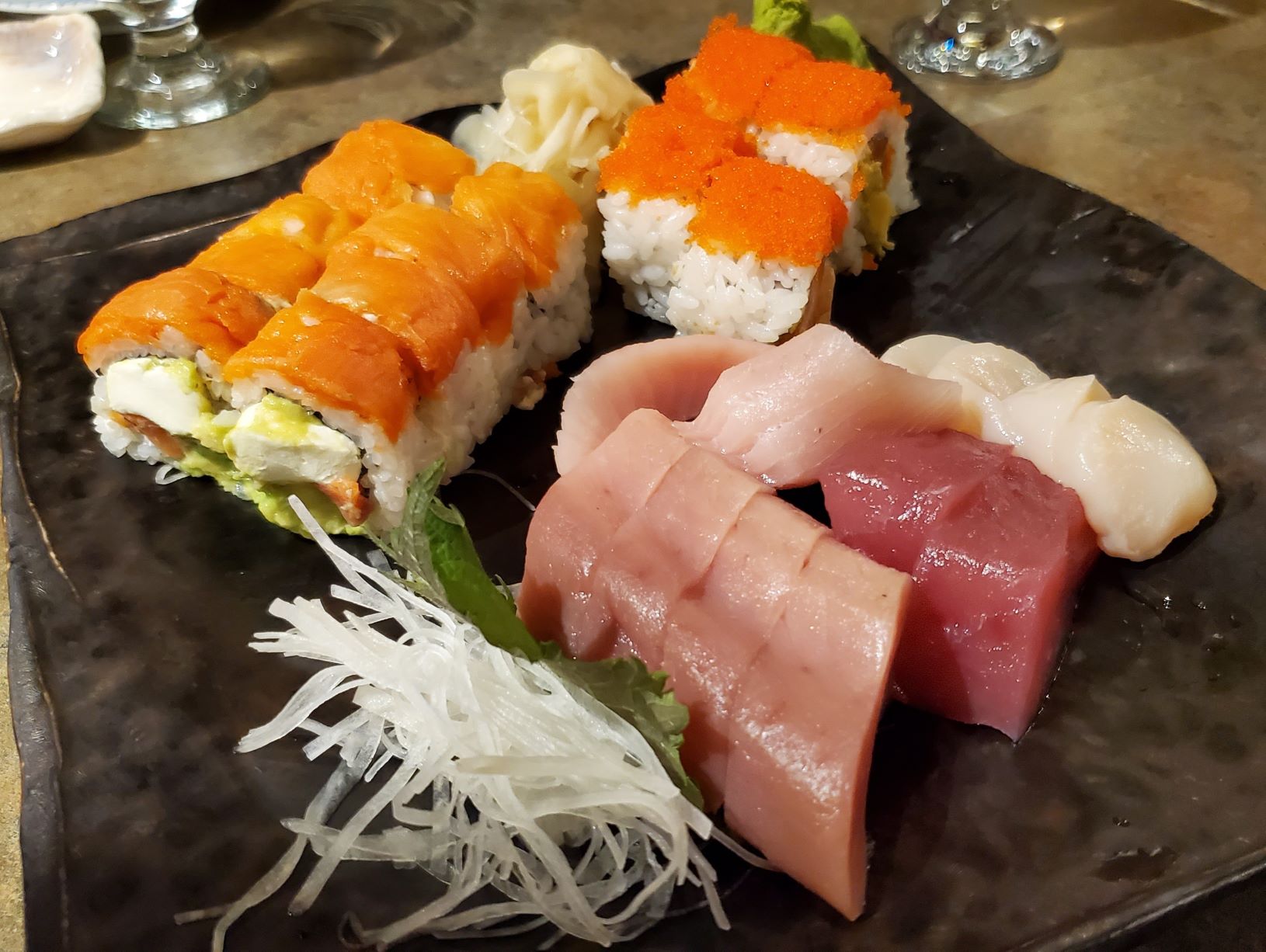 Where should you go or order from if you're craving some of the best sushi in Calgary? There's a ton of sushi restaurants around town to choose from, and some are be better than others so we've made a list of some of our favourites that we've discovered which have stayed open over the years - a true testament to them being the absolute best there is!
Here's Calgaryism's  list of favourite Japanese / sushi restaurants found all over the city. Let us know which ones you like in the comments section below and we'll add it to our list of best sushi in Calgary!
Red Ember Japanese Cuisine
View this post on Instagram
Located in the inner city community of Hillhurst, Red Ember has made a reputation for itself as having some of the best sushi in Calgary via its extensive menu, quality ingredients and excellent service.
This restaurant also has a great atmosphere for groups of all sizes, especially romantic occasions for those looking for a more personal and intimate setting.
Address - 609 14th Street NW

Phone Number - 403-453-0577
Kanpai Sushi on 8th
View this post on Instagram
We were recently introduced to this excellent sushi restaurant in the Beltline and fell in love. We've now gone to Kanpai about a dozen or so times over the past few months with each visit being just as good as the last.
Inside Kanpai you'll find a warming contemporary atmosphere with elegant decor and a mix of full / half booth seats.
The menu is extensive and features a wide range of Japanese cuisines, including lots of sushi rolls that take on very Albertan-like names such as "sweet crude" and "rocky mountain" - just a few of our favourites.
You'll also want to try the edamame and dan dan spicy peanut ramen. The latter is one of the best ramen bowls you'll have at any place in Calgary that isn't ramen-only.
We also love the sashimi, especially the toro which may just be the most succulent and juciest toro sashimi I've had in the city, ever!
Address - #110, 1414 8th St SW
Phone Number - 403-460-6303
Hana Sushi Central

View this post on Instagram
Hana is another one of the best sushi restaurants in Calgary located near 17th Avenue SW. It's location half a block south of the Red Mile makes it ideal for those who live in the Beltline, Mission and Cliff Bungalow communities.
This restaurant has an extensive menu with over 100 different options and serves up some of the freshest and juiciest sashimi slices in town. It also has a a spacious table arrangement with comfy padded seats that do well for long dinner conversations and romantic evenings for two.
Just recently this best sushi restaurant in Calgary also started offering an all-you-can-eat menu which costs a bit less than $30.00 a person. For the price and quality of food at Hana, it's an excellent deal!
Another bonus about Hana... I've received %10 off coupons the last few times I've dined there. Such a wicked deal!
Address - 1807 4th Street SW
Phone Number - 403-229-1499
Globefish Marda Loop
View this post on Instagram
Globefish Sushi and Izakaya in Marda Loop is by far the best of the three Globefish restaurants in Calgary. It has consistently had the best tasting food out of all the locations each and every time.
Inside you'll find a cozy, modern atmosphere great for intimate one-on-one dates and / or conversations that need due care and attention. Find it right on the main strip of 33rd Avenue SW in the Marda Loop Business Improvement Area (BIA).
Address - 2009 33rd Avenue SW

Phone Number - 403-249-8866
Big Catch Sushi
View this post on Instagram
This highly successful sushi restaurant on Macleod Trail has now expanded from its once small kiosk inside Market on Macleod into a full-sized restaurant. Its new location is now open for business!
We decided to check out its new location, and boy oh boy, we weren't disappointed with our dining experience by any means. They even have kyoto-style (pressed) sushi here; I thought you can only find that in Vancouver and Japan!
Located at the Save on Foods shopping plaza, it's presentation and quality ingredients are second to none in the city. Really, we mean it! The food is excellent, and so is the service. Hands down, this Japanese restaurant is quite the "big catch" in the south if you know what I mean!
Address - #130 8835 Macleod Tr. SW
Phone Number - 403-708-5555
Tenshi Sushi
View this post on Instagram
Tenshi Sushi has long been one of the best sushi restaurants in Calgary. It consistently uses high quality ingredients including some of the thickest and juiciest sashimi slices you'll get in the city.
Located in the Kensington District, this best Calgary sushi restaurant is easily accessed on foot via the Sunnyside LRT Station and to all residents in the nearby areas.
A reservation is highly recommended as it's vastly popular during peak times and only has 6 tables or so. If no reservation, try to get there before or after lunch / dinner hours to be safe!
Address - 304 10th Street NW
Phone Number - 403-457-0370
Sushi Boat
View this post on Instagram
Service at Sushi Boat is quite unique when it comes to Japanese cuisine in Calgary. You can either order from your server or grab plates that float around boats along the perimeter of the kitchen and start eating right away.
These plates are colour-coded, giving you an idea of how much they cost. Prices range between $2.65 and $5.65 per plate. Make sure to check before hand!
Sushi Boat tends to be quite busy so its recommended to go at non-peak times as they don't take reservations. This is definitely a place to go for some of the best sushi in northwest Calgary!
Address - 806 Crowfoot Crescent NW

Phone Number - 403-239-1818
Roku Japanese Restaurant
View this post on Instagram
Located in the deep northwest in Royal Oak, Roku Japanese Restaurant is the perfect sushi restaurant to drop in at during a trip to Costco. If you happen to live by this Japanese restaurant already, I am envious!
We decided to check this place out and were captivated by its delicious, fresh-tasting sashimi slices which melted in your mouth (the best kind!). We also enjoyed the freshly-made rolls and picked out a few other types of Japanese dishes to try.
Address - #7127 8650 112 Ave NW
Phone Number - 403-718-9077
Sushi Hiro Japanese
View this post on Instagram
Sushi Hiro is the perfect place to visit for those in the downtown core looking for good Japanese cuisine. Located on 5th Avenue between 6th and 7th Street SW on the southern side of the block, Hiro boasts traditional Japanese decor and some of the best classic sushi and sashimi in the city.
Sushi Hiro is run by Hiro and his family and they're always working. I love the family touch and the fact that Hiro or his son are behind the sushi bar; you're actually being served by the master chef! Go there and ask Hiro to try new and different types of sushi you have never had before - a great and adventurous way to eat sushi.
The fish is absolutely amazing and the entire experience has a very traditional and authentic feel to it. Definitely a good spot to go for some of the best sushi in Calgary in the downtown area!

Address - 727 5th Avenue SW
Phone Number - 403-233-0605
Midori Japanese Cafe
View this post on Instagram
Midori is an unsuspecting sushi restaurant found on the west end of the Red Mile in the Beltline. Walking in you'll find a quant, traditional-like Japanese ambiance with limited seating; it's one of those restaurants that you'll have a hard time getting a table at during lunch or dinner rush.
Midori's sashimi is quite fresh and the prices are very decent. Looking at the menu you'll notice a large selection of appetiziers, rolls, sashimi and even some Korean dishes. We loved the friendly staff who did a great job of serving us over our near-three hour sushi social stint!
Address - 1054 17 Ave SW
Phone Number - 403-244-3787
Misato Sushi & Grill
View this post on Instagram
One thing we loved about Misato in Signal Hill was its rolls. They are bigger than many other sushi restaurants and taste just as good as they look, ensuring you're more than full (and delighted) after each visit.
The next time you're in for some of the best sushi in southwest Calgary, make sure you check out Misato in the Sirocco Drive SW shopping plaza!
Address - 1851 Sirocco Dr SW
Phone Number - 403-217-3000
Towa Sushi & Lounge
View this post on Instagram
If you like big rolls and thick sashimi, then Towa is the Japanese restaurant for you! What's important to note, however, is that Towa never sacrifices on quality; you just get a really good deal, and are really full by the end of your meal!
Towa recently redid its menu to a more simple version. We were a bit skeptical at first about the possibility of a new owner / chef, but then realized it was the same high quality sushi Towa is known for.
Unlike many other top sushi restaurants in Calgary, Towa's suburban location in the West District of Calgary makes it a go-to spot for residents in areas like Aspen, Cougar Ridge and West Springs.
Address - #1 2116 4th Street SW

Phone Number - 403-245-8585
Meshi Sushi & Rice Bowl
View this post on Instagram
Meshi is another downtown restaurant where you'll find some of the best sushi in Calgary.
Known for its high quality sashimi and not-so-usual rice bowls, Meshi is an excellent option if you're craving sushi while in the downtown business core or for delivery in nearby communities such as East Village, the Beltline or Bridgeland.
Address - #105 - 630 8th Avenue SW
Phone Number - 587-356-4778
Haru Sushi & Grill
View this post on Instagram

Haru Sushi & Grill, although a chain restaurant, deserves credit where it's due. With three locations around the city, it's become known as one of the go-to restaurants for nigiri, sushi, sashimi, udon and other types of dishes.
We highly recommend checking out the downtown or westside locations. We've been to both and have been very pleased with not only our dining experience, but the overall quality and freshness of the food.
Kinjo Sushi & Grill
View this post on Instagram

No one does it better than Kinjo when it comes to chain sushi restaurants. With four locations around the city, its popularity is testament to its success as one of the best Calgary sushi restaurants there is.
Kinjo is known for its affordable prices and large menu that gives customers a great selection of not just sushi, but other Japanese cuisine delights as well. We really love the location up on Coventry Hills near Deerfoot Trail. It's excellent!
What Are Your Favourite Sushi Restaurants?
Leave us a comment below and let us know which places are on your list of best sushi restaurants in Calgary and we will do our best to check them out (if not already), and add them to our list!
Until next time, we invite you to join us at Calgaryism on Facebook and Instagram for more of the best in Calgary! Stay updated with everything YYC - photos, restaurants, activities and more today!