Do What the Locals Do – Episode 1 – Holy Grill
May 8, 2011
By Cody Battershill
Do What the Locals Do - Episode 1 - Holy Grill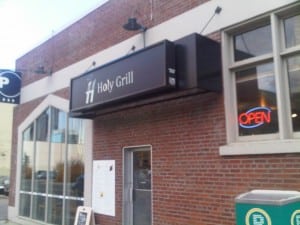 Live in Calgary or Visiting Calgary? You have got to experience the best of what Calgary has to offer.
Today we showcase The Holy Grill ( see previous blog) Located on 10 Avenue and 8th Street SW in Downtown Calgary. Open 6 days a week Monday - Friday from 7am - 4pm (breakfast ends at 11am)and Saturday from 10am - 4pm with all day breakfast or lunch.
Why do the locals eat here? Well for starters the food is absolutely amazing. You will want to savor every single bite and you will keep forgetting how affordable it was. The food tastes expensive but it is not, one of the best values I have found in Calgary.  Nick, Andrew, John and the Holy Grill crew greet everyone as they come in and you can tell the following they have just by how many people they know by first name.
Everything on the menu is great, especially the Gourmet Burger, Mr.Chicken Panini, Pacific Panini, and Chicken Burger. For Breakfast, the Eggs Benedict , Bacon Avocado Crisp sandwich and NicMuffins are a must.
Check out the Holy Grill and experience what the locals do in Calgary!