East Village in Calgary – National Music Centre
July 11, 2012
By Cody Battershill
East Village in Calgary – National Music Centre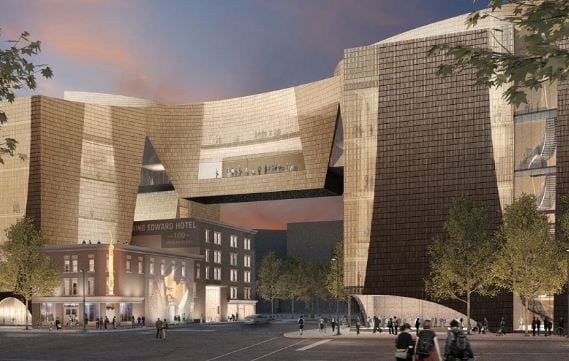 Everyone has been talking about the National Music Centre to be built at East Village in Calgary.
The National Music Centre will be a popular destination for Calgarians and tourists alike after its projected completion in 2015. You will find much to do inside of its doors including a live entertainment venue, broadcast studio, radio station, galleries, gift shop and various food and drink services.
The to do list at the National Music Centre at East Village in Calgary is one that will continually grow, depending on the events being held at the centre as well as growth in programs and services offered. Calgary is looking forward to its addition to say the least and so am I!
Calgary is already an internationally known city, attracting companies and people alike to live and work here. Having the NMC built in the downtown community of East Village will make it easy for international crowds to visit via the airport by direct taxi and future LRT. It will really put Calgary on the map as far as music goes for within Canada and expect more international attention after its completion.
Funds for the National Music Centre
In early June of 2012, the city council released $22.5 million of promised funds to help pay for the project. Approximately $75 million of the total $132.5 million required for the funds is government coin. With $92 million currently raised for the project, only $40 million is needed to pay for the rest.
The president and CEO of the National Music Centre, Andrew Mosker, has said that these funds released by the city council will be sufficient enough to begin constructing phase 1 of the 110,000 square foot National Music Centre and will keep its completion date right on track.
East Village in Calgary is an exciting new, urban community being birthed from the old, run down area in the downtown area. A full redevelopment of the area includes new condo homes such as Evolution and FIRST, as well as a Hilton Hotel and much, much more! For an all-inclusive article, be sure to check out East Village in Calgary Summary.
Questions about EV? Get a hold of me via email at [email protected] today! Thanks for stopping in!