La Dolce Vita Calgary Restaurant Review
April 30, 2012
By Cody Battershill
La Dolce Vita is One of Calgary's Best Italian Restaurants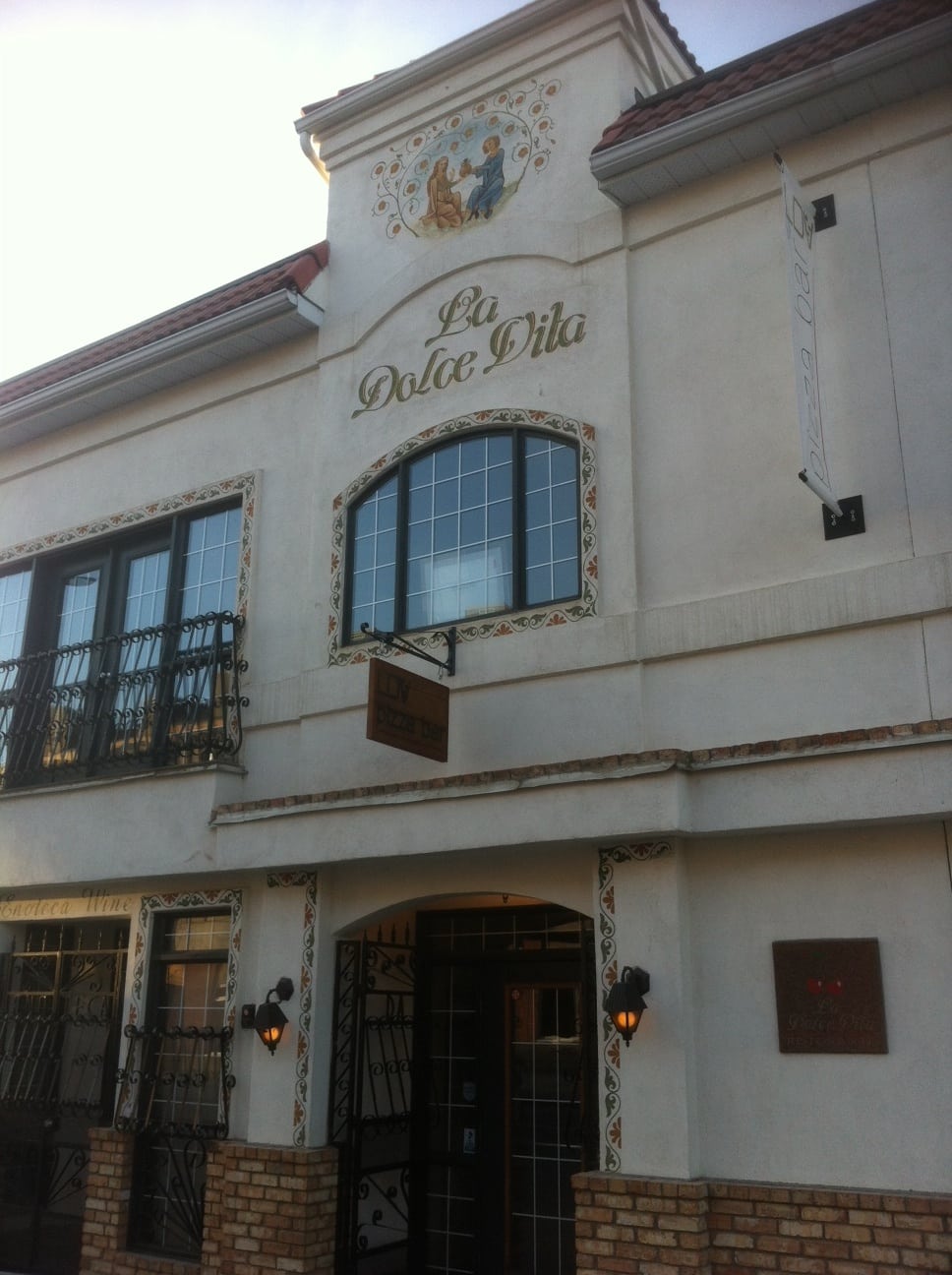 La Dolce Vita is an authentic Italian restaurant you must experience. My first impression of the exterior building reminded me of one of those small alley restaurants you would find in Venice or Rome.
Entering the restaurant, I sat at a table with a bunch of friends and looked around only to notice that it actually looked like I was in Italy. La Dolce Vita has the perfect eating environment with dim lighting, Vatican style paintings, roman flowered carpet and crown mouldings; everything you would see dining in Italy.
The interior is a bit small but is made irrelevant by the amazing highly customized dining experience and exceptional service. All in all, La Dolce Vita is home to some of the Best Calgary Pasta around.
The head chef, who just happened to be an Italian man with a thick accent, grabbed our tables' attention to explain what was on course for the evening. He asked about allergies, and then proceeded to the kitchen to get started.
Although I would have liked to have seen a dinner menu or have been provided with more information on what we were to be eating, I trusted the thick Italian accent, mannerisms and stylish chef coat wasn't just for show.
It took a little while for courses to arrive, but then again is something that should be expected on a weekend night when dining at places like this. Bread and frequent bruschetta drop offs tied our grumbling stomachs over until the first course.
6 Course Meal
A romaine lettuce salad served with tomato slices, mozzarella balls and 3 jumbo prawns which were cooked to perfection all topped off with a delicious sauce. Nice presentation!
Polenta and Italian sausages I am pretty sure were Spolumbo's topped with tomato sauce and olive oil. Yummy! A table dish for everyone.
Spaghetti with cilantro spice, tomato and meat sauce that had a lovely tinge I haven't tasted before. Afterwards a large group dish of the same spaghetti was put on the table for those who wanted more.
Next up was a tender, juicy veal served with spinach leaves, asparagus, zucchini, broccoli and red pepper. For those who didn't want the veal, chicken was substitute and sounded like it was just as good!
A sockeye appetizer dish with enough for the table covered in a lemon juice and cooked to perfection.
For dessert a taro-misu, whip cream sprinkled with cinnamon, strawberry and a mini-scoop of mango Gelato OR a martini glass full with mango Gelato, strawberries and whipped cream. Once again, beautiful presentation!
La Dolce Vita is a delicious Italian restaurant located in the inner city community of Bridgeland with exceptional food, top notch service and is overall a wonderful dining experience. I highly recommend this place to anyone who is looking to experience gourmet Italian food. It is a little bit pricey, so if you're conscious about your budget just ask for the menus. Great wine selection as well!
Visit La Dolce Vita At...
916 1st Avenue NE, Calgary, AB
Phone Number – 403.263.3445

Open Tuesday, Wednesday, Thursday and Friday for lunch and dinner.
Open Saturday for dinner only.