Laurier Lounge Calgary Restaurant Review
June 25, 2012
By Cody Battershill
Laurier Lounge Calgary Restaurant Review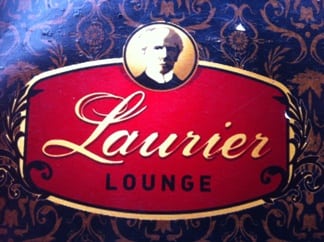 Let's add Laurier Lounge to the list of absolutely delightful breakfast and brunch spots in the beltline communities of Calgary. Found across the street from Xenex condos in between 11th and 12th Avenue SW and on 7th Street SW, this medium sized restaurant is cozy, with ample patio space for a lovely breakfast, brunch or lunch on a warm summer's day. Expect seating to be limited on weekends since the word on how delicious their food is has been spreading like wildfire throughout Calgary!
My brunch companion and I chose to sit on the sheltered patio, even though the weather was gloomy. Our server was prompt in delivering service, and after a short decision making process we both chose to order the brunch plate. Constituents included bacon, two fruit mix crepes, one egg Benedict and hash browns, all quite reasonably priced at $13.95.
I must tell you I have never tasted bacon as juicy as this! I wish I had more than just two pieces, but I don't think my heart would agree with me. This bacon was to die for! On to the eggs Benedict... their taste was at a perfect median in between being too sweet and too bland. Sometimes I eat eggs Benedict and I get an upset feeling in my stomach because they are too sweet, or too greasy. At Laurier Lounge, this was not the case! My brunch companion and I ordered two more of them after we finished because they were so good! Not to forget the two delicious fruit mix crepes that came with. With a little bit of jam you are set for a fruit explosion in your mouth! I usually am not too fond of crepes, but these were definitely an exception!
I highly recommend stopping by at Laurier Lounge in the beltline of Calgary for some scrumptious breakfast or brunch. This place must have a good lunch and dinner menu as well! I definitely have to come back to this place to explore those two menus at a later time.
Laurier Lounge
1111 7th Street SW, Calgary, AB
Phone Number – 403.228.3771
For other breakfast and brunch restaurant reviews, check out Nellies Calgary Restaurant Review for people in the NW, or for those a bit further south of Laurier Lounge, Tilted Grill Calgary Restaurant Review might interest you! Thanks for stopping in and hope to have you back soon!